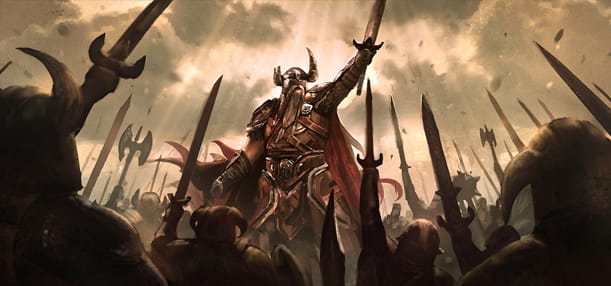 We invited members of the gaming press from around the globe to a special hands-on ESO Preview Event. Catch up with the coverage and news from this week with this collection of links.
We're excited to see the articles and news coming out of the Preview Event, where members of the press got to spend some time playing The Elder Scrolls Online. We've put together these links to help you keep track of all the new impressions and information.
English
Destructoid – "As the developers at Zenimax were showing off the game, you could tell that they really cared about the history of the Elder Scrolls franchise. It was clear after playing it for an extended period of time that there will be lots of lore here to uncover; perhaps more than any other Elder Scrolls game before it."
Gamefront - "If you enjoyed Skyrim and its DLCs, you're going to enjoy TESO. It hits everything that made Skyrim great: deep world immersion, build-your-own class system, exploration-based content, action-based combat, discovery-based crafting and minimal UI intrusion."
Games.on.net – "The Elder Scrolls Online is shaping up to meet a lot of the promises it made when it was announced, and for this it should be applauded."
GamesRadar - "The combat is also very reactive. Players will have to keep an eye on the enemy's movements and attacks to avoid damage, block attacks, and score critical hits."
IGN – "I'll say this about ESO: I wanted to keep playing.I wanted to find out what lay at the end of an unmarked riddle quest I'd found in a half-buried treasure chest, and I wanted to find adventures lay in wait in the alleys of Daggerfall."
Massively – "I'm happy to say that for ESO, the proof is in the pudding. I've barely scratched the surface of this massive online game world, and I already can't wait to get my elderly Orcish hands all over it again at PAX East."
MMORPG - "For now, Elder Scrolls gives players a great class with the Sorcerer and does not pin you down as a robe-wearing, staff wielding, grey bearded fellow in a pointy hat!"
PC Gamer – "The system is impressive precisely because it's so expandable: it's easy to see how new skill lines can add options to the game without imbalancing it in the way that an extended level cap or tacked-on alternate advancement system might."
PCGames N – "It's a fast paced, well thought out, friendly and impressive MMO game."
Penny Arcade - "Combat itself is fluid; no standing in one place while channeling a spell or waiting for a cooldown to finish."
Polygon – "Elder Scrolls Online does a fine job of matching the mouse-based combat of the game's PC predecessors with left click serving as an attack, right click as block with up to five abilities paired to number keys (that can be expanded)."
Revision3 - "I like being able to loose yourself in the Elder Scrolls."
Shack News – "What I saw was heartening. The Elder Scrolls Online appears to have a solid foundation and, judging strictly from the small snippet of my hands-on time, hits the right tone for the Elder Scrolls series."
TenTonHammer – "Without drilling down into storyline spoilers, much like my experience last fall, the main quest on the island gave me a certain amount of freedom to decide when I was ready to begin the heist and ultimately set sail for the orc-controlled island of Betnikh."
The Escapist - "But I will say that those three hours felt like five minutes because I was interested and engaged at all times."
ZAM – "For sheer enjoyment and the quality of the game at this early stage, this latest session with The Elder Scrolls Online confirmed its place as my most anticipated MMO of the year."
German
Buffed.de / PCGames.de – "Dabei kommt auch der Entdeckerdrang nicht zu kurz, den man auch bei den Singleplayer-Titeln der Elder-Scrolls-Serie entwickelt. Überall findet man Kleinigkeiten wie etwa Bücher oder Kisten mit etwas Beute. NPCs mit Neben-Quest warten auf den Inseln verteilt auf Eure Hilfe und die sogenannten Skychards verführen zum Entdecken."
GameStar.de – "Miteinander verbundene Questketten, massig zu entdecken, eine liebevoll und imposant gebaute Welt, das Gefühl der Elder Scrolls-Spiele eben – auch für Solo-Helden. Hut ab, Zenimax!"
GamesWelt.de / GamesWelt.at / GamesWelt.ch – "Elder-Scrolls-Fans werden sich sofort heimisch fühlen dank der detailreichen und wunderschönen Spielwelt, in der es viel zu entdecken gibt. Wer mit der Reihe bisher nichts am Hut hat, sich aber für MMOs interessiert, kommt dank der eingängigen Spielmechanik ebenfalls sofort zurecht."
SpieleTipps.de – "DAS ist ein "Massive Multiplayer Online Role-Playing Game"? Beeindruckend. Das entzückt sogar mich als eher klassischen Rollenspieler. Oder vielleicht gerade mich als klassischen Rollenspieler."
French
JeuxOnLine – « La place prédominante du PvP dans le jeu ne peut être qu'une bonne chose. En effet, cela fait des années que les joueurs espèrent l'arrivée d'un véritable jeu RvR et espérons que TESO soit le messie tant attendu. »
Jeuxvideo.com – « Déclarer que The Elder Scrolls Online s'annonce très complet tient du doux euphémisme. On reste tout simplement estomaqués par le contenu gargantuesque que devrait renfermer le MMORPG de ZeniMax Online. »
Millenium.org – « Bien que les développeurs aient souvent joué aux petits cachotiers (notamment sur le système économique du jeu), on ressent un fort potentiel derrière cet Elder Scrolls Online. Parfois même, on en aimerait tellement plus qu'on en abuserait. »
Benelux
9Lives.be – "Verder nog opgemerkt: een handig fast travel-systeem, een goed uitgewerkt stealth-mechanisme, vermommingen die het leven van een minder combatgerichte speler er heel wat makkelijker op kunnen maken, een soundtrack die je waarschijnlijk na honderd uur nog niet dichtdraait en eerder franjeloze maar heldere inventory-, personage-, quest log- en upgradeschermen."
Insidegamer.nl – "Bovendien bevordert deze keuze de gebruiksvriendelijkheid van de game. The Elder Scrolls Online is de meest duidelijkse MMORPG die ik tot nu toe heb gespeeld, wat waarschijnlijk komt omdat de wetten van Skyrim zo goed zijn overgenomen."
PowerUnlimited.nl – "TES Online is eigenzinnig door heel dicht bij zijn singleplayer roots te blijven en creëert daardoor ruimte voor zichzelf tussen een WoW en Guild Wars 2. Het is een game die interessant is voor iemand die heeft genoten van Skyrim en MMO spelers die niet houden van spreadsheets en wachten op cooldowns."
Tweakers.net – "Ze zijn in ieder geval minder statisch dan je uit andere mmog's gewend bent. Verder is het prettig dat spelers zoveel vrijheid hebben bij het kiezen van een speelstijl."
Norway
Gamereactor.no – "Fiendenes kunstige intelligens er det mest imponerende jeg har sett i noe MMORPG. Fiendene vil analysere om du angriper på avstand eller helt tett på og endre sin taktikk etter hvordan du spiller."