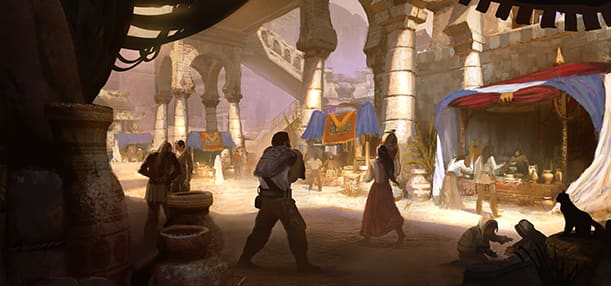 Read the latest issue of our weekly fan-made content roundup to see new ESO-inspired art, fiction, music, news, discussions, and some of your answers to last week's Question of the Week.
Catch up with the latest news and articles from ESO fansites and check out new creative works from fans like you. If you enjoy a particular article, podcast, or other creation, make sure to let the creators know! We're actively looking for new submissions for next week's issue of The Tamriel Chronicle, so if you've got a link you'd like to share, send it in to community@elderscrollsonline.com.
Don't forget to check out the official ESO Pinterest and Tumblr pages, too!
Community Events
Check out what some the awesome ESO fan communities around the web are doing!
ESO Allstars Event
This Friday at 7:00 PM Eastern (EDT), the ESO Allstars will be hosting a LIVE stream event to galvanize the ESO FAN community by bringing together the talent of:
Jesse Cox
Lord Hammer from Guild UMBRA
Josh and Kyle from The Shoddycast
The Joes from Elder Scrolls OTR
Andrew from Tamriel Foundry
Brian from GameSkinny
Fan Fiction
Read stories set in the world of Tamriel, authored by your fellow ESO fans:
The Running Tree: Chapter Five – By Donovan Fouts

"The night was not as cool as the previous two had been, but the storm made it feel even colder. Torak thought Molag Bal himself had tracked him to the little copse of dirt and rocks where he had set up camp for the night." 
Fan Music
Listen to ESO-inspired tunes, created by some of the talented musicians in our community:

News and Articles
Get the latest news, info, and editorials from fan site writers:
Elder Scrolls Off the Record
Elder Scrolls Online Info
ESO Wiki
ShoddyCast
Tamriel Foundry
TESO-RP
Podcasts and Videocasts
Hear fansite personalities discuss everything ESO:
ClarionCallTV
Elder Scrolls Off the Record
Ratzcast
Richie "Bog Otter" Procopio
ShoddyCast
sKiiTs8
Spartan Jesters
TESO.GR (Greek)
TrekkerCrew
Question of the Week Answers
We've gathered up some of your answers to last week's Developer Question of the Week. Watch the video to see the full question, and look for a new Developer Question of the Week this Thursday.
"I would have to say my favorite dungeons were clearing out bandit hideouts (above and below ground), avoiding their traps, taking out sentries silently and discovering secret passages (the loot was nice, too). I made it a 'game' within the game to see how long I could go without raising the alarm of my presence. That was fun!" - Bill Crroll
"I remember sneaking through a vampire-infested cave in Oblivion. I hadn't realized there was a vampire behind me, very close. When I turned, his face was the only thing I saw on the screen and it actually made me yelp out loud as if someone jumped out and scared me." - Sabrina Rockefeller
"I was walking through a forest when I came upon an Ayleid ruin. After fighting my way through some undead, I finally reached the end where a treasure awaited (can't remember what it was, some sort of gem?). I walk up the stairs, pick it up, and suddenly a lich appears and a hundred skeletons start pouring out from everywhere. I made it out in the end, but it felt like an epic adventure all on its own and I found it by walking through the woods instead of taking the roads. It was my own unscripted adventure and my friends never found it through their playthroughs. That is why I love The Elder Scrolls series." - Alberto Jose Nunez
"The Aetherium Forge was awesome. You collect the 4 aetherium shards from 4 other dungeons first, then the boss fight is 3 waves of enemies followed by the forge master, a huge Dwemer centurion. This is how I imagine ESO will be like. Then you choose a quest reward by forging a crown, shield, or staff." - Loren Fisher

"I was adventuring outside Markarth towards my next goal when I found an odd looking door in the side of a hill leading to a bandit lair. When I went in, there was a little adventure all of its own about bandits who had their home invaded by Falmer. At the end of the cave, the bandit leader was dead on a table, still holding his uniquely enchanted weapon, the Longhammer. I was a two-handed hammer user at the time I found it. I used that weapon for the whole game, and the way I found it was my favorite part." - Ben Kaeding

We hope you enjoyed this issue of The Tamriel Chronicle. Check back next week for more!