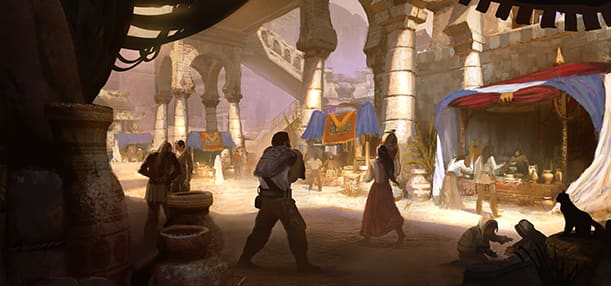 Take a look at the latest ESO fan creations in our weekly collection of links to articles, fan art, and more.
ESO fans like you continue to post great new content every week. Take a look at our latest collection of links to enjoy new creative works and get involved in the latest discussions. If you have links to fan-made art, music, articles, podcasts, or anything else, we'd love to see it. Send your finds to us at community@elderscrollsonline.com.
Fan Art
Feast your eyes on these truly impressive works of art, based on The Elder Scrolls Online. Both of these pieces were recent entries to the ESO Poster Challenge. You have until this Friday (5/17) to enter!
Untitled – By albertbruunart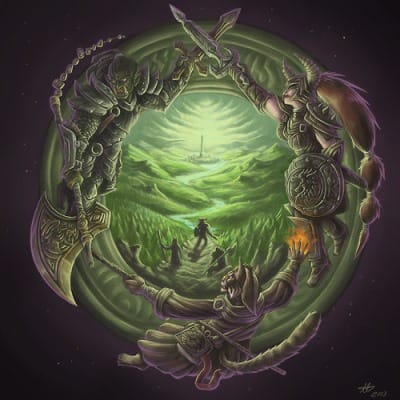 The Ebonheart Pact – By Minttu Hynninen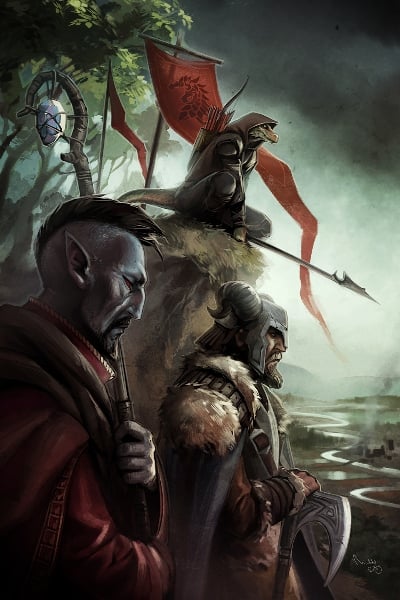 Fan Fiction
Read stories set in the world of Tamriel, authored by your fellow ESO fans:
The Running Tree: Chapter Six & Chapter Seven – By Donovan Fouts
"I wonder what it means, the Nord woman muttered to one of the two Argonian guards at Niskan's back. Her arms were crossed in front of her. She was wearing the same lavishly decorated dress robes that she donned on the day they met under the arena. Only now she was wearing a pair of canvas pants and she replaced her thinly-strapped sandals with leather boots."
Wages of Daedra Worship – By Elizabeth Noyes
"Be strong, little ones," a Dunmer mother whispered conspiratorially to her three children, tucking them gingerly into their shared bedroll, "For the strong are richly rewarded by our Prince."
"And how do we show our strength?" asked the boy through a yawn, eyes lidded by the pull of sleep.
"By showing no weakness," the mother replied.
Moonlight – By Triskele
"The sound of two fists entwined smacking down on the wooden table, only enforced by the studded cuffs around two wrists. Thorald grinned and roared as the revelers threw their arms in the air and cheered. Across the crudely carved, oaken table his opponent spat out a curse and pulled his sticky hand out of Thorald's grip.
'Hells, the little Grár-pup grew some muscle!'"
Fan Music
Listen to ESO-inspired tunes, created by some of the talented musicians in our community:

Morrowind – By Matthew Shine
Tamriel's World – By AndyBeatz
News and Articles
Get the latest news, info, and editorials from fan site writers:
Elder Scrolls Off the Record
ESO Wiki
ShoddyCast
Tamriel Foundry
TESO-RP
TESOF
TESO Elite
Podcasts and Videocasts
Hear fansite personalities discuss all things ESO:
BabyMakersGaming
Elder Scrolls Off the Record
RatzCast
ShoddyCast
Spartan Jesters
Tamriel Foundry
Trekker Crew
Twonk Hammer
Question of the Week Answers
We've gathered up some of your answers to last week's Developer Question of the Week. Watch the video to see the full question, and look for a new Developer Question of the Week this Thursday.
"Of all the people I have met, I would say that the best companion for traveling Tamriel would be Baurus from the Blades. He is the most fiercely loyal and honorable Redguard I have ever had the pleasure of meeting. He has proved himself an excellent fighter and a soldier willing to die for his cause." – Jacob Holtsclaw
"If I could have any companion in my travels, then I would roam around with M'aiq the liar. We still need to find some fishy sticks, after all." – Kirsten Rasmussen
"I'd choose Serana to be by my side. Despite being the daughter of Lord Harkon, she is kind at heart and knows right from wrong. She's loyal and trustworthy to those who follow the right path." – Morten Hansen
"If I could choose one character to be by my side as I journeyed across Tamriel, I would choose Saint Jiub the Eradicator of the Winged Menace. Morrowind was the first game I played, and in many ways Jiub has been with me since the moment I first entered the realm of Tamriel (even if I didn't always know he was there). Not to mention his many heroic deeds as chronicled in his Opus." – Shawn
"Paarthurnax. He never said it had to be a human! Plus, why would you not want the only friendly dragon with you?" – Noah Parrish
"I think the most interesting companion could be... none other than Barbas. Sure he could annoy you sometimes, but other than that he would make the most interesting companion, having an honest, if unique, opinion about pretty much everything. And he's the talking Daedra dog of a Daedric Prince." - Lóránt
We hope you enjoyed this issue of The Tamriel Chronicle. Check back next week for more!