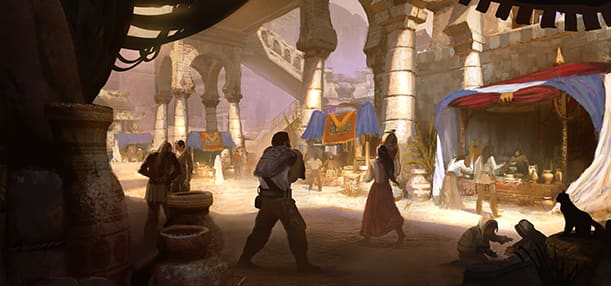 We have another great collection of fan-created art, podcasts, articles, and more for you in this week's issue.
You and fellow ESO fans continue to impress us every week with wonderful new content. We hope you'll enjoy this week's look at fan creations. Do you have a link you'd love to see featured? Send it to us at community@elderscrollsonline.com, and we'll take a look at it!
Fan Art
We're always inspired by the talent of ESO fan artists. Take a look at some recent works, and don't forget to visit our official ESO Tumblr page for more!
Morrowind Adventurers – By Dennis Froehlich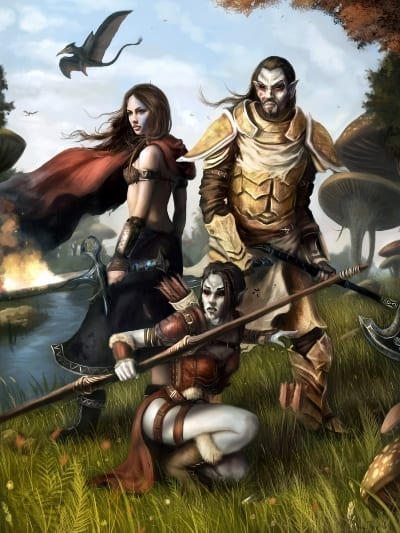 The Ouroboros Bout – By olessan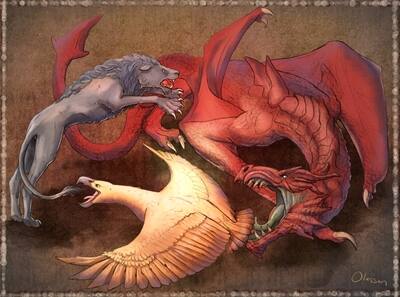 Fan Fiction
Journey to Tamriel through the eyes of other ESO fans—this week, we have one new tale to share.
Dawn – By Triskele
"'Gods curse you, Tris. This again?!'

Cerdim turned his head to glance over his shoulder, in his usual sly and almost lazy demeanor. The Dunmer seemed to consider life itself a jape, a jest, a comedy he'd play along with until his inevitable end would come. There was not much in this world he actually took seriously. So when he saw his companion's giant of a sibling stomp towards the log they had seated themselves upon, he had to grin.

This should be good."
Fan Music
Listen to these excellent fan compositions:
Coldharbour – By TheElderSound
To Bring Back the Light – By Tristan Sydni
New ESO Fansites
A new ESO fansite has joined the fold! ESO Hut features community forums, a news blog, an image/screenshot gallery, video section, and more. Drop by and give them a warm welcome!
News and Articles
Get the latest news, info, and editorials from ESO fan site writers:
ShoddyCast
Tamriel Foundry
TESOF
TESO Elite
Podcasts and Videocasts
Hear fansite personalities discuss all things ESO:
BabyMakersGaming
Elder Scrolls Off the Record

ShoddyCast
Spartan Jesters
Trekker Crew
Twonk Hammer
Question of the Week Answers
We've gathered up some of your answers to last week's Developer Question of the Week. Watch the video to see the full question, and look for a new Developer Question of the Week this Thursday.
"The grossest ingredient I've ever tasted is without a doubt Giant's Toe. I can just imagine the hairy, sweaty, horrible taste in my poor character's mouth as I force him to eat it, and I feel even more sorry for the poor giant who was slaughtered in a weak attempt to protect his mammoths only to have his toes eaten" – Nick Abel
"I think the first time in Skyrim when I actually grasped that my character consumed Troll Fat, I threw up in my mouth. It happened again when I tried to combine it with a Giant's Toe & fish scales. It reminded me of a greasy pork rind sandwich served in a dirty ashtray." – Mike Brinks
"The most disgusting ingredient that my player had to consume would probably be either raw human flesh/heart, troll fat, Daedra hearts, sabretooth cat eyeballs, or large/small antlers. I'm not exactly sure which fish it is (river betty or silverside perch) that damages your health quite readily, so my player must find that rather disgusting." – Leviathan
"Mine would probably have to be mort flesh or skeever tail. Coming off a zombie and a rat that's just teeming with filth and disease. Or maybe a spider egg. Just popping it in the mouth and releasing all those baby spiders." – No No
"Congealed Putrescence from Shivering Isles. They're harvested from the plant Putrid Gigantea, and are useful in making the most powerful poisons in the game. Does anything about this thing sound like it'd be something you'd want to eat?" – Jonathan Pereira
We hope you enjoyed this issue of The Tamriel Chronicle. Check back next week for more!