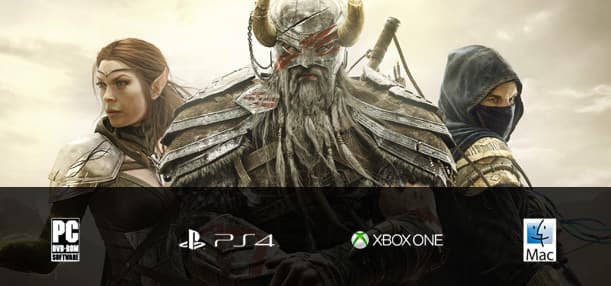 Learn about our big announcement and watch a new gameplay trailer straight from the E3 show floor!
Now there are even more ways for you to join the battle for Tamriel in The Elder Scrolls Online. We're very excited to announce that ESO is coming to the PlayStation 4 and Xbox One in addition to the PC and Mac. You'll be able to play the game on any of these platforms in Spring 2014—we can't wait to see you in-game! You can read the full press release here.
To celebrate this announcement, we've released a new trailer. Join us and take a peek at the gameplay you'll experience as you adventure through Tamriel in ESO:
The Elder Scrolls Online beta test has already begun, so make sure to sign up for beta if you haven't yet and are interested in providing feedback and helping us test the game. (Ignore the System Profile field if you're signing up for the beta on PS4 or Xbox One.)
Thank you all for your support and enthusiasm as we march towards launch.