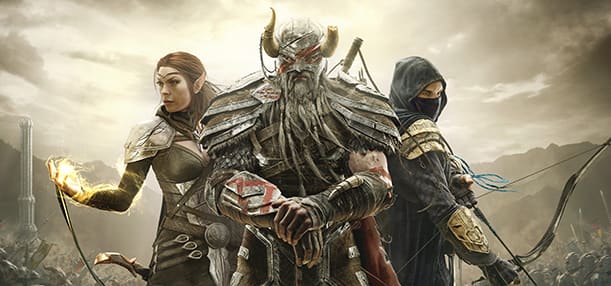 It's been an eventful E3 for ESO, and we don't want you to miss anything. Catch up with news, articles, and interviews with our collection of links.
By now, you've probably heard the big news that ESO is coming to the PlayStation 4 and Xbox One. We hope you caught our new gameplay trailer, too. Alongside the exciting news, we've seen lots of coverage of ESO all over the web, from video interviews to impressions and more. E3 just ended, so expect to see more articles and hands-on experiences coming out over the next few days on your favorite sites.
Articles
Read new hands-on impressions straight from the show floor:
English

Destructoid – "The quality is there, as is more of an 'Elder Scrolls' feel than anticipated. The guy next to me kept audibly cheering during his playthrough—like, this happened at least five times. So there's that."

The Escapist Magazine – "I'm impressed the Elder Scrolls team was able to show off a quest series that proved storytelling in MMOs doesn't have to revolve around killing X amount of dudes."

Game Informer – "After finally getting some hands-on time with the game, I'm most enthusiastic about the combat mechanics, and the way they combine strategic use of powers with a decidedly action game feel."

Just Push Start – "First and foremost, The Elder Scrolls Online will not be the traditional MMO that we've all played in the past. It plays and feels like Skyrim but with an added bonus where you will see other people on the screen and have the ability to interact and play with them."

Massively – "This will sound odd, but I wasn't playing an MMO; I was playing an RPG. I was exploring a world, finding things to do, doing them, and in the process, finding more to do."
Polygon – "Describing the overall focus on next-gen games development particularly apparent during this year's E3, Sage said the development of titles for Windows PC remains "amazing," adding that PC games development will be unaffected by the surge of interest in PlayStation 4 and Xbox One."

Tech Hive – "The reason I find The Elder Scrolls Online so intriguing is that it combines the things I loved most about the single-player Skyrim—the complex quests, the story, the lore—and it allows me to share those moments with other players."
French
The Elder Scrolls-Online France
The Elder Scrolls Online France
FactorNews
Game Guide
Gamekult
JeuxOnline
JeuxVidéo.com

Millenium
Mondes Persistants
Xboxygen

TESO MMO

Warlegend

German
Buffed
GameStar
PC Games
PlayMassive
Interviews
Check out these E3 interviews with our developers and find out more about The Elder Scrolls Online:
Game Director Matt Firor
Creative Director Paul Sage
The Elder Scrolls: Off The Record
Lead Gameplay Designer Nick Konkle

Lead PvP Designer Brian Wheeler