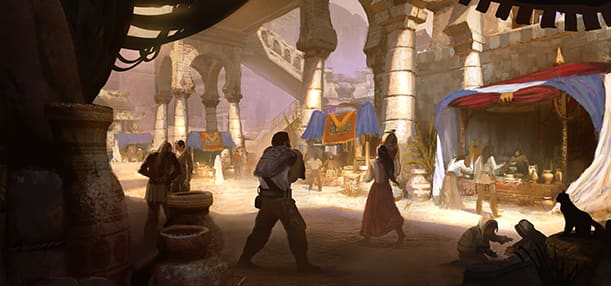 Get the weekly rundown on new creations from fans of The Elder Scrolls Online, from art and articles to podcasts and stories.
Want to know what's got ESO fans talking this week? How about a look at new works from some of our talented fan artists and writers? We have all that and more for you in this issue, so read on and catch up with the latest fan activity. If you have a link you'd like to see us feature, send it along to community@elderscrollsonline.com, and we'll take a look. Enjoy!
Fan Art
We're always inspired by the talent of ESO fan artists. Take a look at some recent works, and don't forget to visit our official ESO Tumblr page for more!
Assault on the White Gold Tower - By minibritt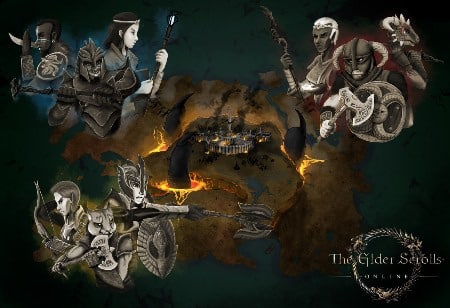 Fan Fiction
Journey to Tamriel through the eyes of other ESO fans.
A Game of Chance: Chapter 2 – By Iogairn on TESOF
"… so on that day, I became orphaned."
As he walked up the stairs, Iusepus could hear Iogairn telling someone one of his many life stories.
"Oh, you poor thing," replied a young woman. Iusepus rolled his eyes. Typical, he gets beaten so hard his toes were broken and he still manages to get lucky. He opened the door to the room Vultus said Iogairn was in. Iogairn was lying on a bed with an Imperial girl with an adoring expression on her face sitting in the chair next to him. Iusepus coughed loudly. They both turned and looked up at him.
"Ah Iusepus, I've just been telling… her about how my parents died." Iusepus nodded sadly, going along with the farce.
The Embassy II – By Akitcougar on The Tamriel Traveler
I'd made it through the Embassy itself, killing the Thalmor soldiers and one wizard with well-placed arrows.
Outside was total chaos, with Frey Shouting everywhere and slicing off heads with that massive greatsword of his. I slunk through, picking off Thalmor he missed.
Motherly Love – By Rial on Tamriel Foundry
Fevure raised her hand and knocked at the door. She hadn't intended to, but old habits were hard to ignore. Mistress Drani always had insisted on no one entering her study without her expressed permission, and thus her servants and students were expected to knock and wait for her to ask them in, no matter the reason for their visit. Fevure was angry with herself for having knocked.
I'm going to kill her, thrice cursed, I couldn't care less for her comfort now.
Fan Music
Listen to these excellent fan compositions, inspired by The Elder Scrolls Online:
Adventurer's Inn – By Nicklas Bauske
The Elder Scrolls Soundtrack Recomposed – By Franziskus Hals
The Harbinger of War – By Jason Patterson
News and Articles
Get the latest news, info, and editorials from ESO fan site writers:
Tamriel Foundry
TESOF
ShoddyCast
TESO Elite
TESO RP
Podcasts and Videocasts
Hear fansite personalities discuss all things ESO:
BabyMakers
Elder Scrolls OTR
HDSoma
JTechTV
RatzCast
ShoddyCast
Spartan Jesters
Tamriel Foundry
Trekker Crew
Troll Scroll
Question of the Week Answers
We've gathered up some of your answers to last week's Developer Question of the Week. Watch the video to see the full question, and look for a new Developer Question of the Week this Thursday.
"I want to find an empty chest, but see foot prints leading away from the chest as if someone heard me coming and tried to make a hastily retreat, leaving me to follow the foot prints to the one who got there before me and leading to a confrontation and the winner takes all." - Bill Hickox
"A piece of scroll that tells an ancient story of Tamriel. That little piece can lead you to an adventure where you need to find the rest of the scroll, it can start as a solo adventure but the closer you get to the final piece the harder it becomes so maybe you must join in with so friends to overcome some obstacles, or you can be a "solo rider" that want to get to the bottom of this tale and see what's behind it!" - Iury Amor Rodrigues
"A rare weapon or piece of armor themed similar to the dungeon. Something that tells a story of the events that may have occurred within the dungeon." - Justin Jackson
"What seemingly appears to be a normal book, that turns out to be a Daedric enchanted book. A book that is sentient and that will speak to you. Perhaps it will wish to be returned to its former master or is trying to hide from its former master." - Chris Rainwater
"As Rosemarie did say that there were 'chests,' I would hope to find the keys to the other treasure chests. Those (of course) would contain truly massive piles of gold, gems, and the recipe/instructions and crafting materials required to make the most phenomenal bow ever seen. Attention to detail is always the key to fame and fortune." - Robert Maxwell
We hope you enjoyed this issue of The Tamriel Chronicle. Check back next week for more