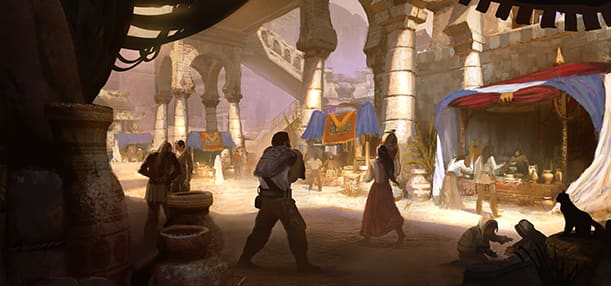 Take a look at some new ESO fan creations and read the latest from our fansites.
It's time for our weekly roundup of links to creative works, articles, and podcasts from ESO fans. We've got some great stuff for you this week, so let's dive right in and see what fans like you have been creating.
If you have a link you'd like to share with us, don't hesitate to send it to community@elderscrollsonline.com and we'll take a look. Please enjoy this week's links:
Fan Art
We're always inspired by the talent of ESO fan artists. Take a look at some recent works, and don't forget to visit our official ESO Tumblr page for more!
Nord Male & Nord Female – By shanku on Tamriel Foundry
Untitled Fan Art – By Sterling Jennings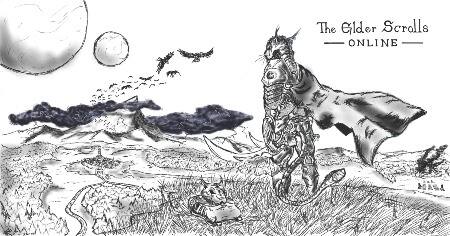 Fan Fiction
Journey to Tamriel through the eyes of other ESO fans.
A Game of Chance: Chapter 3 – By Iogairn on TESOF
Iogairn mounted his horse, strung his bow and pulled the hood over his face. He was ready. Looking down onto the path from his spot in the woods, he saw the Imperial was behind his two Nord henchman, each on horseback, with a fourth horse lagging behind, carrying all his jewels and money. His very large amount of money, he corrected himself. He almost laughed. If he didn't want revenge he could quite easily just take the horse. But he did. He wanted it so much...
He kicked the horse into action and it leapt about twenty yards away from the group.
"Good morning!" he shouted at them, raised his bow and fired an arrow. It hit the first Nord in the gullet.
The Imperial looked shocked for a second before shouting at the Nord before shouting, "Well kill him then!" The Nord rode towards Iogairn and Iogairn threw down his bow, drew his sword and rode towards him. It would be an epic battle to boast of. Life and limb at risk to see who was the greater in combat.
Oh sod it he'd learned his lesson.
The Embassy: Chapter 3 – By Akitcougar on The Tamriel Travler
Jone and Jode had gone through one cycle since I was incarcerated. My days settled into a routine. During the day, the Thalmor interrogators would take me down to the cells and attempt to get information out of me.
They tried lightning, frost, and fire, but all I would give the interrogators was a badly off-key version of Song of the Dragonborn. They all despised the song. I'd gained several new scars all over my body due to my insolence. Thankfully though, S'rendarr the Runt protected me from the worst of the pain.
Sheggorath only knew what the constant injuries did to my mind. I knew I was going mad, but some part of me remained sane enough to recognize and hide the madness.
Sahar - Seeking an Order – By Triskele on TESOF
Sentinel never failed to amuse her.

The city was one of Hammerfell's jewels, the second largest stronghold of the country, sitting on the edge of the Iliac Bay like a gem on top of a crown, looking over the world. Beyond the city's walls, barren plains and rocky, inhospitable hills surrounded Sentinel, offering no fertile soil nor any comfort before the land stretched out into the even more harsh climate of the Alik'r Desert. But despite what unforgiving surroundings the city had, it was a merchant power, with a market unlike any other, overlooked by the oldest and largest palace in all of Hammerfell. The cosmopolitan inhabitants of Sentinel looked to their own, ever busy like ants building their own utopia through what they knew best – trade. Hammerfell's nobility loved residing here, to rest in their manors and exotic gardens at day's end before they'd go to the Theatre. A jewel, this city. A shining diamond locked by endless miles of nothing.

Sahar of Gilane could appreciate it.
Fan Music
Listen to these excellent fan compositions, inspired by The Elder Scrolls Online:
At The Brink Of War – By Oliver Getz
Merchant's Melody – Breton Folk Song – By DrWantonPanda
Townsfolk - Elder Scrolls Online City Theme – By Nicklas Bauske at BausicProductions
News and Articles
Get the latest news, info, and editorials from ESO fan site writers:
Elder Scrolls Off the Record
Tamriel Foundry
TESOF
ShoddyCast
Podcasts and Videocasts
Hear fansite personalities discuss all things ESO:
BabyMakers
Elder Scrolls Off the Record
JTechTV
ShoddyCast
Spartan Jesters
TESO Elite
TwonkHammer
Contests
The TESO Elite team is hosting a Show Your Faction Pride contest. Entering is easy, and they've got some great ESO prizes up for grabs. Check out all the details below!
Question of the Week Answers
We've gathered up some of your answers to last week's Developer Question of the Week. Watch the video to see the full question, and look for a new Developer Question of the Week this Thursday.
"For me, the most important and the most fun part of character creation is the tattoos. With tattoos, one can make up tales of how they fought in battles, or achieved great victories. Another thing one can do is to use it as a symbol of who you are. Someone perhaps with a skull tattoo may try to be saying how dangerous they are. Others may use it to represent that they are part of a guild. There are infinite uses for tattoos, and that is why it is so important to me." – Max Clark
"Everything is important in Character Creation! It determines who you are in contrast to other players. But as Argonian fan I really like to see different textures, horns and jaw styles. Also I like to change the tail if the option is available." – Bert Hoekstra
"I think that the most important part of creating a character is the ability to have many different colors, facial structures, body sizes, hair styles, and basically many options to make your character unique and not just something like someone else made. I enjoy TES games because they have that option that many other games lack." – Rynn Oak
"Personally, I want to see more control over weight for characters. Hey, not everyone is a sword-swinging, spell-slinging, bad-guy-stomping adventurer! Real roleplayers will appreciate what I'm talking about." – Belrain Stormbow
"For me it's about designing a character around what I intend to do with that character. If I'm making a Nightblade, for example, I'd want my character to have the option of looking dastardly. Options pertaining to class personality are important for me as far as character customization goes." – Jason Heir
"I love tons of hairstyles so everyone doesn't end up choosing the same one. Secondary is adjusting size/height. It just seems to add another level of interest and personality." – Amber Ross
"I can't even think of a response, his beard is just so awesome and distracting." – Tarzan Boes
We hope you enjoyed this issue of The Tamriel Chronicle. Check back next week for more!