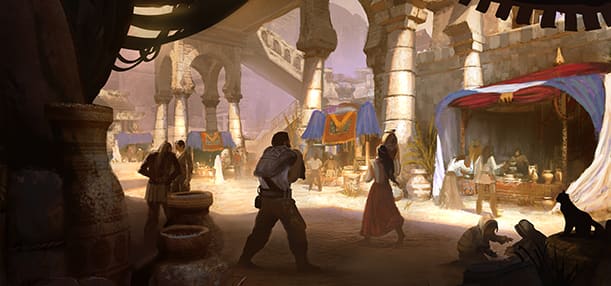 See the latest ESO fan creations. We've collected art, music, fansite articles, and more for you to enjoy.
Every week, we're excited to share a selection of awesome fan creations with you, and this week is no exception. Take a look at all the great links we've rounded up and get inspired! Do you have a link you'd like to see featured? Send it to us at community@elderscrollsonline.com and we'll check it out.
Fan Art
We're always inspired by the talent of ESO fan artists. Take a look at some recent works, and don't forget to visit our official ESO Tumblr page for more!
Breton from the Alliances at War Trailer – By Alex "Leo" Schlemitz
Ouroboros Chip Carved Plate – By Ales the Woodcarver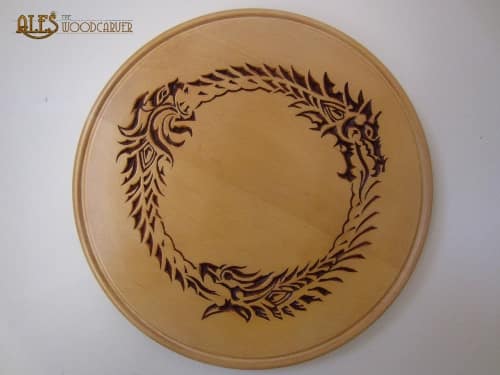 Siluen the Dunmer – By Siluen on TESO-RP
Fan Fiction
Journey to Tamriel through the eyes of other ESO fans.
I Have a Little Plan - Part I & Part II – By Harlwystyr on TESOF
Thalric Camry prided himself on a certain commanding presence whenever he strode, steps that were only taken meaningfully. Although he was not the oldest mercenary captain in Tamriel, he was already a veteran in his own right through battles, and commanded respect from his men.

This had only helped him in acquiring the patronage of duke Rolorn Erold of Evermore. To supplement the guards stationed at the castle, the elderly duke paid the Camlorn Blades quite handsomely to regularly patrol the lower halls as well as his family crypt. Most of the hired mages seemed to take a delight in sending a frown at him whenever he met them, though.
Never look over your shoulder – By Siluen on TESO-RP
The warrior sat upon the cold stone of the keep, gritting his teeth as he looked at the blood coming from his sword arm. He had fought all day, driving back the forces of the Dominion together with his fellow soldiers, most had been wounded, some would not be able to return home ever again. It tore into his soul, having to notify their families, their sons, their daughters… Husbands and wives… They were lost to the winds.
Theodyne Robillard of Hammerfell and The Daggerfall Covenant: Part 9 – By Theodyne Robillard on TESOF
After waving goodbye to Theodyne, Neville turned and made for the local tavern. Upon arriving, he noticed almost immediately the one whom he was to deliver the message. He stood at the bar alone drinking a tall mug of ale. He was dressed from head to toe in leather armor that was dyed as black as a starless night. As he approached the man he felt a bit of a guilt for selling out his childhood friend, but he owed a lot of money to a lot of very powerful people in Tamriel and the reward weighed heavier than his guilt. Standing before the hired mercenary he felt more than intimidated, he was almost shaking with fear. He had heard stories of this man and if even half of them were true he were able to kill every man in this tavern without so much as breaking a sweat. The man looked up from the bar as he spoke to Neville.
Fan Music
Listen to this great musical offering, inspired by The Elder Scrolls Online:
Arcane Nightfall – By Armin Gutjahr
Pyandonea – By Matthew Shine
News and Articles
Get the latest news, info, and editorials from ESO fan site writers:
Exilic
Shoddycast
Tamriel Foundry
TESO Junkies
Podcasts and Videocasts
Hear fansite personalities discuss all things ESO:
ChimneySwift11
Deagen, Soma, & Tamriel Foundry
KineticGTR
ShoddyCast
The Elder Scrolls Off The Record
TrekkerCrew
TwonkHammer
ZIGGSRPG (TGN)
Contests
Participate in the fan-operated contest below for a chance at cool prizes:
TESO-RP
TESO-RP Competition - Happy Birthday Community!
Question of the Week Answers
We've gathered up some of your answers to last week's Developer Question of the Week. Watch the video to see the full question, and look for a new Developer Question of the Week this Thursday.
"I would run up to them and smack their knee with a piece of driftwood that I found on the banks of the Niben and then eat them. Did I mention that I'm a goblin?" – Jake Williams
"No beard, no septims, no service." – Jhayden Hunt
"I would pull my hood forward and whisper 'shhh!'" – Laura Deerfield
"Khajiit do so with two arms. One to show Khajiit's wares, other to take adventurer's coin purse." – Ernesto Pocari
"Greetings and may the ground you walk on always be made of cheese." – Dara Zabih Ghorban
"How would I greet adventurers? I WOULDN'T! I'm pretty distrustful of travelers. I don't take roads; I travel just off the road to be able duck in the bushes at a moment's notice. I'd hide and just let 'em pass." – Joey
"I would greet them in Jel just to see their reactions. If they are the sociable type, they'll try and converse with me. If not, well, not a really big loss in my opinion." – Geert van Loo
"Another one? After glory are you? Seeking some shining relic of the past to stroke your ego? Let me tell you what: Do not sneak around my home. Do not steal my things. Do not try to climb on my roof. Do not barge into my home uninvited. Do not conjure atronachs in the streets. Do not shoot fireballs out of boredom or shout nonsense into the air. It makes the hairs on my neck stand on end. And lastly, stop the infernal jumping!" – Michael Herrera
We hope you enjoyed all the fan creations and news in this week's issue of The Tamriel Chronicle. We'll be back next week with more!