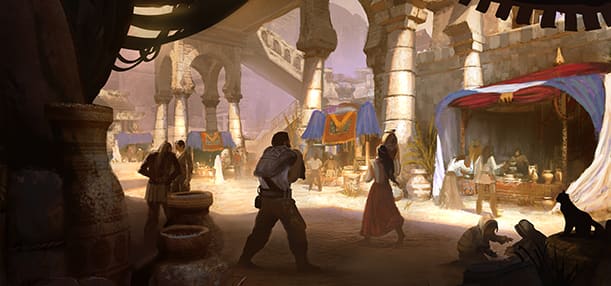 Ready to catch up on the latest ESO-inspired creations? We have fansite articles, art, fiction, and more in this week's issue.
We can't wait to put The Chronicle together every week; it's always great to see all the new ESO fan creations and share them with you. We hope you'll enjoy this week's collection. Spend some time reading the new fansite articles and check out all the other creative works—who knows, maybe you'll be inspired to create something yourself! If you have a link you'd like to see shared in an upcoming issue of The Chronicle, send it to us at community@elderscrollsonline.com and we'll take a look.
Fan Art
We're always inspired by the talent of ESO fan artists. Take a look at some recent works, and don't forget to visit our official ESO Tumblr page for more!
Aldmeri Dominion Wallpaper – By Marc Konings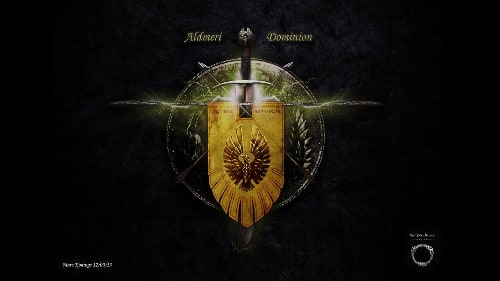 High Elf – By Nana Ichigo
Nightingale Cosplay – By Little Miss Metamorph on Tumblr (and additional Elder Scrolls cosplayers at DragonCon)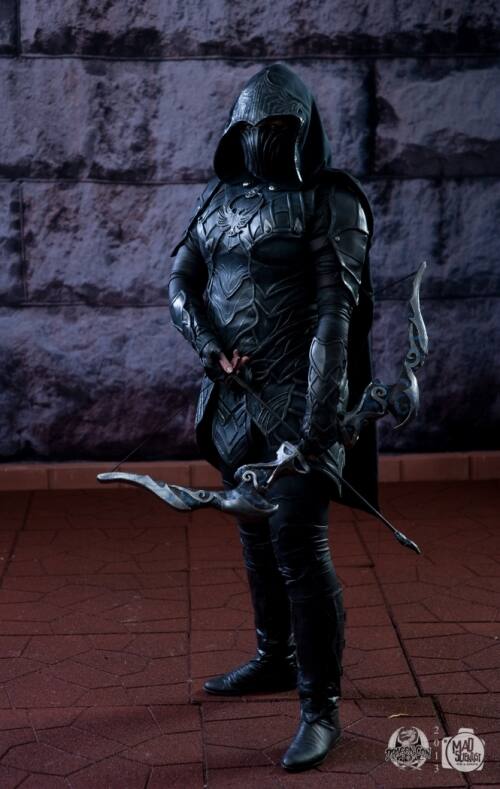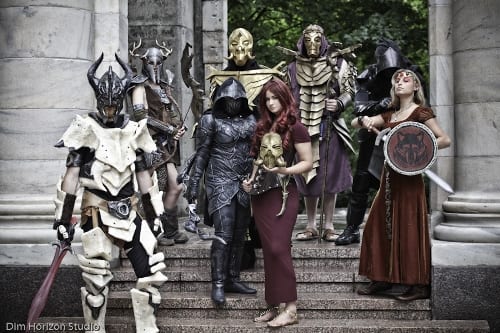 Redguards of Daggerfall Covenant – By Shanku on Tamriel Foundry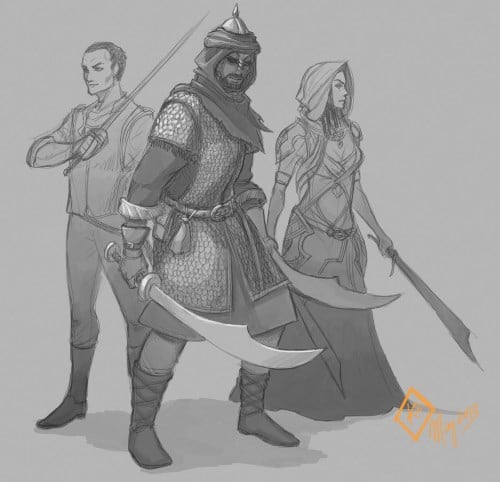 Fan Fiction
Journey to Tamriel through the eyes of other ESO fans.
I Have a Little Plan - Part III & Part IV – By Harlwystyr on TESOF
Marching dutifully down the dim corridor, Jalinda and Thalric did not speak much. They had briefly discussed what the old wizard had spoken to them both about recently, and agreed on swift action. Even though it probably wasn't their call to make they were going to remove the Flamesteel Blade and bring it to duke Rolorn Erold, to convince him that it would only imperil the castle and those who resided within it - including themselves.
Taking the Walls (Chapter 2) – By Caleb Davis
Elendil ran with quick swiftness. Arrows flying passed him and near him, he would dodge each one with great aerobics as he sprinted the grassy field. When he finally made his way to the wall, he had no time to ask questions or wait for orders. Everything seemed to flow like a breeze with his thinking pattern.
Theodyne Robillard of Hammerfell and The Daggerfall Covenant: Part 10 – By Theodyne Robillard on TESOF
Having received word that an assassin was on their trail, Alator quickly dispatched one of the council's very own. Noric had been dispatched to Camlorn to watch over Mordynak and Theodyne as they passed through on their way to Daggerfall. Often being mistaken for a Nord, Noric was no small man, which is why it often surprised those around him when they learned he was as quick and nimble on his feet as he was. Having dressed in the most plain clothes he could get his hands on, he looked like a beggar, something he was used to.
Fan Music
Listen to these great musical offering, inspired by The Elder Scrolls Online:
Aldmeri Dominion – By Armin Gutjahr
Last Inn to the North – By Proxenos Papias
News and Articles
Get the latest news, info, and editorials from ESO fan site writers:
Elder Scrolls Online Info
Exilic
Shoddycast
Tamriel Foundry
TESO Elite
TESO Junkies
TESOF
TESO-RP
Podcasts and Videocasts
Hear fansite personalities discuss all things ESO:
Deagen, Soma, & Tamriel Foundry
ShoddyCast
SpartanJesters
TrekkerCrew
TwonkHammer
ZIGGSRPG (TGN)
Contests & Upcoming Events
Don't miss any of the current and upcoming contests and events that some of your favorite ESO fan communities are hosting!
The ESO Alliance
The ESO Alliance, a new monthly livestream show hosted by members of The Elder Scrolls Off the Record, ShoddyCast, and Tamriel Foundry is debuting this Friday, October 18th at 7:00 PM EDT on the Quest Gaming Network TwitchTV channel. They'll also have special guest Dennis "Force" Duhamel on their debut episode. Don't miss it!
ESO Lodge
The ESO Lodge crew is preparing for their Elder Scrolls Anthology marathon starting on November 2nd to support Extra Life. Read more about it here:
Stratics
This Sunday, October 20th, Creative Director Paul Sage will be a guest on the Stratics 16th Anniversary celebration livestream. Get all the details here:

TESO-RP
The TESO-RP team holds a lore chat called "Lore Surgery with Mycroft & Friends" every Saturday at 2:00 PM EDT/8:00 PM CET. This community is also still hosting their birthday competition. Participate for a chance to win some really cool prizes:
Question of the Week Answers
We've gathered up some of your answers to last week's Developer Question of the Week. Watch the video to see the full question, and look for a new Developer Question of the Week this Thursday.
"I would be more than willing to go blind or insane just to learn what happened to the Dwemer—their entire history from glorious start to mysterious end!" – Aaron Beaver
"I'm gonna read it. I hope to learn how to cure blindness and insanity." – Kevin Kempe Jr.
"The Elder Scroll I'd have would've been stolen from the White Gold Tower because I'm a master thief, and I'd sell it for a price so high I would only ever steal again just for the heck of it and not to make a living." – Matt Brown
"I wouldn't want to read it. There's a good reason that the reading of an Elder Scroll can cause such damage to a mortal. That sort of knowledge is best left to be discovered only by the progression of time, as the events detailed in the Elder Scroll unfold. I would only ensure that the Scroll is kept safe until such a time that fate (or perhaps the will of the Scroll itself, if it has one) decides that it should be revealed." – Braeden Weibel
"I would read it to find out what the Elder Scrolls really are, where they came from, and who wrote them." – Geordie Walker
"I would read an Elder Scroll even considering the dangers. You have to pay for knowledge. And I wouldn't dare to wish to learn anything specific from the Scroll. I would clear my mind, free myself from all thoughts and desires of knowledge, and just let the power of the Kel flow through me. Let the Scroll decide what I have to learn from it, for my desires may be flawed and would waste the power of the Scroll." – Kolaj Lóránt
"Honestly, I probably wouldn't. It's much easier to face a battle you may win or lose, but to potentially lose a critical part of what makes me ME would be something I couldn't do." – Shane Groves
"Screw my sight, screw my sanity. If I had the chance of finding the ancient secrets of the Doom Drum Lorkhan, I certainly would take it. The most amazing thing of all would be to gain the knowledge of how to reclaim his heart from the Tribunal, and how to use it to resurrect the Missing God... and possibly become his next Shezzarine champion." – Asger Lakkenborg Christiansen
We hope you enjoyed all the fan creations and news in this week's issue of The Tamriel Chronicle. We'll be back next week with more!