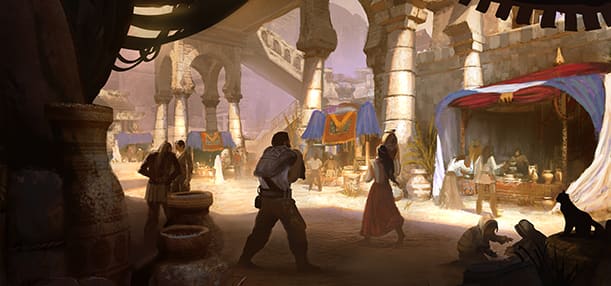 Enjoy the freshest ESO fan creations in our new collection of links.
We have a great assortment of art, music, articles, podcasts, and more—all made by ESO fans like you. Take a look at the latest creative works, get involved in fansite discussions, and don't forget to check out some of our favorite answers to last week's Question of the Week. We love discovering new links to share, so if you have something you'd like to see featured in an upcoming issue, send it to us at community@elderscrollsonline.com. Here are this week's links:
Fan Art
We're always inspired by the talent of ESO fan artists. Take a look at some recent works, and don't forget to visit our official ESO Tumblr page for more!
Altmer Vampire, Arquen – Art by IndustryThirteen, Character by Vacuar on DeviantArt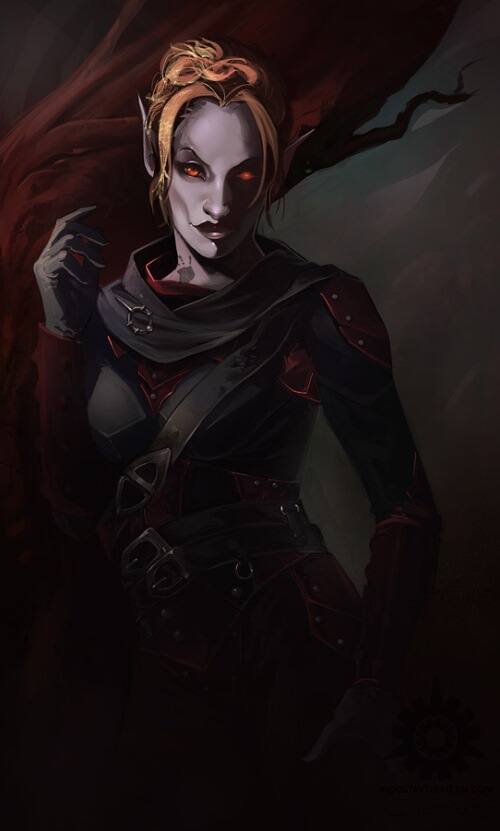 Queen Ayrenn – By kaloheart7 on DeviantArt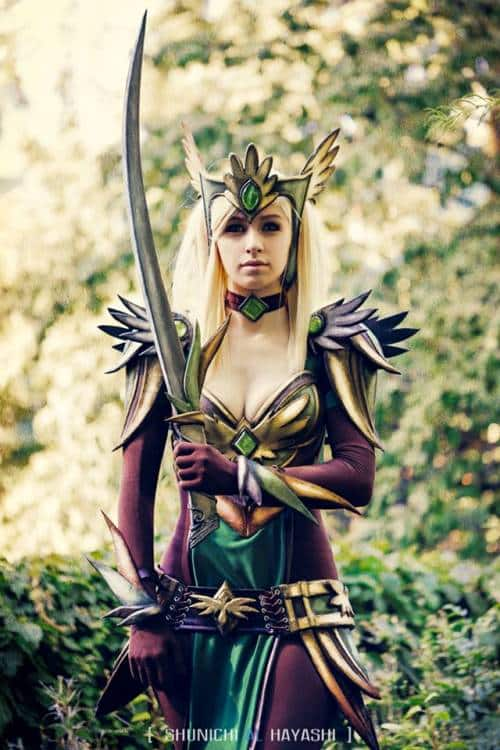 Sheogorath the Daedric Prince of Madness – By Syrena on DeviantArt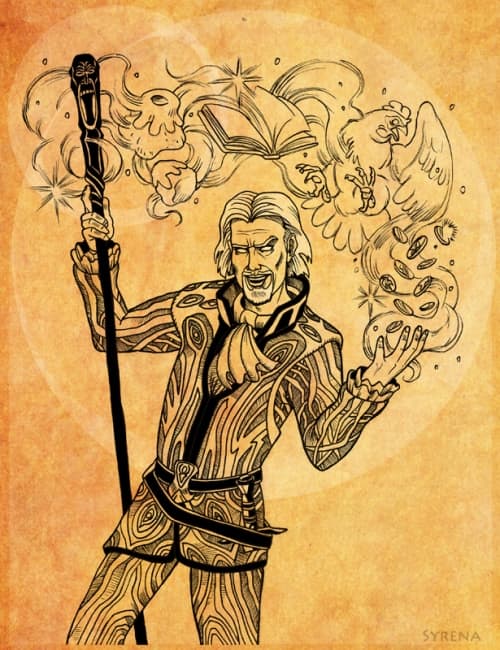 Fan Fiction
Journey to Tamriel through the eyes of other ESO fans.
Helwyr Ariann: Memories – By iberaider on TESO-RP
The fire crackled as sparks flung in all directions from the crudely made campfire. It was cold, dark and wet. The rain had not ceased for three days, this was not good. The rain lowered visibility and masked tracks, the two things required on any hunt. The flames snapped as the heat broke down its fuel as a beast feasts on its prey. His eyes were weary, his grey hair wet, clinging to his face. His eyelids became heavy and his vision blurred. Then the world was black and dreams flooded his mind.
I Have a Little Plan - Part V& Part VI – By Harlwystyr on TESOF
Thalric and Jalinda stood in the dappled sunlight of deep, mossy greenery and dark and massive leaning trees on the edge of the forest near Evermore with a weary Durana between them, her arms about their shoulders, watching Balaudron's wagon rumble away.
"As promised," Durana murmured to Jalinda. "Welcome back."
Jalinda nodded a little shakily. "That was... it's going to take a lot of getting used to. When will-?"
"Harl be in your mind again? Only when the need arises."
"I should be on that wagon," Thalric growled. "The duke..."
Theodyne Robillard of Hammerfell and The Daggerfall Covenant: Part 11 & Part 12 – By Theodyne Robillard on TESOF
"I am not a werewolf. I think that I would know if I were." Theodyne said.

Alator could see in Theodyne's eyes that he truly did not know of the gift that he possessed. But he did not understand how he could have come this far in life without ever having a transformation. Or had he and just not known it? Sometimes when those who were unaware of Hircine's blessesing transformed, it was often misinterpreted as a vivid dream.
Fan Music
Listen to these great musical offering, inspired by The Elder Scrolls Online:
Daedra Shrine – By Armin Gutjahr
Shrine of Akatosh – By Proxenos Papias
News and Articles
Get the latest news, info, and editorials from ESO fan site writers:
Exilic
Shoddycast
Tamriel Foundry
TESO Junkies
The Elder Scrolls Off the Record
Podcasts and Videocasts
Hear fansite personalities discuss all things ESO:
Deagen, Soma, & Tamriel Foundry
Force Strategy Gaming
ShoddyCast
SpartanJesters
Tamriel Foundry
The Elder Scrolls Off the Record
TrekkerCrew
TwonkHammer
ZIGGSRPG (TGN)
Contests & Upcoming Events
Don't miss any of these current and upcoming contests and events that ESO fan communities are hosting!
ESO Lodge
The ESO Lodge crew is preparing for their Elder Scrolls Anthology marathon starting on November 2nd to support Extra Life. Read more about it here:
TESO-RP
The TESO-RP team holds a lore chat called "Lore Surgery with Mycroft & Friends" every Saturday at 2:00 PM EDT/8:00 PM CET. You can also still take part in the TESO-RP one-year anniversary competition. Participate for a chance to win some really cool prizes:
Question of the Week Answers
We've gathered up some of your answers to last week's Developer Question of the Week. Watch the video to see the full question, and look for a new Developer Question of the Week this Thursday.
"An Orc walks into a bar. 'Do you serve Wood Elves?' he growls at the barman.
'Why do you ask?' says the barman, 'You're an Orc.'
'I know,' says the Orc, 'And I'm hungry.' – Gregor Sylvester
"A Khajiit walks into a foreign bar far from home. The bartender, who has never seen a Khajiit before, says, 'I see you're not from this area. Where is it that you hail from?'
'I come from Elsweyr,' The Khajiit replies.
'I know you come from elsewhere, but what area of Tamriel are you from?'
'I told you, I'm from Elsweyr.'
'Where elsewhere?'
'ELSWEYR!'" – Albus Black
"A dragon, a sweetroll, and Sheogorath walk into a bar... I really need to lay off the Skooma." – Dylan Jackson
"The Nord warrior returned to the Jarl's longhouse with prisoners, bags of gold, and other riches from his victories.
'Tell me of your battles,' said the Jarl.
'Well, my Jarl, I have been robbing and stealing on your behalf for weeks, burning the all of the villages of your enemies in the north.'
The Jarl was horrified. 'But I have no enemies in the north,' he said.
'Well,' said the Nord warrior, 'you do now.'" – Jarkko Ikonen
"A Nord, a Khajiit, and a Breton all walk into a bar. The Redguard ducks." – Logan Epp
"Did you hear about the Khajiit who swallowed a ball of wool? She had mittens." – Rhonda Frazier-Evans
We hope you enjoyed all the fan creations and news in this week's issue of The Tamriel Chronicle. We'll be back next week with more!