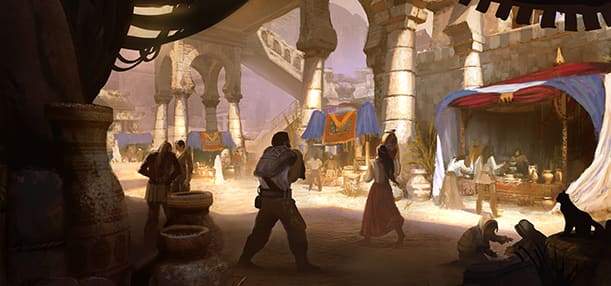 See tons of inspiring new ESO fan creations in today's issue.
We're so excited to see the enthusiasm that ESO fans like you share, and we love to see all the ways that you express it. Every week, we round up a list of links to new creations, from podcasts and music to fan art and fiction—and this week is no exception. We hope you'll enjoy browsing through our new collection. If you have something you'd like to see us share, send a link to community@elderscrollsonline.com and we'll check it out.
Fan Art
We're always inspired by the talent of ESO fan artists. Take a look at some recent works, and don't forget to visit our official ESO Tumblr page for more!
"Werwolf" (Werewolf) – By Cernach Dahlahn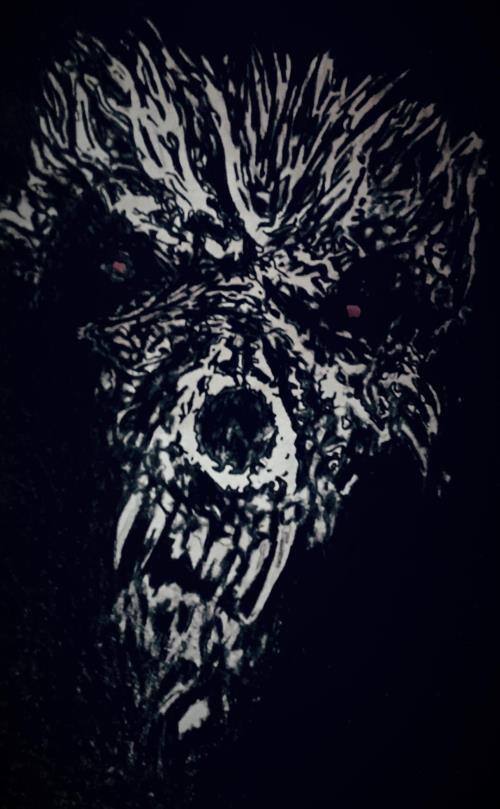 "Zweigling" (Dryad) – By Judith Rehermann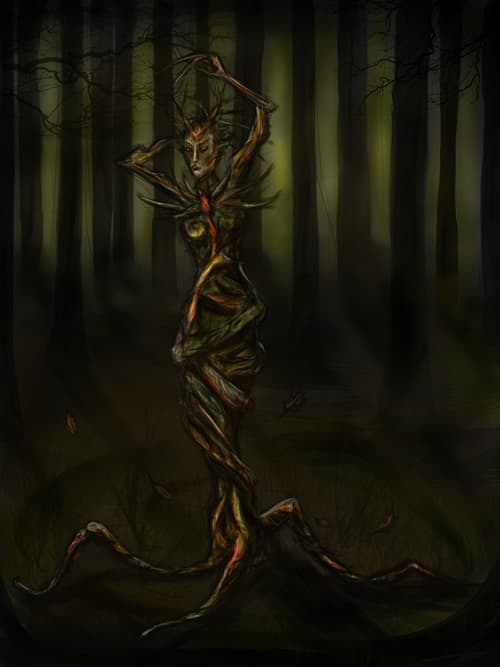 Alliances Trailer Mind Heist – By Loko on Tamriel Foundry (Music by Zack Hemsey)
Fan Fiction
Journey to Tamriel through the eyes of other ESO fans.
A Faceless Half-Blood: Chapter 3 / Chapter 4 – By Rasco on TESOF
Rasco sat in a simple wooden chair, back against the wall, with a full view of the fire pit blazing brightly in front of him – not to mention a view of the entrance and a straight run to the stairwell too. He had just been given a new contract and was told to meet an ugly, odd Orc to get the final details sorted out. But all Orc's were ugly so he didn't know how in Nirn he was going to distinguish one from another, but the Bridge Inn was well stocked and was a warm retreat from the winter air so he didn't mind waiting.
Born To Darkness - Ch. 1 "A Divine Encounter" / Chapter 2 "A Void Contract" – By Histrom on TESO-RP
The best agents and assassins were sent to track him down, not even knowing who he was, only what he had done. All of Tamriel had different pictures on their wanted posters with no two pictures having the same face. No picture was the right one, for this Shadowscale moved only in Shadow.

Approaching a good old age but still alive and well, Ralisk decides to take one last contract. This is no ordinary contract for he won't have to report back to the Black Hand and will relinquish his role as Silencer upon completion.
On Nobles & Wine: Part 4 / Part 5 / Part 6 – By Harlwystyr on TESOF
Great bronze horns blew a fanfare that the crisp morning air carried far across dawn-set Daggerfall, heralding from a splendid manor within the city the business of a certain duke, Garon Denworth, and his entourage.

Yeltan Bucks, a seemingly loyal hired mage in the employ of the elderly duke, scarcely needed the scurrying of courtiers and servants, and a curtly nod from one of Lord Ordale's operatives within the manor, to realise that the time for action had come, and so his spells had to be woven swiftly.
The Dawn of Shadows: Chapter 3 / Chapter 4 – By Soulflame on TESOF
As night fell upon the city of Daggerfall, the streets emptied of their citizens. I watched the merchant pack up his wares from the shadows. The orc's huge fingers fumbled with some of the weapons. I moved closer, my eyes glued to the dagger. I was almost directly behind the orc. I hid behind a crate, and knelt down to stay out of the huge orc's line of vision.
Fan Music
Listen to these great musical offerings inspired by The Elder Scrolls Online:
"Ein fernes Land" (A Land Far Away) – By Adalbert Winkler
I won't come home – By Skelius Mortalis
The Birth of an Adventure – By Mark Walker
News and Articles
Get the latest news, info, and editorials from ESO fansite writers:
Gaiscioch
Imperial Library
Shoddycast
Tamriel Foundry
TESOF
TESO-RP
TESO Junkies
The Elder Scrolls Off the Record
Podcasts and Videocasts
Hear fansite personalities discuss all things ESO:
ShoddyCast
SpartanJesters
The Elder Scrolls Off the Record
TrekkerCrew
TwonkHammer
Ziggs RPG (TGN)
Contests & Upcoming Events
Don't miss any of these current and upcoming contests and events that ESO fan communities are hosting!
TESO-RP
The TESO-RP team holds a bi-weekly lore chat called "Lore Surgery with Mycroft & Friends", Saturdays at 2:00 PM EDT/8:00 PM CET. The next one will be this Saturday (November 16th).
Also, you can also still enter the TESO-RP one-year anniversary competition. It ends on November 21st. Don't miss out on a chance to win some great prizes!
Question of the Week Answers
We've gathered up some of your answers to last week's Developer Question of the Week. Watch the video to see the full question, and look for a new Developer Question of the Week this Thursday.
"I don't feel attached right away. At first, my character feels like a stranger I just met, but I do eventually feel a fondness and attachment for my character based on the journey and experiences from what happens in the game. What's important to me is the experiences and the people you meet, real or NPC—especially how NPCs react to you. It makes my character feel more like a person that I've gotten to know and adventured with."  – Rosemary McCoubrie
"My characters have a backstory, but typically this is only in my head. The way I express that backstory is through my choices as a character. Having meaningful choices is one of the most important elements to allow me to feel connected to my character ... but, again, that's mostly just for me, in my own head."  – Laura Deerfield
"Name is very important. The other big thing is showing off achievements and special rewards, like weapons, mounts, and gear that can only be gotten by vanquishing enemies."  – Jaia Konik
"Being able to change my look and gear in color, shape, size, and design allows me to create an individual look that makes me feel close to my character. I don't want to be a cookie from a cutter."  – George Smith
"What molds my character is all of those things. But sometimes I'll just make someone who looks awesome and let the gameplay I decide show his character. Or vice versa, and have a specific personality and background and let the items I use reflect him."  – Brad King
"Being able to give them both a first name and last name, being able to customize many parts of their appearance, and being able to identify a backstory are all very important steps in accomplishing that tie. But most of all, what ties me to a character is when I feel like that character is an important hero in their universe. The memories made in the earliest moments of that character's life determine how I feel about them in the long run."  – Brandon Little
"For me it's all about my name. I like when people recognize or remember my name from a general chat or dungeon group and then can be like, 'Oh yeah, I remember this guy. He's alright; let's invite him again.'"  – Cotton Morris
"Being able to portray my character through how I act and react with people. Along with that, her name and the story that I build up while playing the game."  – Rain Bond
We hope you enjoyed all the fan creations and news in this week's issue of The Tamriel Chronicle. We'll be back next week with more!