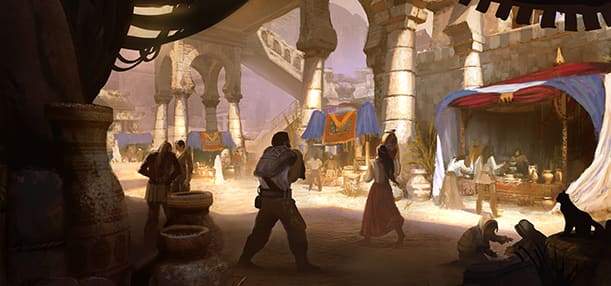 Get a look at our latest collection of ESO fan creations in today's issue.
We've got another great list of links to share with you today, all featuring great creations made by ESO fans. Read through some short fiction, check out the awesome artwork, catch up on your favorite fansite podcast, and more. We're always on the lookout for new links to share, so send us your favorites at community@elderscrollsonline.com. We can't wait to see them!
Fan Art
We're always inspired by the talent of ESO fan artists. Take a look at some recent works, and don't forget to visit our official ESO Tumblr page for more!
ESO Nord Commission – By Industry13 on Tumblr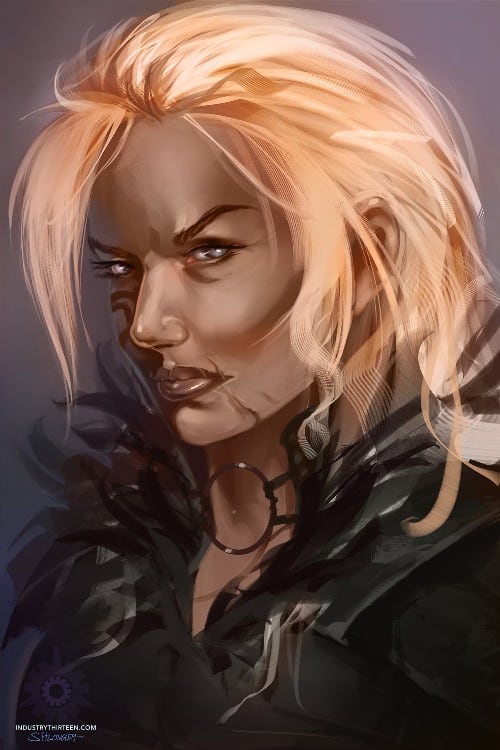 Altmer – By Sardage on DeviantArt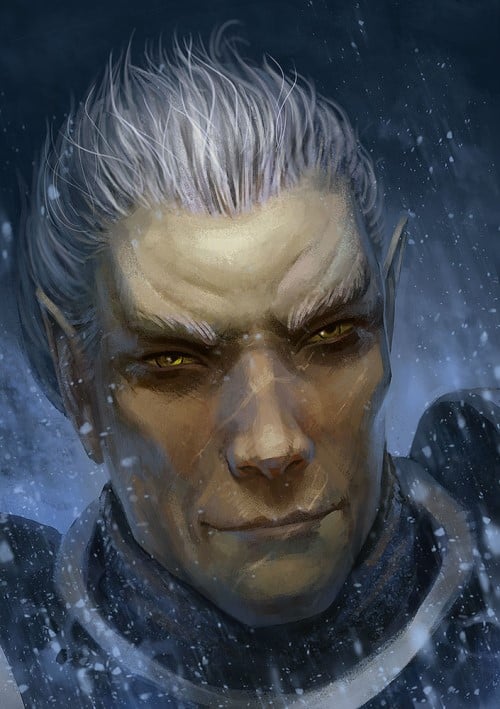 Casirrus of Hammerfell – By Daisyloveletters/bulletsketchbook on Tumblr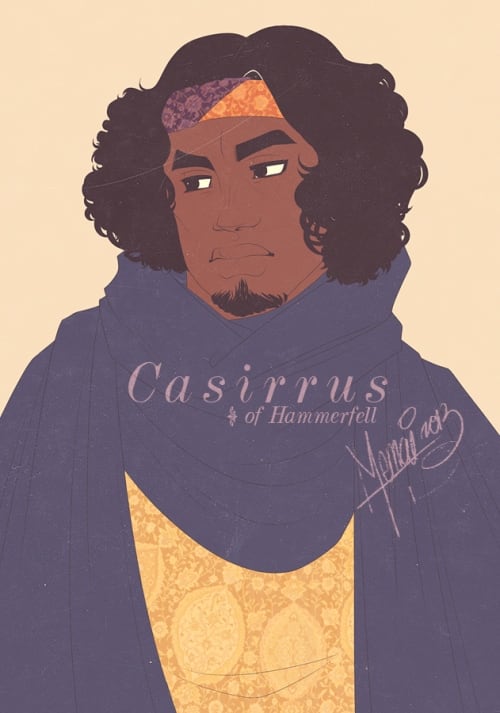 Fan Fiction
Journey to Tamriel through the eyes of other ESO fans.
Born To Darkness - Ch. 3 "A Deadly Drop" / Chapter 4 " Dark Covenant" – By Histrom on TESO-RP
There was bad blood between Ralisk and one of the other silencers, who went by the name Macchio.
Macchio was a Dark Elf from rural Morrowind who, shortly after entering the Dark Brotherhood, became a Vampire Lord.
Macchio rebelled against the Brotherhood, well the Argonians who made up most of it, soon after Ralisk retired.
They all knew he was a vampire but never knew he was a Vampire Lord for he only transformed in secret.
Deidre Cendres: Insensilibus – By iberaider
It truly is a miracle if you believe in such things. The body and how it works, even when you understand it, is just as baffling as when you started off. Even when the science of its inner workings, the function of each organ, artery and muscle is fully understood it is still such an amazing idea that it even works that calling it anything less than a miracle is sacrilege. It begins with the heart, pumping blood, the life essence of the body through the various roads and rivers that are the arteries and veins. Giving life to the various organs, the lungs which take in the precious air, the stomach that breaks down the food and quells our hunger, the liver which filters the poisons of the world out of your blood. Everything working together to make the human, mer or beast tick.
Those that Walk in the Deep (Chapter 3) – By Caleb Davis
The air seemed thin as Elendil gave a halting hand gesture. Something sounded odd, a groaning sound. We heard slow and dragging footsteps in the dark, it almost sounded dead…
The fellowship drew their weapons as the horrid creature appeared, it was an undead soldier; risen through some form of necromancy or curse.
On Nobles & Wine: Part 7 / Part 8 – By Harlwystyr on TESOF
Lord Rhaltan Vichnar proved to be a short, smooth dunderhead. He and the effete, oh-so-sophisticated had been as easy to conquer as Ulston Mreldvar had been.

Easier, if truth had to ring, as both were straining for any chance to win greater influence and dominance in a Daggerfall teeming with wealthier, more arrogant, and far more powerful nobles.
Fan Music
Listen to these great musical offerings inspired by The Elder Scrolls Online:
Realm of Coldharbour – By Armin Gutjahr
United We Stand, Divided We Fall – By Mathias "Exsanquis" Terre
News and Articles
Get the latest news, info, and editorials from ESO fansite writers:
Exilic
Tamriel Foundry
TESO Elite
TESO-RP
The Elder Scrolls Off the Record
Podcasts and Videocasts
Hear fansite personalities discuss all things ESO:
ShoddyCast
SpartanJesters
The Elder Scrolls Off the Record
TrekkerCrew
TwonkHammer
Ziggs RPG (TGN)
Contests & Upcoming Events
Don't miss any of these current and upcoming contests and events that ESO fan communities are hosting!
New ESO Community Videocast
A new ESO community videocast will debut this weekend. Here's everything you need to know!
When: Saturday, November 23rd, at 7:00 PM EST.
Where: On their TwitchTV channel at http://www.twitch.tv/elder_scrolls_online
Who: The debut episode will feature members of guilds from each ESO Alliance, including Cross, Draugen, Mostly Harmless, The Noore, and Vokundein.
They're looking for guilds to feature in future episodes, so if you're interested, be stop by, check out the first episode, and let the hosts know.
TESO-RP
The TESO-RP team holds a bi-weekly lore chat called "Lore Surgery with Mycroft & Friends", Saturdays at 2:00 PM EDT/8:00 PM CET. The next one will be on Saturday, November 30th.
You also have a little less than two weeks left to enter the TESO-RP one-year anniversary competition for a chance to win some great prizes. It ends on Saturday, November 30th. Get your entry in!
Question of the Week Answers
We've gathered up some of your answers to last week's Developer Question of the Week. Watch the video to see the full question, and look for a new Developer Question of the Week this Thursday.
"I would take the cheese. And when I plant it, the skies will rain cheese down upon Tamriel. Why? Because CHEESE!" – Jake Williams Von Starcher
"Clearly the predations of a particular Princely personage predicated to pleasure in parsing out his own personal pandemic of pandemonium. I'll pass on this one."  – Joshua Oddur Ragnarsson
"Why, I would take the cheese, of course! I mean, why wouldn't you? Think about it. I receive a bit o' cheese from a strange man, with a staff! My Lord Sheogorath has blessed me with a gift that I cannot simply refuse! So I would simply take the cheese and take off to the next town over, wherein I shall plant the cheese into the ground. The cheese shall shoot up and form a tree, which shall be alight with candles, and from its branches would hang cheese, cheese, and - you guessed it - more cheese! The Sheogorath shall appear before me, and with his Wabbajack he shall bring forth a random assortment of people, animals, and monsters alike. And we shall drink and party until even Sanguine becomes jealous of our debauchery! It's a simple answer to a simple question, really."  – Mitch Wortham
"I'd take that fork and go murder a netch."  – K Michele Palmer
"Obviously if a staff, cheese, and finely-dressed man are involved, it's Sheogorath, the Mad God. I tend to avoid most Daedric Princes, so I wouldn't do it. If I did do it, however, it's likely he could bring down a meteor shower of flaming cheese or use the Wabbajack to turn people into who knows what. But knowing Sheogorath's reputation, he could do anything at all."  – Matt Brown
"100% would do it. Plant the fork. What could a fork do, right? Cheese might be poisoned; staff, well we know staffs are always magic, but a fork? Would be dying to see if anything could happen by placing a fork in a village."  – Shane Fischer
"Well, a staff could cause some real trouble, but the cheese could summon a horde of small creatures as well, depending on the area you are in. I'd do it, but I would take the fork. So long as I didn't have to place the fork IN someone, I have a hard time thinking of something wrong that would happen from something as simple as a fork."  – Tim Stingley
We hope you enjoyed all the fan creations and news in this week's issue of The Tamriel Chronicle. We'll be back next week with more!