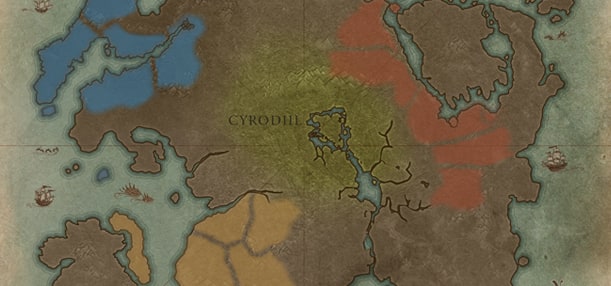 Explore our new website feature to discover more about the world of The Elder Scrolls Online and see new screenshots from each region.
Tamriel is a diverse landscape where you'll find everything from scorching deserts to woodlands, plains, and treacherous swamps, all inhabited by cultures just as disparate as the terrain. If you want to learn more about the setting of ESO and get some new glimpses into the various regions you'll traverse in-game, we think you'll love our new site feature, the interactive map of Tamriel.
You can view the map right now to see new screenshots and concept art and to read journals, excerpts from books, conversations overheard at taverns, and more from the world of ESO. We'll be expanding the map in the future, so keep checking back for more. Don't forget to tell us which ones are your favorites on Facebook, Google+, and Twitter; we can't wait to see what you think.