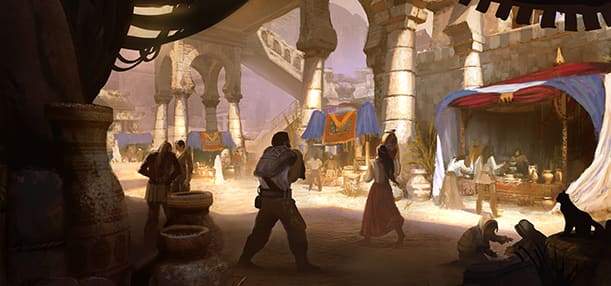 Check out our weekly collection of links to excellent ESO fan creations. We've got art, fiction, new fansite articles, and more inside.
It's an exciting time for The Elder Scrolls Online! Fansites have been abuzz since our release plan announcement and new trailer last week. Discover the latest articles and discussions along with more great creative works in our list below. Do you have a link we should feature in an upcoming issue of The Chronicle? Pass it on to us at community@elderscrollsonline.com and we'll take a look.
Fan Art
We're always inspired by the talent of ESO fan artists. Take a look at some recent works, and don't forget to visit our official ESO Tumblr page for more!
Anaco – Knowledge Will Corrupt – By Pink-Reindeer on Tumblr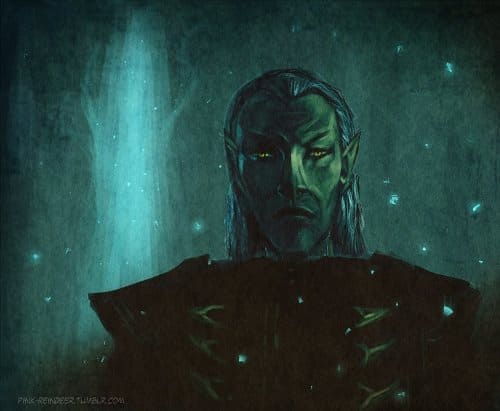 Female Dark Elf – Art by Erik "EL.058" Lovell, character by Aadoris on TESO-RP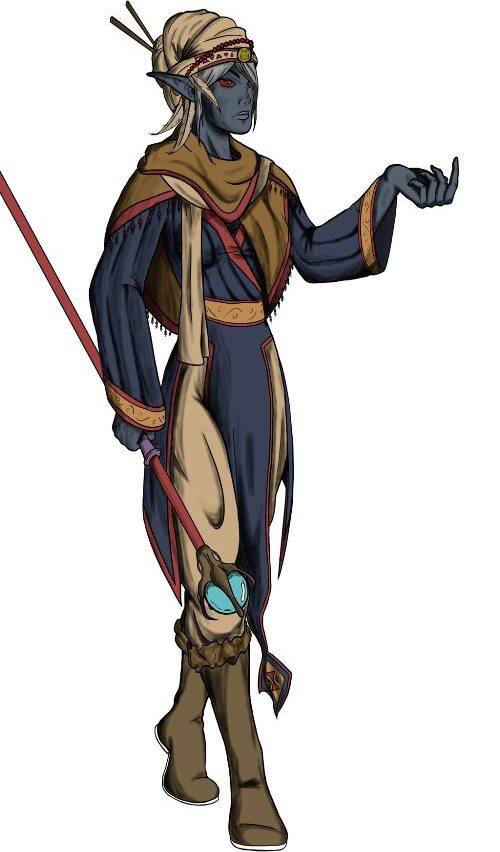 Redguard and Breton Assassin Commission – By Kil-Art on Tumblr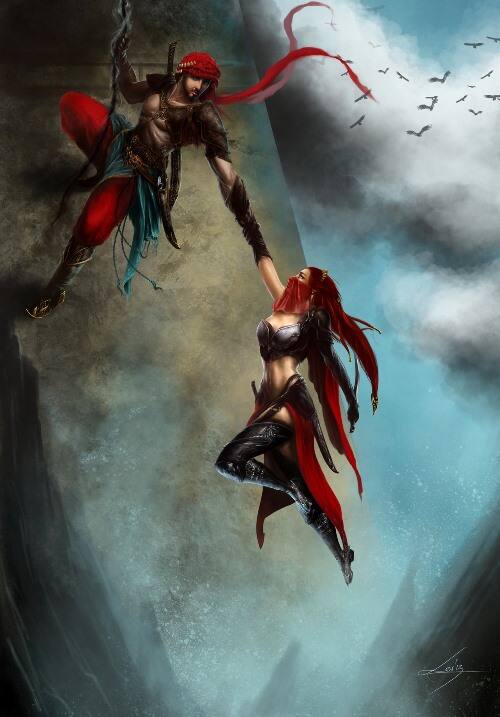 Fan Fiction
Journey to Tamriel through the eyes of other ESO fans.
[Ofeig] Holiday Series: North Winds Prayer – By Dyna on TESO-RP
"Shift your stumps, Crapboy! I've a new job for you – the Thane wants y'to bring Sassybritches off to the Temple fer t'be blessed!"

Ofeig startled, nearly dropping the pitchfork he'd been leaning on while making calf-eyes towards the forge. He turned and tried to look as though he was very busy shoveling manure. "Eh, what's that now-?"
Stories from battle: Regaining honor – By Maribaken on TESOF
Three days after our raid of the Orcish stronghold the group finally started to relax. A fire was lit and we started roasting the deer that were killed at the hunt that morning. When we asked to open one of the barrels taken from the stronghold, Faldiin chuckled and nodded thoughtfully, stating that; "You should drink it all. In the field, an empty keg is better than a full one."
The Wizard's Daughter - Part III / Part IV – By Harlwystyr on TESOF
The aging innkeeper whirled where he stood. "Aha! Got you! You thought you could escape, did you? I take it you want to keep your job?"

The lean kitchen boy stiffened, a bowl of hot water in his tormented grasp, and sent Dunavic Lewynth a scared, almost sheepish look. "Uh, sir?"

The stout innkeeper lunged forward with surprising agility and raised a menacing fist into the air for a clear swing, his hairy hand seeming more like a boulder, and asked softly, "Oh, and now it's 'sir', is it? You're fond of your hide, aren't you?"
Fan Music
Listen to these great musical offerings inspired by The Elder Scrolls Online:
Ebonheart Pact – By Armin Gutjahr
The Lands of Tamriel – By Mark Walker
To Valenwood – By Proxenos Papias
News and Articles
Get the latest news, info, and editorials from ESO fansite writers:
Elder Scrolls Off the Record
Elder Scrolls Online Info
Exilic
Tamriel Foundry
TESO-RP
Podcasts and Videocasts
Hear fansite personalities discuss all things ESO:
Elder Scrolls Off the Record
Force Strategy Gaming
GamerLCD
ShoddyCast
SpartanJesters
The ESO Vodcast
TrekkerCrew
Twonk Hammer
Contests & Upcoming Events
Don't miss any of these current and upcoming contests and events that ESO fan communities are hosting!
ESO Community Videocast
The team that runs the ESO Community Videocast, a fan-run project, is airing their second live episode this weekend. Here are all the details you need to know!
When: Saturday, December 21st at 7:00 PM EST
Where: On their TwitchTV channel at http://www.twitch.tv/elder_scrolls_online
Who: This episode will feature guilds from each ESO Alliance, including Daggerfall Authority, The Noore, and the Oceanic guild UnrealAussies! Also an interview with super-fan David Moreau about the AI in ESO.
This team is always on the lookout for guilds to feature in future episodes. If you're interested, stop by, check out the episode, and let the hosts know!
Ten Ton Hammer
The Ton Hammer is hosting a live Q&A with ESO Lead PVP Designer Brian Wheeler on the Elitist Jerk forums on Wednesday, December 18th from 4:00 PM – 6:00 PM EST. Check out the full announcement via the link below for all the details!
Question of the Week Answers
We've gathered up some of your answers to last week's Developer Question of the Week. Watch the video to see the full question, and look for a new Developer Question of the Week this Thursday.
"Best bet is to focus trebuchets at one spot in the walls while other equipment is deployed at various points. Once there is a breach in the wall, flood forces in as quickly as possible. The name of the game is speed and mobility." - Jared Landsee
"Since I'll be heavily armored, I'd be helping with the battering ram. Once the doors are breached, I and the other heavy-armored characters would lead the assault into the inner portions of the keep." - Jason Hair
"I would hold all troops back and aim for the gates with catapults. Less casualties, and a huge wall of troops on charge when the gates are down. If they wish to retaliate and come and attack, you will see them with enough time to react." - Matt Jones
"I would use the ballista. I would focus the defending archers at first to minimize losses but fire at the keep doors with the trebuchet. Once my army is inside, superior training will assure victory. The doors can easily be rebuilt once the keep is mine." - David Mills
"Destroy anything around us! Blood for the Pact! Honor and Sovngarde await us, brothers!" - Dustin Little
"I would take my tower shield to the ram and defend the men operating it from spells and arrows whilst healing them and summoning scamps to scale the walls and rip off the faces of the defenders." - Lewis Menzies
"The best way to assault a keep is to attack its supplies and starve the defenders of resources and reinforcements. When they come out to retake their holdings is when I would strike, using the ballista to shoot them as they exit their stronghold and storming the keep with minimal damage so we can immediately prepare to defend against recapture." - Nathan Baker