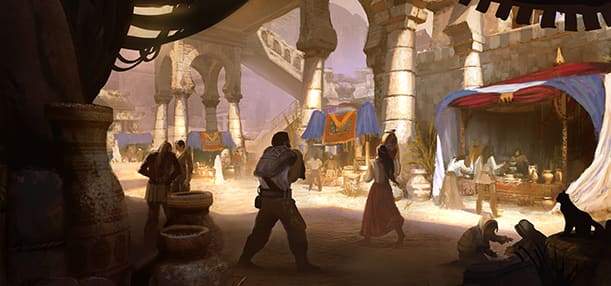 Expect some awesome fan creations in our last issue of the Chronicle for 2013.
The year is nearly over, and we hope you've had a great one. Since the Chronicle debuted earlier this year, we've been bringing you some of our favorite fan-made art, music, events, podcasts, and lots more, and today is no exception. Enjoy our last collection of links for the year, and if you have something you'd like to see featured in an upcoming issue, send it to us at community@elderscrollsonline.com. Happy holidays!
Fan Art
We're always inspired by the talent of ESO fan artists. Take a look at some recent works, and don't forget to visit our official ESO Tumblr page for more!
Christmas in ESO – Art by Erik "EL.058" Lovell, characters by Erik Lovell (Shir-Ava) and Asra (Asra Karimi) on TESO-RP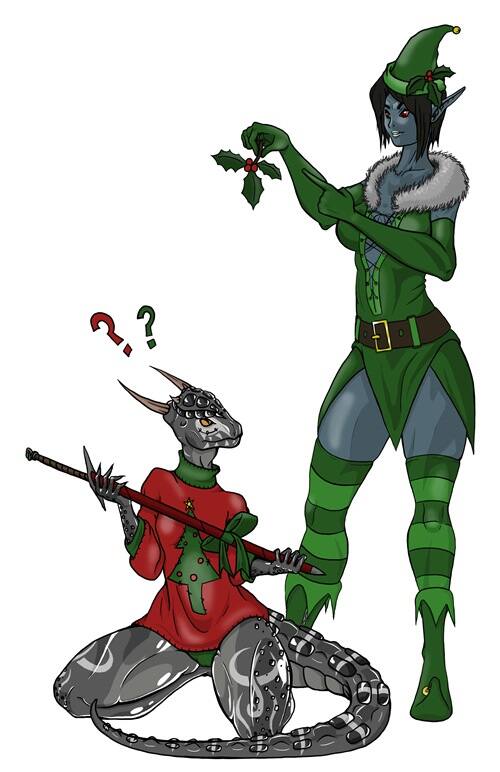 Jakhan, Bambala, and Malishan – By Growlybeast on Tumblr

Siluen – By Siluen on TESO-RP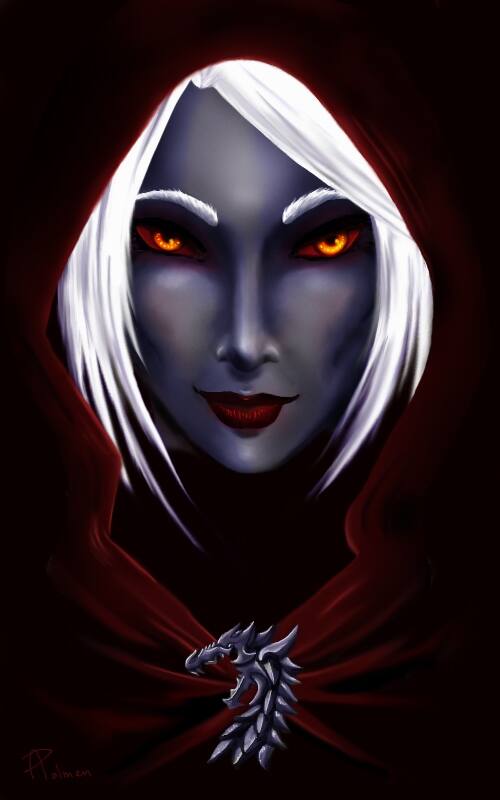 Fan Fiction
Journey to Tamriel through the eyes of your fellow ESO fans.
An Invitation – By Astrid on TESO-RP
There was something about riding on frosty Skyrim roads. The nearly forgotten ones, the kind that spread through the country like tree branches. The main roads might be safer, but not better than these provincial roads, the secret paths through forests and mountain valleys. One could be lost in meditation riding these roads and despite riding almost the whole night, the Nord woman seemed quite comfortable. Her eyes were still full of energy and scanning the horizon, looking for first rays of the rising sun. Even in the darkness of night, her eyes reflected the moons and showed themselves to be pale blue, the color of a fresh spring if it were to freeze over. The tip of her nose was pink from the cold, but the rest of her was warm, wrapped in fur over sturdy leather. One could only imagine what was beneath the outer layers, but woman was slim and perhaps underweight. Gwen, the white mare she rode on seemed to thank her for it.
[Daniyah] Holiday Series - Baranth Do – By Dyna on TESO-RP
Even in the darkest nights, there was always the promise of a new day dawning.

Daniyah's face was a swathe of lurid reds and purples, accented by stark white lines - a grotesque yet elegant exaggeration of human features made to look twisted and demonic. The natural droop and mottling of her burn scars was exaggerated by the face paint, and in the fire's dancing brilliance, she cavorted alongside other dancers, motions graceful from long years of combat drills.
Foefire – By Thorfinn on TESOF
Alone in a wide stone chamber high in the towers of the College of Winterhold, Thorfinn ran his thumb along the near ten inch tang of his longsword. Under his callused touch, simple patterns, lines and indentations could be felt. The elf's cursory examination of his swords hand not yielded a comment on these ancient runes, and Thorfinn did not feel the need to share their presence with Utharo.
Thorfinn did not know what these letters said, nor even from which tongue they hailed. He did not know why they were placed on the tang, an area which would be covered with the sword's grip. Something, perhaps, for only the owner and the maker to know, long dead as they were.
Winter's Eve – By Baldar the Loyal on TESOF
It was but 9 days until Winter's Eve and Benjamin Aldar was heading down to the Westminster Pub. On the way he met his friend Thomas De Ecca, a fellow scholar at the Tesoffian University. Benjamin quickly offered his friend De Ecca to join him for a drink at the Westminster and De Ecca happily agreed.

Just when they rounded the corner of 5th Street and Bayle they ran into Lady Adrianne Ashveil, followed by a couple of Guards. Young Lady Ashveil came from the rich and well known Ashveil Family who frequently donated to the very same University that De Ecca and Aldar worked at. They had met her a few times and for a noblewoman she was quite modest and down to earth. She was also very involved in the Animal Rights Foundation. Benjamin and Thomas quickly removed their hats from their heads and bowed before her ladyship. Her ladyship simply waved their silly greetings off and asked them where they were going this cold winter night.
Fan Music
Listen to these great musical offerings inspired by The Elder Scrolls Online:
Riverwood – By Ian West
The Mount's Heart – By Armin Gutjahr
News and Articles
Get the latest news, info, and editorials from ESO fansite writers:
Elder Scrolls Off the Record
ESO Hut
Exilic
ShoddyCast
TESO-RP
Podcasts and Videocasts
Hear fansite personalities discuss all things ESO:
Elder Scrolls Off the Record
ESO Community Videocast
ESO Recapped
ShoddyCast
SpartanJesters
The ESO Vodcast
TrekkerCrew
Twonk Hammer
ZiggsRPG (TGN)
Contests & Upcoming Events
Don't miss any of these current and upcoming contests and events that ESO fan communities are hosting!
ESO Lodge
The team over at ESO Lodge is holding a holiday giveaway. Enter for a chance to win The Elder Scrolls Anthology. Click on the link below for all the details.
Question of the Week Answers
We've gathered up some of your answers to last week's Developer Question of the Week. Watch the video to see the full question, and look for a new Developer Question of the Week this Thursday.
"I'm looking forward to grouping up with my two brothers and other friends to pick off stragglers and ambush people." – Evan Miketon
"I dream of seeing the White-Gold Tower." – Emma Andersen
"All of the above! ESO will be my new home for a long while, I hope." – Debbie Morgan
"All of the things you mentioned, plus looking forward to finding anything that is a resource in the PvP area for crafting gear and other things (if you plan to put crafting resources into Cyrodiil). Also looking forward to finding the lore book that was mentioned in a recent Q&A at the Elitist Jerks forum—I'm a bit of a lore junkie." – Warren Fertig
"I look forward to crawling through a dungeon that I recognize from Oblivion with my friends and finding some gear that makes me strong enough to siege a keep. Then, I'll be doing something else: cooking sweetrolls while waiting for the enemy to attack! In short, everything." – Asger Lakkenborg Christiansen
"Looking forward to all aspects of Cyrodiil. Mainly, I plan on exploring and dungeon/mat farming after my guildies and I get good at taking/defending keeps. I'd love to get to explore all the ruins and dungeons, not knowing when or if an enemy will show up to try and gank us!" – Ricky Spanish
"I'm looking forward to the possible RP interactions that can take place between alliances and even guilds. With Cyrodiil being the center of all of the conflict, many guilds will be vying for the sieges and the throne itself. Witnessing these conflicts firsthand and having some involvement in them will be thrilling!" – James Willet