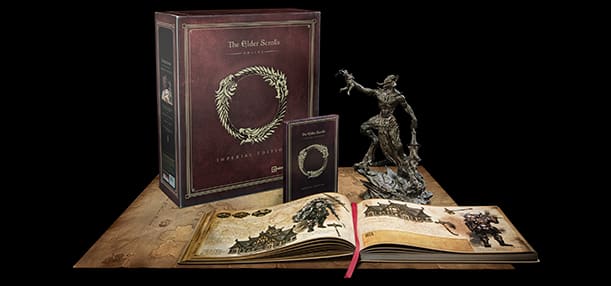 Secure your copy of The Elder Scrolls Online now and claim your Explorer's Pack! Get details and watch our new cinematic trailer "The Arrival" here.
Today we unveiled the pre-order bonus for The Elder Scrolls Online for PC, Mac, PS4, or Xbox One, available at any participating retailer! We've also launched our new online store, where you can pre-purchase digital editions of the game for PC or Mac. Every pre-order and pre-purchase comes with the Explorer's Pack, which includes these great digital bonuses:
The characters you create can join any alliance, no matter which race you choose

The Scuttler, a tiny but loyal vanity pet

A bundle of four bonus treasure maps

We're also excited to announce The Elder Scrolls Online Imperial Edition, a limited-quantity premium edition that comes packed with awesome physical and digital rewards. Pre-order the Physical Imperial Edition for any platform at a participating retailer and you'll get:
Molag Bal Statue. A 12" statue featuring Molag Bal, Daedric Prince of domination and enslavement.

The Improved Emperor's Guide to Tamriel. A 224-page illustrated guide annotated by the Imperial scholar Flaccus Terentius.

Physical Map of Tamriel. A 21" x 26" printed map detailing Alliance-controlled zones and the ultimate conquest: Cyrodiil.

Steelbook™ Packaging. A limited edition steel case decorated in the color of the Imperials.

Exclusive Collection of Digital Content.


Play as an Imperial: Become an Imperial and play in any Alliance. Gain unique bonuses, crafting styles, gear, and more.
White Imperial Horse: Summon this Imperial mount and journey through Tamriel with speed.
Mudcrab Vanity Pet: Explore Tamriel with a mudcrab pet by your side.
Rings of Mara: Complete the Ritual of Mara with a friend and receive an experience bonus when you play together.
You can pre-purchase the Digital Imperial Edition for PC or Mac on The Elder Scrolls Online Store to get the game and all the digital content listed above!
If you pre-order or pre-purchase a PC or Mac edition of The Elder Scrolls Online, you'll be among the first to begin your adventures in Tamriel with early access! Five days of early access will be rewarded to anyone who pre-purchases through The Elder Scrolls Online Store, and additional early access programs will be available through participating retailers.
We've launched a brand new trailer in celebration. Titled "The Arrival," it's truly a cinematic event that any Elder Scrolls fan will not want to miss. Enjoy the action and pre-order your copy of ESO today. We can't wait for your adventure to begin! 
For more details or if you have questions, please visit our online customer support center.