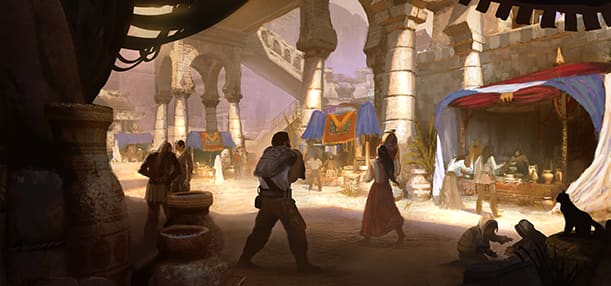 Enjoy the latest ESO fan creations. We've gathered up everything from art and fiction to entertaining podcasts.
We always look forward to sharing the excellent creative works from ESO fans around the web, and we've got some great ones for you in today's issue. Browse through our list of links to catch up on news and discussions, see some fantastic art, and discover new ways to get involved! If you have a link you'd like us to share, send it to community@elderscrollsonline.com and we'll check it out.
Fan Art
We're always inspired by the talent of ESO fan artists. Take a look at some recent works, and don't forget to visit our official ESO Tumblr page for more!
Alessandria the Bosmer Dragonknight – Character and art by Nova on TESO-RP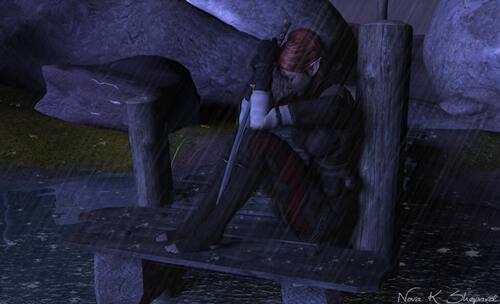 Drem Re-evaluates His Life Choices – By djlegz on Tumblr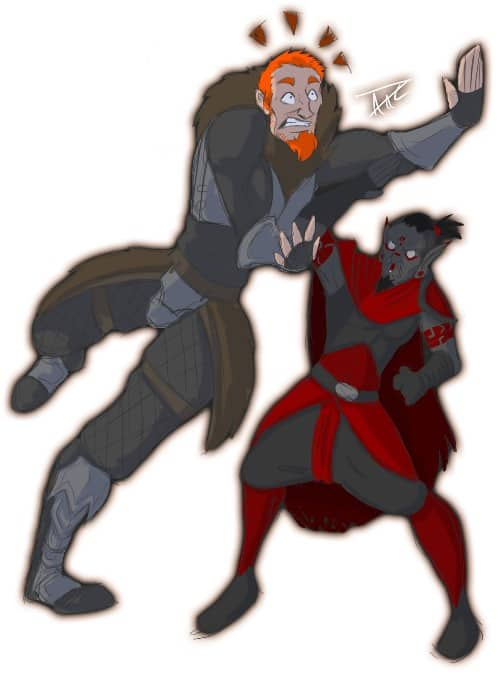 Rapier Mere – By o-dream on Tumblr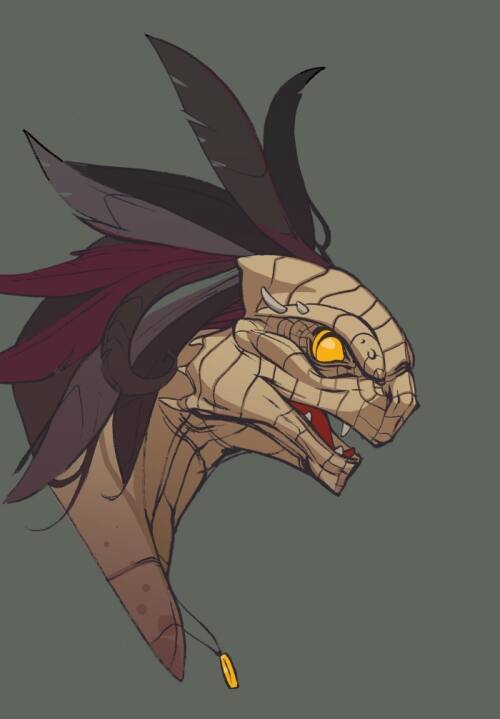 Razum-Dar – By geborro on Tumblr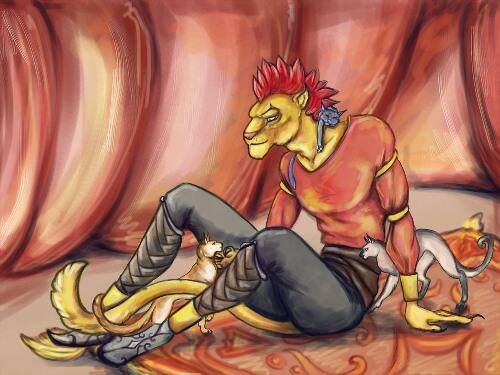 Fan Fiction
Journey to Tamriel through the eyes of your fellow ESO fans.
Fire and Ice – By Fangrax gro-Shael on TESO-RP
Fang grunted as he ground the last inch of a thick cigar under his heavy boot, the hot coal hissing as it hit the fresh snow. The pine forest was resplendent in its beauty, thick fir boughs hanging low with heavy crystalline obelisks of ice, all dusted with the huge flakes of the first snows of fall. The sky was darkening with the last fleeting hours of sunlight, night coming early in these the final days of Heartfire. The orange orb burned low in the sky, casting thick beams of amber light that danced and played through the prismatic icicles, reflecting brightly off the pure-white snowfall.
The Daggerfall Boast – By Harlwystyr on TESOF
When the Dragon's Knights first rode the ways,
Swording every monster seen,
Then did heroes' mighty plays
Hearten all in this land green.
But now with peasant and noble both
I serve this realm as its heart does beat.
And find myself increasing loath
The breaking of any peace.
The Flamesword – By Briston on TESO-RP
"Double-time!" shouted the Quaestor. "Let's pick up the pace!"

Belisarius groaned inwardly. How long had they'd been marching? He couldn't recall. He could feel the splinters forming in his shins. Step. Step. Step. His vision blurred. He could see the man in front of him: the crimson cape, the steel armor, the spear, the shield. They jogged along some god-forsaken path. It had rained the day before, so the ground was damp and muddy and it smelled something horrid.
The Rain Drops of a Princess – By Nehemia on TESOF
"It can't be true, it cannot be true. Mother, I promise I'll never run across the road. Mother, I am sorry…I am so sorry. I was careful, like you've always told me to. Mother, I am sorry."

A large flock of people had gathered to towns square to listen to a speech of a priest. The priest prayed for everyone's safety, of compassion towards all men and how every life was worth of its weight in gold. Among the listeners was a young princess, and her mother. The princess may be a mere commoner, but her beauty was unmatched by anyone of her age in all of Skyrim. She insisted it was her who'd pick up the fresh patch of sweetrolls from the local bakery not so far away, and her mother allowed it.
Fan Music
Listen to this great musical offering inspired by The Elder Scrolls Online:
An Aldmeri Soldier's Lament – By Dyna on TESO-RP
Elder Scrolls Dunmer Racial Theme – By Beware the Boar!
My Amber Love (A Drinking Song) – By Travik on TESO-RP (Soundcloud Link)
New Fansites
The ESO community is growing! We're thrilled to see so many awesome new ESO sites pop up recently. Some are created and run by fans just like you. Be sure to check them out!
News and Articles
Get the latest news, info, and editorials from ESO fansite writers:
ESO Hut
ESO Info
Exilic
Tamriel Foundry
Tamriel Journal
TESO Life
The Elder Scrolls Off the Record
The Imperial Library
TESO Elite
TESOF
TESO-RP
Podcasts and Videocasts
Hear fansite personalities discuss all things ESO:
ESO Recapped
Force Strategy Gaming
Mostly Harmless
Nybling
PRX
ShoddyCast
Skooma Junkies
SpartanJesters
Swords of the Divine
Tales of Tamriel
The Elder Scrolls Off the Record
The ESO Vodcast
TrekkerCrew
TwonkHammer
ZiggsRPG (TGN)
Contests & Upcoming Events
Don't miss any of these current and upcoming contests and events that ESO fan communities are hosting!
TESO-RP
The TESO-RP community is holding their next lore discussion, Lore Surgery with Mycroft & Friends, this Saturday. Stop by and participate! Here's everything you need to know:
When: Saturday, March 1st at 21.00 CET (8PM GMT / 3PM EST)
Where: On the TESO-RP Mumble chat, in the Lore Discussion channel.
Who: Your hosts will be TESO-RP members Mycroft, Galien, Neela, Pigeons, and The Ragebear
Discussion Topic: The Aldmeri Dominion
Question of the Week Answers
We've gathered up some of your answers to last week's Developer Question of the Week. Watch the video to see the full question, and look for a new Developer Question of the Week this Thursday.
"I am of the river and the river is always in motion and changing. It goes where it wants and does as it pleases, though it always begins at a spring. My spring is my hatching. With that hatching I took my people's choice of armor and weapons. Then, as I withdraw myself further from the futility that is civilization I will turn to the more primitive styles. Most likely Primitive or Reach. Or not. I cannot foresee where the river will take me, though all its' courses will lead to bloodshed and the need for armor and weapons. That much is sure." – Hunts-from-Hatching
"I'm really looking forward to trying to make a shaman style character. I'll be going for a mix between Nord and Argonian style to make a more wild and nature-like look." – Kim R. Pedersen
"As an adept of Altmer mages since TES Morrowind, I would be crafting robes and staffs. My robes, well I will try to make them similar to the Psijic ones because the Psijic Order just fascinates me!" – Guillaume Boulay
"I am looking forward to unlocking the non-playable style unlocks. I am curious to see what my Orc will look like in primitive medium armor!" – Shazz
"I have to tell you, I am dying to see the Imperial armor styles, and maybe a combination of Imperial and Nord/Breton pieces (heavy armors, only!). I'm especially interested about the helmets, as I really dig the "Roman" style the Imperials have." – Nicholas Kakavoulis Papadimitriou
"As this one is going to be playing Khajiit, she will be staying with this one's culture and dawning such armor." – Ishira Stafford
"I want to be the best curved blade merchant/weapon smith: Redguard weaponsmithing. It's all about curved blades here...I want to be able to create different new types of curved blades (Shamshir, Saber, falchion, Talwar, kilij and Pulwar) that we haven't seen yet." – Kajeh Daneshpoi
"I want to combine my armour and weapons with the different racial styles of the Dominion. I love the Bosmer style, armour adorned with bones and claws of felled beasts, the Khajiit armour's cool patterns (and that veteran dragonknight helmet with the mane looks AWESOME), and of course, the ornate, beautiful style of Altmer weapons and armour. --Those styles combined, to reflect the strength of the three races of the Aldmeri Dominion...*That* is how I'm going to customize my character. A blending of cultures, and I fully intend to, ah, SHARE the culture with the other alliances in PvP." – Brandon Donio
"In the spirit of discovery- my look will depend greatly on how readily I find the tomes that provide a given look. Last Beta was the hook that caught me and I'm not familiar with all the story, styles, and such of each Race. The big draw is not what I want to look like; but finding out what I'll look like." – Jason Pickering