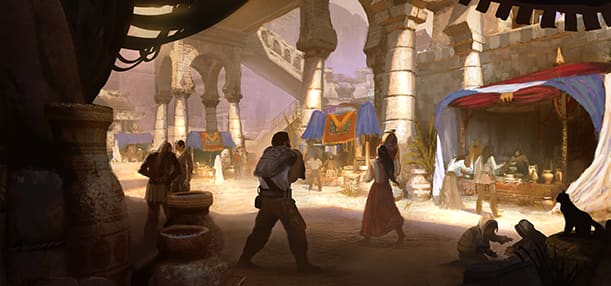 What a busy week for ESO fans and fansites! Catch up on the latest right here.
This weekend was the first beta event since we lifted our Non-Disclosure Agreement, and that means tons of new fan impressions, videos, and even new artistic creations from excited testers. We had a blast watching all the streams this weekend and seeing what you thought of ESO, and we've rounded up some of our favorite fan-made goodies right here for you to peruse. If you want to see a link featured in an upcoming issue of the Chronicle, send it over to community@elderscrollsonline.com and we'll take a look. Enjoy!
Fan Art
We're always inspired by the talent of ESO fan artists. Take a look at some recent works, and don't forget to visit our official ESO Tumblr page for more!
Dar'kiv the Khajiit – By Ark on TESO-RP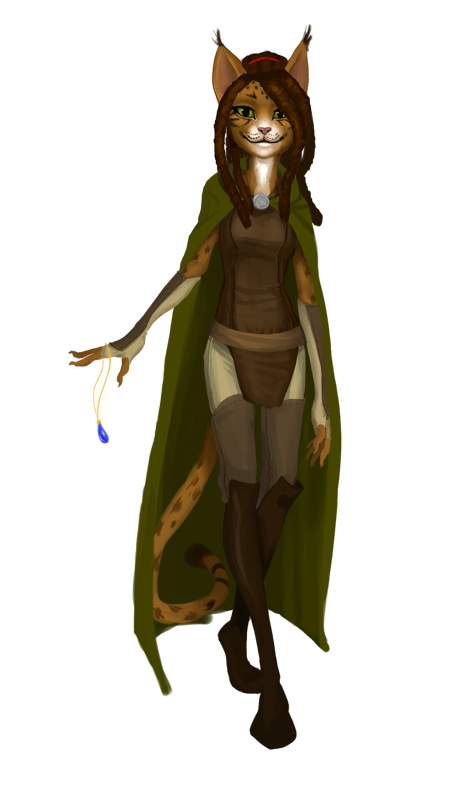 High Elf – By Lightning Cosplay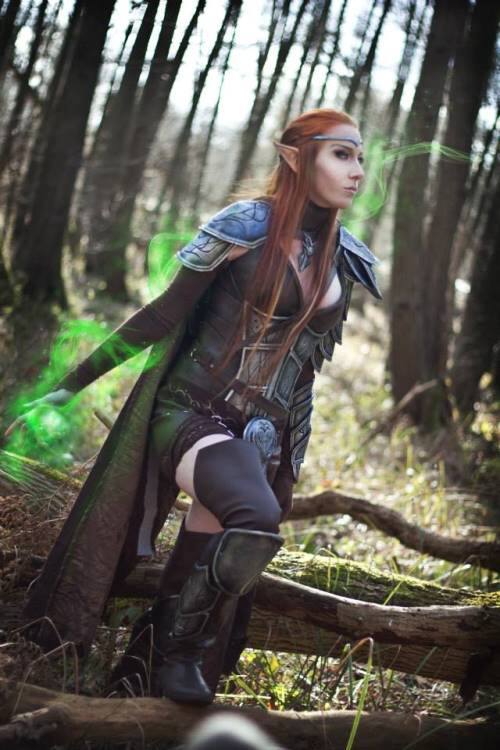 Minda-Sul the Dark Elf – By Najakas on TESO-RP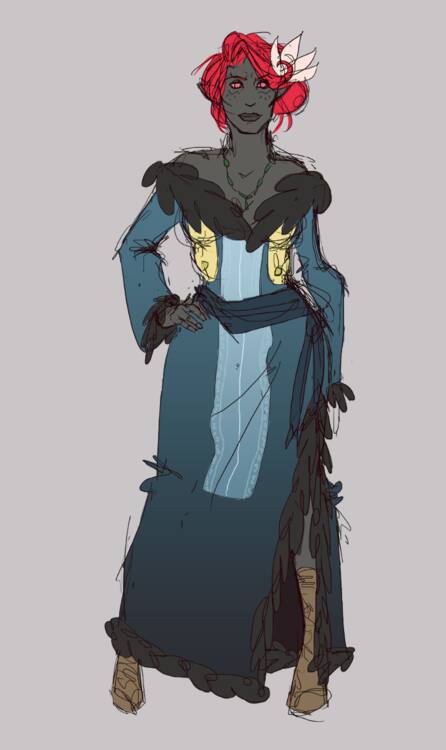 Silvenar – By Pigeons on TESO-RP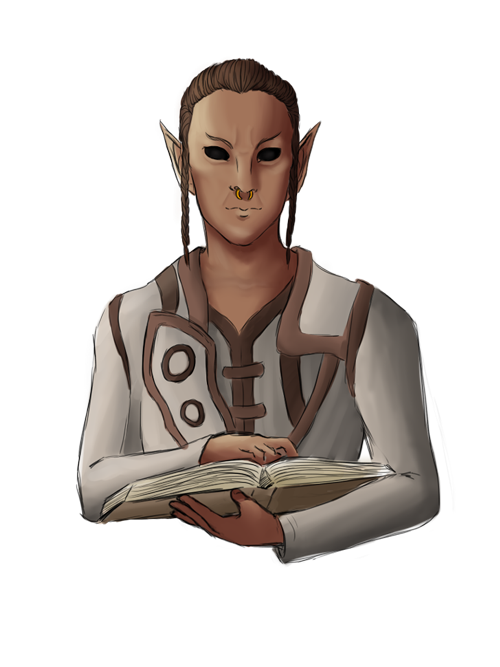 Fan Fiction
Journey to Tamriel through the eyes of your fellow ESO fans.
13th of Sun's Dawn 2E 584 – By Ashes Rising on TESO-RP
As he absently jabbed the fire with a stick, Aydan thought again that being right was not always a good thing. The first thought he recalled after seeing the flash and feeling the tremble in the ground was that nothing good could come of such an event. In the weeks and months afterwards the words "not good" seemed like the same kind of understatement as saying having a limb severed slowly by a dull blade would be mildly uncomfortable.
[Daniyah] The Squire – By Dyna on TESO-RP
There had been no warnings, no prophecies, no preternatural superstitions that could have prepared her for this.

One moment, she walked side-by-side with the man who was her squire, enjoying the citrus breeze that twisted past her cheek in the open-air market. The sun had been bright overhead; not a cloud in the sky.
Every End Has a Beginning - Tales of Indarys Ashibaal – By Korva on TESO-RP
"I got him!" Indarys cried in delight as the juvenile guar squealed and squirmed beneath the net.

Musan chuckled as he watched his pre-adolescent daughter fight to keep her prize. "Your first guar. Your mother will be proud."
Horse Thievery – By Thorson on TESO-RP
19th of Rain's Hand, 2E 580

"Two thousand gold coins? Are you daft, I haven't a quarter of that on me, not to mention in general!" He had emptied out his coinpurse, counting out a hearty fifty-seven gold pieces. "Here's what I've got, and..." He audibly pondered to himself, turning his gaze up to the clerk, "...You can have yourself a nice, shiny favor from your longtime pal, Aleric. That's me." He nodded to himself, resting both hands and the emptied coinpurse onto the table, a smug smile gracing his lips. "Oh, and a piece of lint." As if it would sweeten the deal, Aleric placed the tiny piece of lint he pulled from his pockets onto the table, next to the coins.
Fan Music
Listen to this great musical offering inspired by The Elder Scrolls Online:
Catacombs – By Armin Gutjahr
Elder Scrolls Breton Racial Theme – By Beware the Boar!
Rim of the Sky – By Taleweaver Orchestra
New Fansites
The ESO community is growing! We're thrilled to see so many awesome new ESO sites pop up recently. Some are created and run by fans just like you. Be sure to check them out!
Elder Scrolls Online Classes – This new site focuses on guides and leveling tips for everything from classes to crafting to gameplay. Drop by and say hello!
ESO Nexus – Nexus is a familiar name among those who enjoy mods, but their ESO portal is a new addition. We encourage you to check it out!
News and Articles
Get the latest news, info, and editorials from ESO fansite writers:
Elder Realm
ESO Hut
Skooma Junkies
Tales of Tamriel
Tamriel Foundry
Tamriel Journal
TESO Life
The Elder Scrolls Off the Record
The Imperial Library
TESO Elite
TESO-RP
Podcasts and Videocasts
Hear fansite personalities discuss all things ESO:
Bog Otter
ESO Hut
ESO Recapped
Force Strategy Gaming
Mostly Harmless
Nybling
ShoddyCast
Skooma Junkies
SpartanJesters
Tales of Tamriel
The Elder Scrolls Off the Record
The ESO Vodcast
TrekkerCrew
TwonkHammer
ZiggsRPG (TGN)
Contests & Upcoming Events
Don't miss any of these current and upcoming contests and events that ESO fan communities are hosting!
ESO Alliance
The ESO Alliance team is hosting their next episode this Friday, March 7th at 7:00 PM EST. Join hosts Evarwyn from The Elder Scrolls Off the Record, Josh and Kyle from Shoddycast, and more for a live chat about The Elder Scrolls Online. The show will be held on the Quest Gaming Network Twitch channel.
TESO Elite
To celebrate the weeks leading up to ESO's launch, TESO Elite is holding a massive ESO giveaway with some exciting prizes including a digital Imperial Edition and Razer Naga mouse. The contest runs from March 3rd through April 4th, and they're giving away prizes every week. Go to TESO Elite for all the details.
Question of the Week Answers
We've gathered up some of your answers to last week's Developer Question of the Week. Watch the video to see the full question, and look for a new Developer Question of the Week this Thursday.
"Even if the beta wasn't in session, I used to have the launcher open to hear the music in the background. I loved the music of Skyrim, and I also love the music of ESO!" – Straffe Hendrick
"When I walked into a tavern and heard Malukah singing. You guys couldn't have picked a better master bard." – Todd Withnall
"In Khenarthi's Roost, questing and chilling. I always turn off music in other games because it bothers me so much, but ESO's music is amazingly relaxing." – Edgardo Rodriguez
"On the outskirts of Daggerfall, as I entered the wilderness of Glenumbra, I noticed music very similar to Oblivion's soundtrack and the nostalgia got me." – Morgan Fel
"The music was very beautiful and empowering. I especially loved the very first song (the theme perhaps?) that played once beta started. It got my adrenaline pumping." – Anna Maria Lustofin
"I enjoyed the music as background, but the minute I heard Malukah singing at one of the taverns, I immediately went all fanboy and cheered out loud." – Marc Guerrero
"I first noticed/loved it when I opened the launcher on the main menu." – Zach Deal
"I love sitting back and picking out each bit I recognise from previous titles; all my adventures and characters from them come swimming back strong and I just get so lost in the world. Each tune holds something from the other games all while avoiding being a clone." – Miranda Garcia
"As the beta came to an end, my brother and I decided to "go north" and enjoy the final moments away from the dance-parties in the cities. He played the drum and I played the lute as a storm came in from the sea. With thunder and lightning accompanying our music, it was an awesome moment as we dreaded our departure from Tamriel, but anticipated our return." – Kazden Risk