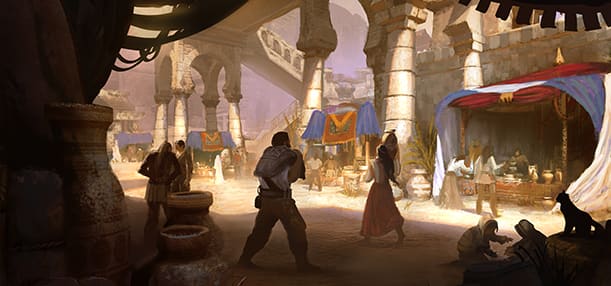 Browse our new collection of links to amazing and informative fan-created content.
A new week means a new look at what you've been creating! In addition to some awesome new art, fiction, and other ESO-inspired creative endeavors, we've rounded up some great articles, podcasts, and discussions from our fansites. Enjoy the art, discover new voices in the community, and get involved in the discussions yourself. Do you have a link you'd like to share with the world? Send it to us at community@elderscrollsonline.com and we'll take a look.
Fan Art
We're always inspired by the talent of ESO fan artists. Take a look at some recent works, and don't forget to visit our official ESO Tumblr page for more!
Dunmer Vampire – By Aadoris on TESO-RP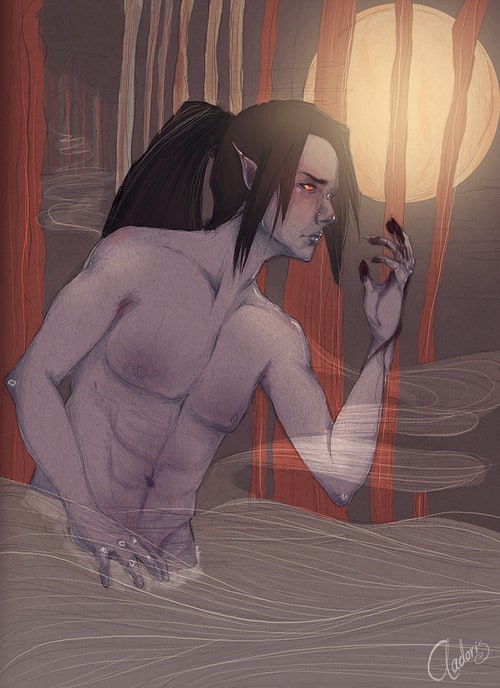 ESO Birthday Cake – By Joel Brooking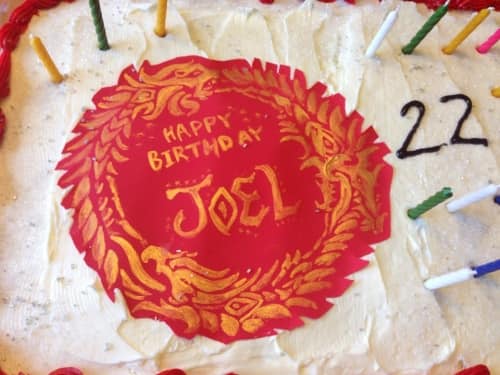 Harpy of Khenarthi's Roost – By Ishmala on DeviantArt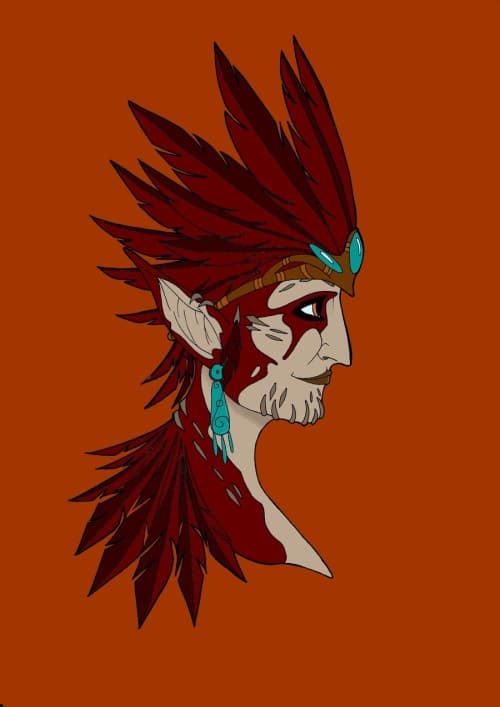 Lokir Vargson – By SteelC on DeviantArt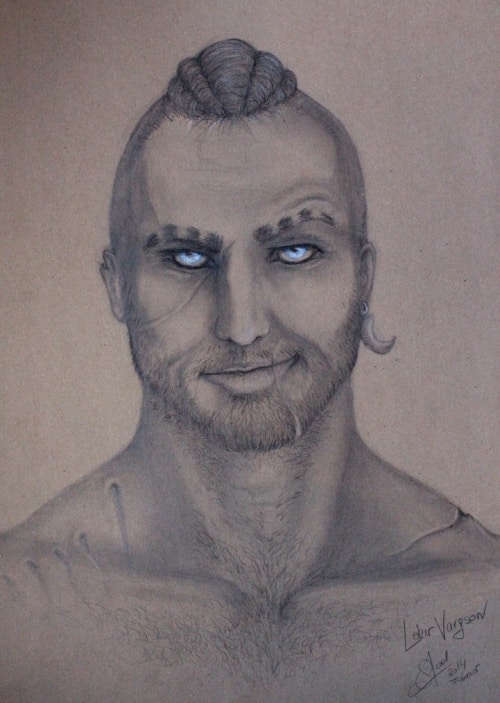 Fan Fiction
Journey to Tamriel through the eyes of your fellow ESO fans.
Dark Meetings – By Revenor on TESO-RP
Ravenor crouched amongst the flora along the side of the moonlit road. The smell of manure and daisies permeated the air, but the argonian barely took notice. Three days of trekking across Cyrodiil had left him in a foul mood and with his mark now several hours late Ravenor was questioning what he was still doing there. The money he reminded himself. It was good and that shady breton had paid half up front. The job was simple. Eliminate the entire staff of caravan coming out from Aldmeri territory then standby for pick up.
No One Can Hide Forever – By Kainen on TESO-RP
In 582 of the second era, Cumberland Square bustled with activity. Located at the easterly end of Wayrest Boulevard, the district boasted the largest, wealthiest marketplace in all of High Rock. Trade in Tamriel had brought in goods from the four corners of the continent, and so it was no surprise to see items both local and exotic amongst the merchant stalls.

After all, it was common knowledge that if you were looking for something, you could probably find it in Cumberland Square.
The Price of Iron, Part I – By Rain on TESO-RP
Una pushed through the doorway of the Lather and Song, letting the comfortable smells of roasted meats, ale, and depravity wash over her. A bard, the same one who had been performing the past several evenings, played a flute softly in one corner. A few other patrons milled about, but she knew the place would begin to fill up rapidly over the next couple of hours. Una made her way to her favorite table, near enough to the large hearth to be warm, but not so close that the sounds of the crackling fire drowned out the music. Meen-Na, the young Argonian serving girl, slowed on her way past just long enough to ask, "Are you eating tonight, Una, or just drinking?"
Fan Music
Listen to this great musical offering inspired by The Elder Scrolls Online:
Farewell to the Garden of Tamriel – By Beware the Boar!
The Black Star – By Ian West
The Wind's Journey – By Armin Gutjahr
New Fansites
The ESO community is growing! We're thrilled to see so many awesome new ESO sites pop up recently. Some are created and run by fans just like you. Be sure to check them out!
News and Articles
Get the latest news, info, and editorials from ESO fansite writers:
ESO Empire
ESO Info
Exilic (Aef)
Tales of Tamriel
Tamriel Foundry
Tamriel Journal
TESO Life
The Elder Scrolls Off the Record
The Imperial Library
TESO Elite
TESO-RP
Podcasts and Videocasts
Hear fansite personalities discuss all things ESO:
Bog Otter
Chimney Swift
Elder Scrolls Off the Record
Elloa
ESO Recapped
Force Strategy Gaming
Gamer Zakh
Mostly Harmless
Nybling
ShoddyCast
Skooma Junkies
SpartanJesters
Tales of Lumin
Tales of Tamriel
Tamriel Foundry
TESO Elite
The Elder Scrolls Off the Record
The ESO Vodcast
TrekkerCrew
TwonkHammer
ZiggsRPG (TGN)
Contests & Upcoming Events
Don't miss any of these current and upcoming contests and events that ESO fan communities are hosting!
Khajiit Gamer
The team over at Khajiit Gamer are hosting a weekly giveaway! This week's theme is a comic competition. Submit your entry by 6:00 PM EST on Friday, March 14th for a chance to win. Visit Khajiit Gamer for more details.
TESO Elite
TESO Elite's massive ESO is still under way! Participate for a chance to win some great prizes, including a ESO necklaces, a Razer Naga mouse, and an ESO standard digital edition. The contest is running now through April 4th. The next giveaway is on March 15th! Check TESO Elite for all the details.
Question of the Week Answers
We've gathered up some of your answers to last week's Developer Question of the Week. Watch the video to see the full question, and look for a new Developer Question of the Week this Thursday.
"Favorite Quest: Daggerfall Covenant starting area. A buried treasure chest gives you a treasure map in the form of a riddle. No quest compass markers are given. The quest forces you to read and figure it out on your own. Some mild hints are given for each step in your quest journal, but that's it." – Chris Trynchy
"Probably gonna have to go with the Argonian girl in Skywatch. Can't remember her name, but you're required to steal some Dwemer parts from the local rich folks to get her pet, Has-Many-Legs, working again. It was a very simple quest, but I was made very happy by her near-schoolgirl reaction to having her little friend working again." – Daren Beaty
"Without doubt or hesitation: Sheogorath and Cheesemonger's Hollow." – Shane Groves
"Fave area is impossible—they were all pretty much breathtaking. I'll go with the beaches in Auridon, the moors in Glenumbra, and the volcanic landscapes of Stonefalls. The Nordic island was also lovely to explore." – Luis Damian Veron
"Razum-Dar is without a doubt my favorite NPC. Freaking awesome writing all the way around. I do like the Prophet and Queen Ayrenn, but Razum-Dar just rocks! In fact, I made a solo Khajiit last beta to mess around with while my hubby was too busy to play because I loved his character so much!" – Deanna Johnson
"Hey guys, let's not forget about our friendly wandering Khajiit who's won over many hearts before Razum-Dar. If you don't recognize him, I'll give a hint: He knows much and tells some—he knows many things others do not." – Caitlin DeBerry
"I loved the Silvenar and his Green Lady. I loved Decumus Scotti's account of the Silvenar, but I loved meeting him even more. He was incredibly endearing. And I would have been afraid of his Lady, too. The Bosmer I encountered (as a Khajiit) were so much more vibrant and 'salt of the earth' than I expected. I loved them. They felt real." – Kathryn Milton
"I would have to say Daggerfall. In the city, ESO really started to feel like an Elder Scrolls game. The city is full of life, with a large number of quests and a fairly large outdoor section to explore." – Alan Lueke
"Well I actually really enjoyed the entire Tears of the Two Moons. Perhaps because you can really see how your actions affect the world for the first time at the end of it." – Victor J Vale II
"My favorite part of the beta tests are when you group up to stop Dark Anchors. The fights are epic" – David Brigance
"I really like Queen Ayrenn and her story/quest lines. She has a ton of personality if you talk to her beyond advancing the quests." – Bert Golebiewski
"I don't remember the name of quest, but it was in first area of Daggerfall Covenant and was about a cowardly Orc who fled away and lost his sword during a fight, but his mother commanded him to become a fighter." – Jakub Zareba