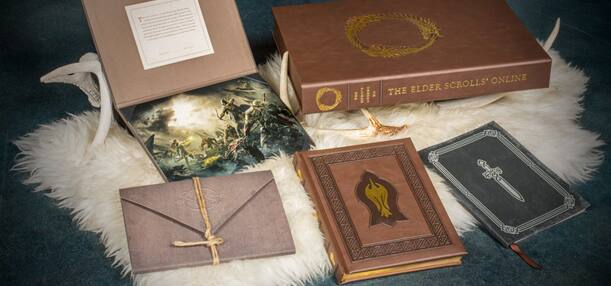 Now's your chance to pre-order a set of beautifully detailed books for your collection.
Anyone who has played an Elder Scrolls game is familiar with the multitude of lore books on diverse topics found in the world. You might be a player who loves collecting and reading these books in-game to discover more about Tamriel. If you are, you won't want to pass up these real-life lore books full of new fiction and art, the Hero's Guides!
These three lovingly-crafted books are straight from the Second Era, full of knowledge and tales any scholar would treasure that can't be found anywhere else. They come packed in a beautiful clamshell box perfect for display along with a miniature lithograph in a numbered portfolio.
Pre-order now to ensure that you get yours—only 10,000 will be produced! 
Take a look at these excerpts and photos for a preview of the 272 pages of original writing and illustrations in the Hero's Guides. We think you'll love these tomes:
http://store.bethsoft.com/downloads/hgeso-ar-sample.pdf

http://store.bethsoft.com/downloads/hgeso-gf-sample.pdf

http://store.bethsoft.com/downloads/hgeso-kc-sample.pdf