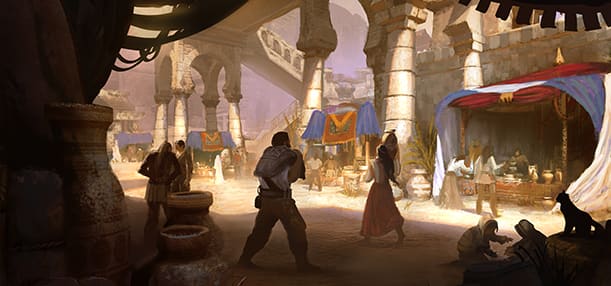 Discover more of our favorite fan creations from all over the web.
We're back with your weekly dose of fan art, fiction, podcasts, and more. ESO fans like you constantly impress us with their creations, and we just have to share! If you like something you see, why not leave a comment for the creator or fansite? We know they'd love to find out what you think. We're always looking for new links to share, so if you have one, send it to us at community@elderscrollsonline.com and we'll take a look.
Fan Art
We're always inspired by the talent of ESO fan artists. Take a look at some recent works, and don't forget to visit our official ESO Tumblr page for more!
Altmer Inassa – By funk-yeah on Tumblr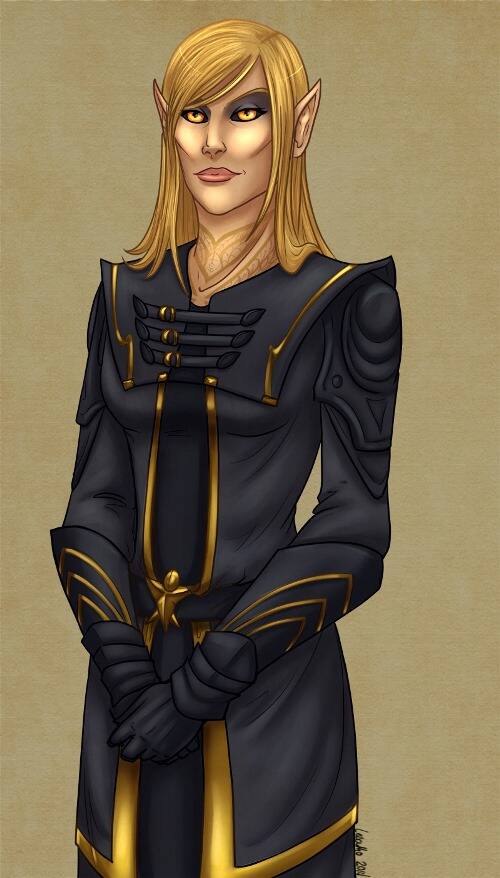 Familiar Shores – By Isriana on DeviantArt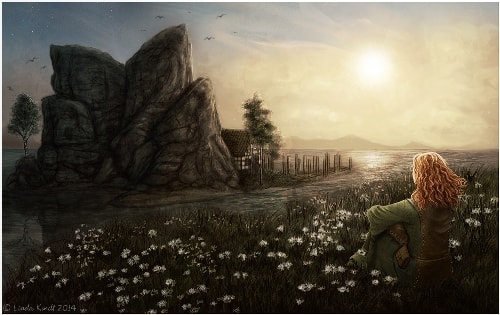 Redguard Rhojar and Breton Emeri – By arthag and misslolalot on Tumblr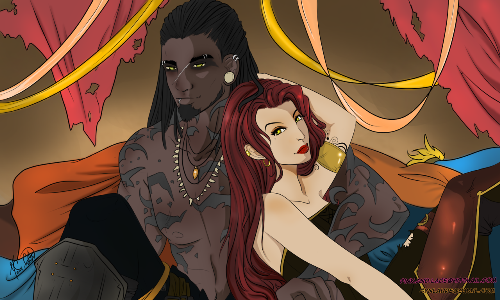 Teven Birch – By Grumpy Vivec on TESO-RP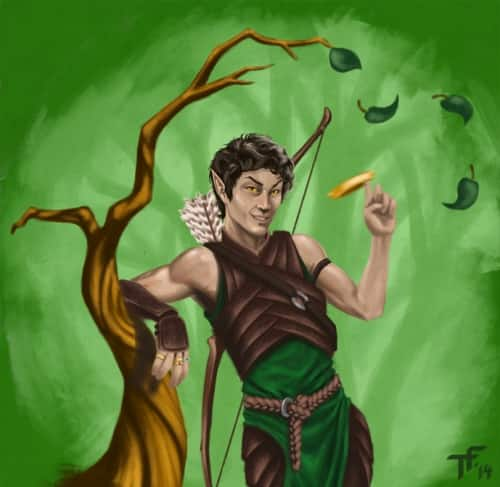 Fan Fiction
Journey to Tamriel through the eyes of your fellow ESO fans.
A Meeting with Madness – By Archdruid on TESOF
"Skirting muddy puddles and jumping over rotting crates, I scurried through the damp, dark, claustrophobic alley. I had just headed left from the crumbling ruin of the old general store when a middle-aged man appeared right in front of me out of nowhere. I blinked, wondering if perhaps I had spent too much time around Jakkrah and his skooma-loving friends, not believing my eyes. Most people didn't just pop up out of thin air."
On Fever Dreams and Hunting – By Ark on TESO-RP
"Her hands felt the cold, damp earth as she staggered onwards, too numb to register the sensation of pain from the numerous bleeding cuts from thorns and branches on her fragile skin. She couldn't find the strength to scream, but she could plead."
The Red Knight's Chronicle: Travels of Sir Arrelac Whent, Chapter 1 – By Sir Arrelac Whent on TESO-RP
"Wind, always wind in this part of the Reach. It howled through the valleys and mountains with a force not unlike a wave crashing on stony shores. Arry had to shake his head more than once to keep memories of home from distracting him from his current tasking. It was not idle pleasures that had brought him or any of the other knights and warriors to this bleak place. They were here to ambush a party of raiders, and if the Red Knight had any say in the matter, each and every one of these Nords would have a quick trip to Sovengarde awaiting them."
Fan Music
Listen to this great musical offering inspired by The Elder Scrolls Online:
Adventure – By Liz Katrin
Know Hope – By Ben Gregory (Soundcloud)
Sailing Man – By Beware the Boar!
New Fansites
The ESO community is growing! We're thrilled to see so many awesome new ESO sites pop up recently. Some are created and run by fans just like you. Be sure to check them out!
Werit's Blog: Long-time MMORPG blogger, Werit, has started writing about his experiences in ESO. Be sure to check out his entries!
News and Articles
Get the latest news, info, and editorials from ESO fansite writers:
Dulfy's ESO Guides
ESO Empire
ESO Life
Khajiit Gamer
ShoddyCast
Tales of Tamriel
Tamriel Foundry
Tamriel Journal
TESO Elite
The Imperial Library
Podcasts and Videocasts
Hear fansite personalities discuss all things ESO:
Bog Otter
Elder-Geek
Elder Scrolls Off the Record
Elloa
ESO Recapped
Force Strategy Gaming
Moneda
Mostly Harmless
Nybling
PRX
ShoddyCast
SpartanJesters
Tales of Lumin
Tales of Tamriel
Tamriel Foundry
TESO Elite
TrekkerCrew
ZiggsRPG
Contests & Upcoming Events
Don't miss any of these current and upcoming contests and events that ESO fan communities are hosting!
Khajiit Gamer
The team over at Khajiit Gamer are hosting a weekly giveaway! This week, the theme is a writing competition. Submit your entry by 6:00 PM EDT on Friday, March 21st for a chance to win. Visit Khajiit Gamer for more details.
TESO Elite
TESO Elite's massive ESO giveaway is still running! Participate for a chance to win some great prizes, including a Razer Naga mouse, an ESO standard digital edition and a Razer Carcharias Gaming Headset. The contest is running now through April 4th. The next giveaway is on March 20th! Check TESO Elite for all the details.
Question of the Week Answers
We've gathered up some of your answers to last week's Developer Question of the Week. Watch the video to see the full question, and look for a new Developer Question of the Week this Thursday.
"I requested Monday, March 31st off work as a personal day (happens to be my birthday as well). The kids will be in school all day and my fridge is stocked!" - Mark Wagner
"I will spend the first few hours creating my character (that certainly will take a hour or so), then I will spend a great deal of time getting lost, talking to my guild friends, and just soaking up the general beauty of the game!" - Wendy Van Ipkens
"I intend to get my RP on--listening, reading, collecting, exploring, incorporating the game story into my character's existing RP story, and etc. Finding and building up the traits I want for gear and just getting a feel for the polished version." - Christopher Johnson
"Exploring... exploring... and some more exploring. Oh, and crafting! Gotta have that leather armor!" - Jonathan Harris
"Buying lbs. of coffee, Monster, and protein bars for staying awake after getting a good eight hours of sleep just before launch. I have a solid guild for resources and help and built a sweet PC for ESO along with a sweet internet connection." - Luke White
"For my first hours in ESO, I intend on creating a starting guide for the community forums and the ESO page on Elder Scrolls wiki. I've been researching as much as I can from the moment info sharing was lifted from beta testers." - Usagi Lott
"Creating Murd Eronius Hurr for about one hour, then reading every single line of dialogue in an Orc voice while munching on sweet rolls (hot cross buns) and swigging my Orc draught (fireball rum)." - Murd Hurr
"Nice and slow. Collect materials, level at a nice pace, read the quests because I did not want to know the stories during beta, and start my crafting." - Deborah Moderate
"I've been preparing by playing every version of Elder Scrolls I have." - Taylor Rouse