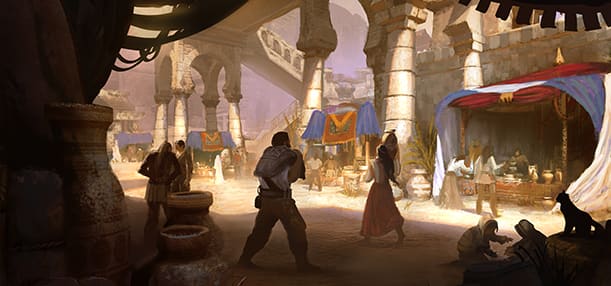 Get the latest buzz from ESO fansites and check out some great artistic creations.
Launch excitement continues to build, and Early Access is almost here. The big event is generating lots of discussion on fansites and is stirring up creative drive among fan artists, writers, and more. We've got a new collection of links for you to check out today, and we hope you'll enjoy them. If you have a link you'd like to see featured in the Chronicle, send a link to community@elderscrollsonline.com and we'll take a look!
Fan Art
We're always inspired by the talent of ESO fan artists. Take a look at some recent works, and don't forget to visit our official ESO Tumblr page for more!
Queen Ayrenn – By Holly Draws Elves on Tumblr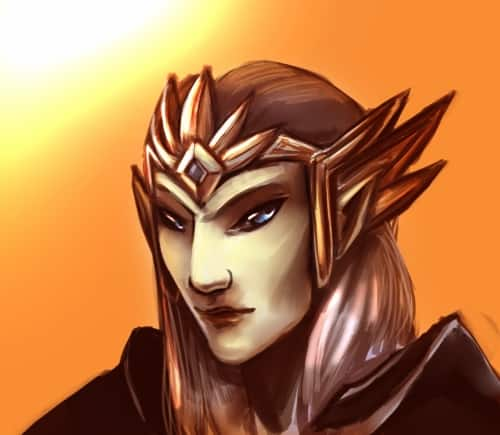 Orc Templar – By Wilmer Persson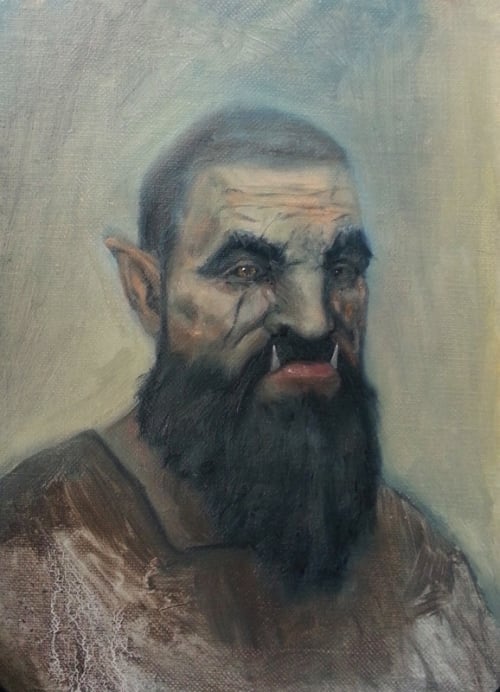 Sings-in-Shade – Art by Zariah Samerys, character by Sings-In-Shade on TESO-RP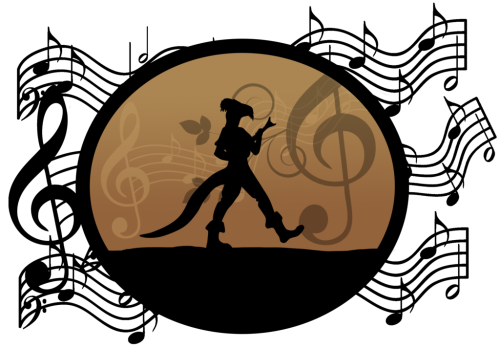 Fan Fiction
Journey to Tamriel through the eyes of your fellow ESO fans.
Brown Water – By Lars Skallvigr on TESO-RP
Wait for it... wait for it...
In the dark cell that contained him, Lars Skallvigr kept repeating these words in his mind over and over again. Opening his eyes, he looked down to his shackled hands and sighed. Giving the hands a shaking caused the chains to rattle loudly, echoing throughout the cimmerian chamber that had, for all intents and purposes, he now referred to as home.
Ralok Bluntclaw: Part 1 & Part 2 – By Daziin Snowpelt on Khajiit Gamer
So, you wish to hear a tale from Daziin? Well, Khajiit have many tales to tell. Take a seat, Khajiit will speak for long time. During my travels, one has seen many things and met many people. In turn, one has written many stories.
Siblings of the Unblooded Reunion – By Layenem of Great Architect
"You've lost your mind." whispered Strohrn on the darkest night they'd seen in years. It seemed all but crazy to even consider chasing a bear into its own home. It would've been enough to gather a fox or two; however, E'Teren seemed to have it in his blood for bigger game tonight.
Fan Music
Listen to this great musical offering inspired by The Elder Scrolls Online:
Cyrodus – By Hellwreckage Productions
The Shadow Dance – By Craven Solaurus on TESO-RP
Elder Scrolls Argonian Racial Theme – By Beware the Boar!
New Fansites
The ESO community is growing! We're thrilled to see so many awesome new ESO sites pop up recently. Some are created and run by fans just like you. Be sure to check them out!
Exploring the Elder Scrolls Online: This new fansite is a treasure trove of ESO guides. If you're looking for guides to help get you started this weekend when Early Access begins, this is a great place to start!
News and Articles
Get the latest news, info, and editorials from ESO fansite writers:
Dulfy's ESO Guides
Elder Scrolls Online Classes
Elder Scrolls Online Info
Exilic (Aef)
Khajiit Gamer
ShoddyCast
Tales of Tamriel
Tamriel Foundry
Tamriel Journal
TESO Elite
TESO Life
The Imperial Library
Podcasts and Videocasts
Hear fansite personalities discuss all things ESO:
Elloa
ESO Recapped
Force Strategy Gaming
Mostly Harmless
Nybling
PRX
Skooma Junkies
SpartanJesters
Tales of Lumin
Tales of Tamriel
Tamriel Foundry
TESO Elite
TrekkerCrew
TwonkHammer
ZiggsRPG
Contests & Upcoming Events
Don't miss any of these current and upcoming contests and events that ESO fan communities are hosting!
Elders Reach
Elders Reach is hosting a digital ESO edition giveaway on their forums. Participating is easy—simply create an account for their community, make a post in the giveaway thread, and continue to stay active! The drawing is on Sunday, March 30th. You can read all the details on Elders Reach.
Khajiit Gamer
The Khajiit Gamer team are still hosting a weekly giveaway! This week, the theme is a design competition. Submit your entry by 6:00 PM EDT on Friday, March 28th for a chance to win. Visit Khajiit Gamer for more details.
TESO Elite
TESO Elite's massive ESO giveaway is still running! Participate for a chance to win some great prizes, including an ESO standard digital edition and a Razer Carcharias Gaming Headset. The contest is running now through April 4th. The next giveaway is on March 26th! Check TESO Elite for all the details.
Question of the Week Answers
We've gathered up some of your answers to last week's Developer Question of the Week. Watch the video to see the full question.
"My favorite beta moment was anytime I logged in. It's a beautiful, elegant, glorious realization of the ES world, and a joy to play." - George Smith
"Heading off in the general direction of my next quest, then 'Oooo, what's that?' and off I'd go in a completely different direction. An hour or so later, after exploration and adventures, I head off in the general direction of my next quest. 'Ooooh, what's that?' ..." - Kathryn Woods
"Absolutely all of it! Running Spindleclutch to practice our tactics and hanging out with the guild and RPing really come to mind." - Tonya TenFeathers
"My favorite ESO moment was when I realized how awesome the other players are. They really made me feel welcome, this being my first MMO. As for the game itself, I love everything about it so far." - Erin Ball
"I think my favorite moment was on Saturday, adventuring in Grahtwood, when I realized (from zone chat) that pretty much everyone who enjoys playing sneaky Bosmer in TES games was reveling in their first chance to explore the homeland. It felt like a homecoming/reunion for all of us Bosmer." - Nick Newlin
"I would have to say: running over a hill to a keep and coming up on all the siege equipment pelting the keep. It looked like a full-blown war was going on. Fire flying through the air, ground on fire, bodies everywhere." - Richard Petrone
"My favorite is a bit silly. I was listening to the Malukah-voiced bard in Mistral at about 3am after a long day and accidently fell asleep in my chair." - Clay Cross
"My friend and I were exploring one of the dungeons in Daggerfall when I stepped on a hidden hole in the ground. My friend was like, 'Do you have to fall into every trap we happen to meet?' I responded, "Better come and see yourself what trap I found!" It was the hidden lair of a boss creature that guarded a Skyshard. Since then, I really enjoy looking for 'traps'" - Marek Mantaj
"I had many good moments, but one of my faves came when I stood in front of the Tribunal Temple in Mournhold. I was speechless. Such a beautiful building, and it had the flavor of the Tribunal Morrowind expansion." - Mary Molina
"My favorite had to be the moment I really figured out crafting. Not just the basic stuff, but clued into the whole working process. I'm really excited to start crafting for real on release." - Kelle Tatlow
"My favorite part of the beta was meeting new friends and finding a guild to join. We're all excited, planning and talking about how to hit the road come launch!" - Godfrey Ip