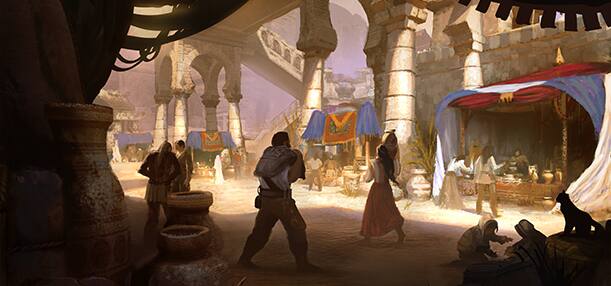 Discover new fan creations, from guides and articles to stories and music.
We love sharing your ESO-inspired creations, and we've got some great new stuff for you this week. Check out this issue and see what's going on with fansites, watch some great videocasts, enjoy the art, and more. We're always on the lookout for new links to share, so if you have something you'd like to see featured, don't hesitate to send it to us at community@elderscrollsonline.com.
Fan Art
We're always inspired by the talent of ESO fan artists. Take a look at some recent works, and don't forget to visit our official ESO Tumblr page and art section on the official ESO forums for more!
Aloucia & Morzan – Art by Aloucia, characters by Aloucia & Morzan on TESO-RP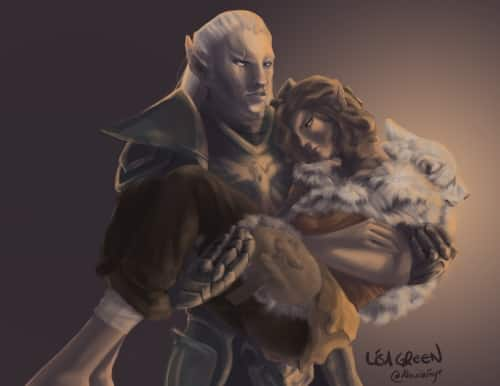 Elder Scrolls Online Nord Armor – By Astaragoth on DeviantArt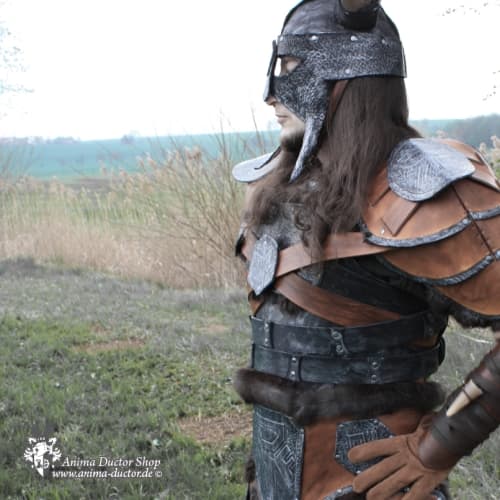 Mellid Turtyl the Dark Elf Nightblade – By yuikami-da on DeviantArt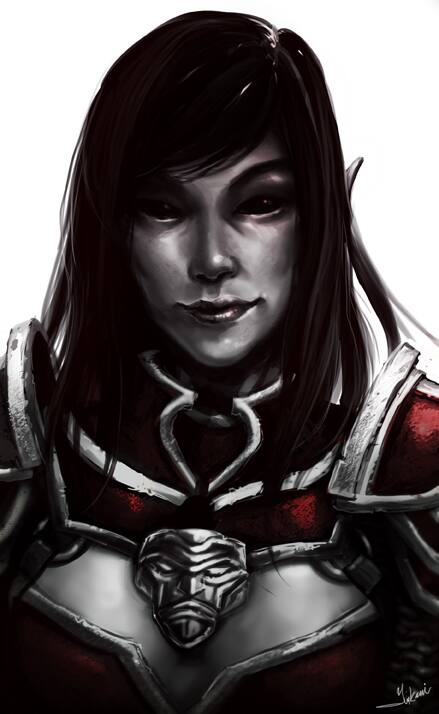 Okeera the Argonian Healer – By Obsessivebehavior on Tumblr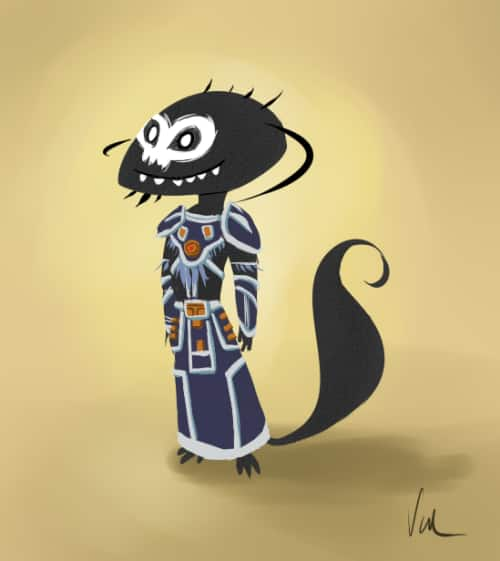 Fan Fiction
Journey to Tamriel through the eyes of your fellow ESO fans. Don't forget to check out the fiction and roleplay section on the official ESO Forums.
[Daniyah] Dark Clouds – By Dyna on TESO-RP
The night was drizzling and grey, a last breath of winter chill lingering in the cold sea-salt breeze; Daniyah al-Amin drew her cloak about herself a bit more tightly, and let the door of the Rosy Lion close behind her.

The stars were hidden beneath a coverlet of clouds, but the darkness didn't touch her. Not this night. Though her features looked as they always did - a terrible mask of burns and queerly patient calm - her mind was working, faster and faster. Is this the will of HoonDing, then-? Is this what I was meant to seek?
On the Trail of an Asp – By ivysquid on TESO-RP
I will report in here what I have discovered thus far, we have something hunting in these lands, not man or beast, but supernatural. The marks bear the hallmarks of a vampire. What is strange is that whoever is doing this is not trying to hide its intentions at all, the bodies are found bobbing up and down in the harbour. Three dead have already been found and as for suspects, there are always new people here. At the moment I have three leads, a Redguard woman. The second is a wealthy merchant whose vessels came in, there is rumors about what goes on, on his ships. The third is a woman who bears all of the hallmarks of a reach woman. That said I really don't have a good feeling about this case.
Out From the Desert – By Vikkus on TESO-RP
He desired the warmth of the desert, the sea of sand that extended beyond sight in every direction. The time spent within the camps and caravans had been wearing on Zhivago. Too many people, too much noise. They clamored and shouted for space and attention to what they thought important that the time.

There was ample space in the desert. Zhivago could not understand how they could be so blind to what he could so plainly see.
Silt – By Talley on TESO-RP
The young man of nondescript features grins as he saunters towards the family holdings, each of his hands occupied with an undoubtedly expensive silver bowl filled to the brim with a grimy, dark substance which seems to have enveloped him up to the forearms.

The guard at the gate sighs, knowing full well what terror approaches him.
Fan Music
Listen to this great musical offering inspired by The Elder Scrolls Online:
The Sorcerer – By Armin Gutjahr
New Fansites
The ESO community is growing! We're thrilled to see so many awesome new ESO sites pop up recently. Some are created and run by fans just like you. Be sure to check them out!
Tamriel Sentinel: One of the newest fansites to join the ESO community fold, Tamriel Sentinel features news recaps, original editorials and guides, stories, screenshots and a whole lot more. Check them out!
News and Articles
Get the latest news, info, and editorials from ESO fansite writers:
Dulfy
Elder Scrolls Online Info
Elder Scrolls off the Record
ESO Fashion
Khajiit Gamer
Tamriel Foundry
Tamriel Journal
TESO Life
The Imperial Library
Werit
Podcasts and Videocasts
Hear fansite personalities discuss all things ESO:
Chimney Swift
Elder Scrolls Off the Record
Elloa
ESO Recapped
Force Strategy Gaming
Mostly Harmless
Skooma Junkies
Spartan Jesters
Tales of Tamriel
Tamriel Foundry
TwonkHammer
ZiggsRPG
Contests & Upcoming Events
Don't miss any of these current and upcoming contests and events that ESO fan communities are hosting!
House Annunaki
Ebonheart Pact-centered vampire clan, House Annunaki has a very special offer for Tamriel's citizens. Read on for all the details.
When: Starting on Thursday, May 1st – at sunrise (in-game).
Where: North American megaserver at the Riften docks (Ebonheart Pact)
Who to Contact:
TESO-RP
The TESO-RP community is holding a number of events this week. If you love role-playing and meeting others, you won't want to miss these!
Call to Arms: The Anchor Watch
When: April 22nd, at 7:00 PM GMT+1/BST
Where: European megaserver at the Daggerfall Cathedral steps (Daggerfall Covenant)
When: April 25th, at 21:00 GMT+1/BST (all day event)
Where: European megaserver in one of the ships at Davon's Watch (Ebonheart Pact)
When: April 25th, at 9:00 PM GMT+1/BST
Where: European megaserver, at the Daggerfall inn (Daggerfall Covenant)