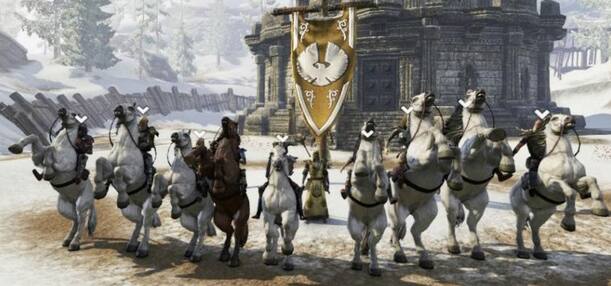 Read our interview with The Noore, a player-run guild in ESO and find out what makes them unique.

Welcome to our very first Guild Spotlight! A few weeks ago, we asked you to tell us about your guild. You sent in tons of responses, and it was tough to choose from all of them, but here's our first feature. We'll continue selecting new guild interviews to share with you on a regular basis, so if you want to get your guild into the spotlight, just answer our interview questions in this thread. Don't forget to include a picture. Now, let's meet The Noore:
What is your guild's name? Does that name have a special history of significance?

The Noore - Noore is Elvish for "Clan." [ed. note: in another fantasy setting]
When was your guild formed? Tell us the story of how the guild came to be.
We formed on November 7th, 2012 specifically as an ESO-based guild, and we're not an offshoot of an existing gaming community.
What alliance has your guild sworn fealty to?
We are an Aldmeri Dominion community that plays only on the NA server (PC/Mac).
Why did you choose that alliance?
Our initial concept was to form a gank squad of stealthy, behind-enemy-lines elven archers –we have evolved into a fun-loving community of all races and types, both in real life and in-game.
How many members does your guild currently have?
We currently have 263 members in The Noore guild.
Does your guild have a website?
Yes - you can visit us at thenoore.com.
What times and days is the guild most active?
Typically 8am - 12pm EST Mon-Sun - even in the off-peak hours I have never seen less than 28 members online, so there is always somebody around within our community to have fun with.
What countries do your members span?
A picture speaks a thousand words: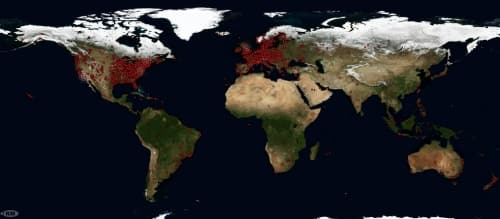 What activities in ESO do your members enjoy doing together the most?
We span all activities, including (but not limited to) PvP, PvE, crafting, RP, strategizing, socializing etc.
What makes your guild unique?
Without a doubt: our structure. Instead of being  traditional "top-down" hierarchy, we're a "bottom-up" member-driven community that allows each member to enjoy a small guild feel with large guild advantage (stores, banks, trading, etc.) - full details are on our website.
Is your guild part of a larger alliance of guilds? Why did you join them?
We are part of the Coat Tail Riders Alliance—a diverse group of fun folks with whom we have a very simple philosophy in common: "maximize fun whilst minimizing drama."
Does your guild ever host special events? If so, tell us about them!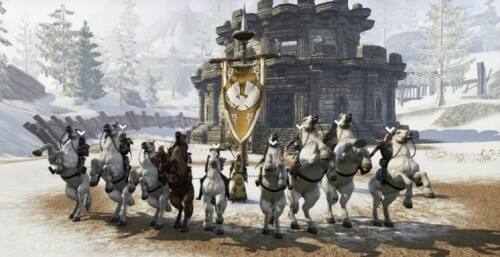 We have already had a launch party where about 50 members attended—you can see the antics here:
http://www.youtube.com/watch?v=u3nIs3NOb1M#t=38. We are also working scavenger hunts and a race involving teams using enemy gates as check points, monthly clan meeting with awards ceremony, and etc.
What is your favorite or most memorable moment as a guild so far in ESO?
It will be different things for different members given the diversity of our interests, but for me so far the most memorable moment was face-rolling the Daggerfall Covenant and Ebonheart Pact in Skull Crusher and, against greater odds, painting the entire map yellow and crowning one of our own as emperor.
Does your guild secretly (or not so secretly) follow a specific Daedric Prince? If so, which one?
Hrmmm … will have to consult with our RPers on this one and get back to you!
After a long day of adventuring, where does your guild enjoy gathering to wind down?
The adventure never stops for us and we enjoy every moment! Winding down is for people who don't have Orcs and lizards to kill!
Tell us five fun facts about your guild.
Our core philosophy is "Maximize fun and minimize drama - for yourself and for your fellow clan mates."

Our oldest member is almost 70, our youngest isn't a teenager yet.

Our mumble server has many channels where our members chat and have fun on a continual basis.

Some of our members have formed solid friendships online extending to international visits!

We love to laugh whilst kicking arse, be it in PvP or PvE.
If people are interested in joining your guild, who should they contact?
They should register at thenoore.com and one of our recruiting officers will get them set up, usually within a matter of a few hours.

We hope to see you soon!

Thank you for reading our first Guild Spotlight, and a special thanks to The Noore for their submission. We want to feature your guild, too, so answer the interview questions in this thread to be considered!