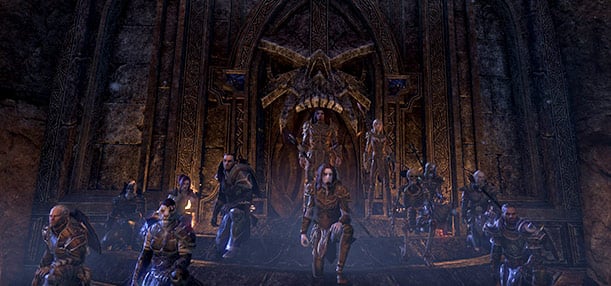 We continue our series of guild interviews with M. O. R. T—find out what they're all about!
Check out our new guild interview and discover more about the great guilds playing ESO together. Remember, if you would like us to feature your guild, just answer the questions in this thread on our official forums and we might select you for an upcoming interview. Don't forget to include a picture! Let's meet M. O. R. T!
What is your guild's name? Does that name have a special history or significance?
We are M.O.R.T., which stands for "Maléfique Organisation pour le Règne de la Terreur" (appx. "doom-bringing organization of the terror regime").
When was your guild formed? Tell us the story of how the guild came to be.
M.O.R.T was founded in 2004. Our name is drawn from Appointment with F.E.A.R., a "Fighting Fantasy" book by Steve Jackson, although the acronym had a different meaning.
We first became active in WoW. After that, we became very present in GW2 in a purely PvP manner. We've also done stints in other games, like Panzar or Age of Conan to mention a few. Right now, we're also very active in DayZ, where we've organized events open to everyone in the French community. Our goal now is to create a large, structured guild in ESO while we continue to maintain our activity in DayZ.
There are two of us managing M.O.R.T.: Limier, our Guild Master, and myself.
What alliance has your guild sworn fealty to?
We are proud members of the Daggerfall Covenant.
Why did you choose that alliance?
This is the alliance where most French guilds are found. There are some we want to ally with and others we want to compete against.
How many members does your guild currently have?
We currently have 25 active members.
Does your guild have a website?
Under the "Forum" tab, you will find a link to our ESO forum.
What times and days is the guild most active?
We tend to favor night players. A lot of our players are online in the afternoon or in the evening, but most of our activity occurs between dusk and dawn.

What countries do your members span?
Most of our players are from the mainland, plus we have a few Belgian members.
What activities in ESO do your members enjoy doing together the most?
We just love our PvP. It's our daily bread and butter, and an evening starts off with us logging into Cyrodiil to let loose the dogs of war. We also intend to set up a PvE raid group, because that is another activity most members enjoy.
What makes your guild unique?
M.O.R.T. is the only guild boasting one member who had the courage to use a bow firing rainbow-colored ponies!
In all seriousness, though, we as a band of players have been together for years. Little by little, we gathered new people who found a natural place within our ranks. Today, if you factor in the DayZ community, there are about 50 of us, and we all know each other—we all have history or experience playing together.
Is your guild part of a larger alliance of guilds?
Not yet, but we are not opposed to the idea.
Does your guild ever host special events? If so, tell us about them!
Every night in Cyrodiil, we offer players to join our group to weigh in on the battle and set up assaults (watch for us in chat if you want to join).
What is your favorite or most memorable moment as a guild so far in ESO?
The first keep we claimed was a very emotional moment for each of us.
Granted, it wasn't much, but the fight was intense because we were vastly outnumbered, and it was our first! I think we all teared up.
Does your guild secretly (or not so secretly) follow a specific Daedric Prince? 
No, we only worship Fear.
After a long day of adventuring, where does your guild enjoy gathering to wind down?
After work (for those of us lucky enough to have jobs), we log onto mumble and spread death, chaos, and destruction on the battlefield. Is there any better way to relax?
Tell us some fun facts about your guild.
Our GM has suicidal tendencies. He is adept at falling from great heights and dying that way in just about every game.




We have a rainbow-colored pony in our roster.
If people are interested in joining your guild, who should they contact?
Joining us is very simple, just go to our website: www.lamalefique.com.
Head for our ESO forum and fill out the application form; it's just a few little questions to get to know you, and the form makes it very simple.