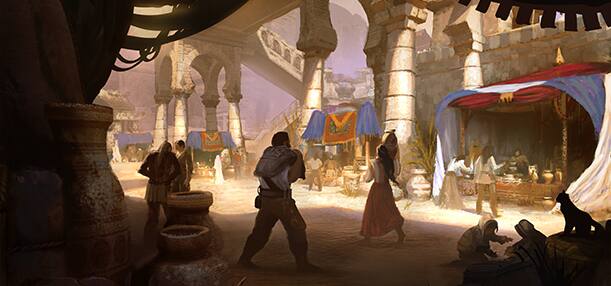 Enjoy our weekly collection of links to ESO fan creations.
It's been another great week full of art, music, videos, and interesting discussions, and we've been taking note! We're back with another selection of links to fan-created content. Browse them to discover new community voices and get involved in the discussion. Do you have a creation you'd like to share? Send us a link at community@elderscrollsonline.com.
Fan Art
We're always inspired by the talent of ESO fan artists. Take a look at some recent works, and don't forget to visit our official ESO Tumblr page and art section on the official ESO forums for more!
Khajiit Helmet – By Folkenstal on DeviantArt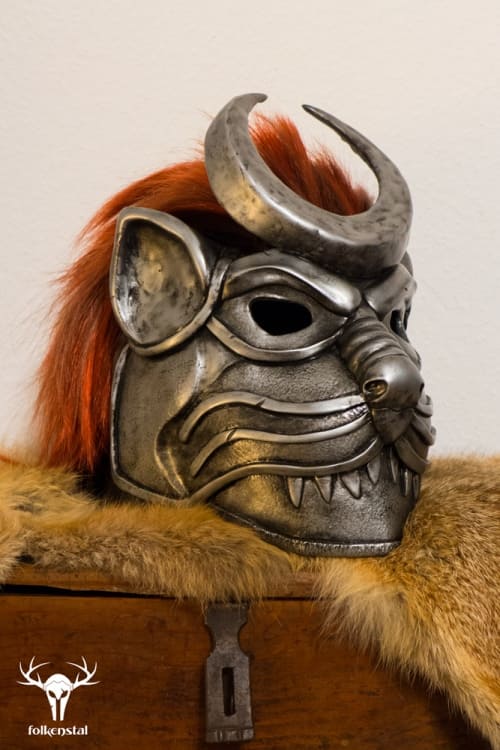 King of Worms – By HollyMMoore on DeviantArt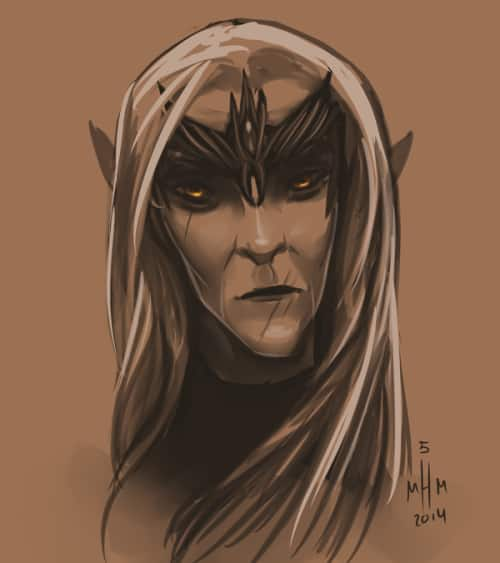 Magic Duo – By Morpheus306 on DeviantArt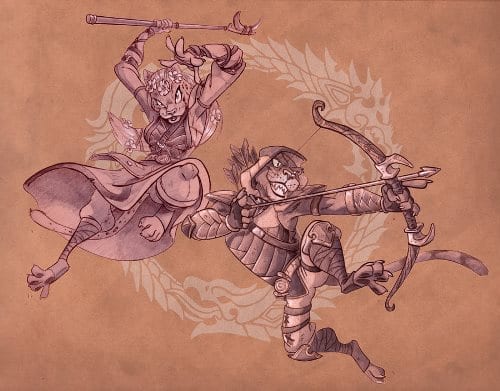 Uzkrul the Orc – By Elies Indigne on Tumblr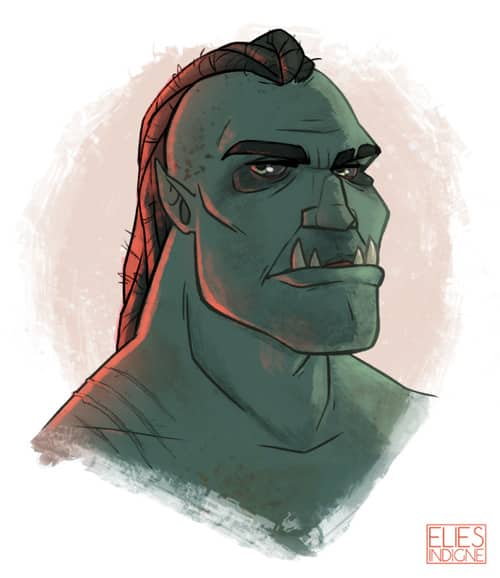 Fan Fiction
Journey to Tamriel through the eyes of your fellow ESO fans. Don't forget to check out the fiction and roleplay section on the official ESO Forums.
A Short Rest on the Hard Road – By Black Kitsune on TESO-RP
For just a single, short moment, An-Zawn thought he saw smoke.

Then the tiny gray wisp was gone and the sound of a Breton's cursing filled the still night air. The old fellow was down on all fours now, desperately rubbing a stick back and forth on a log in the hopes of getting that hint of smoke back. The rest of the small company settled back down with their own rumbles, feeling cheated of their hope for a warm blaze.
Doom of the Golden Eagle, Part 1 – By Isirion on TESO-RP
The corruption of the White-Gold Tower, built by elves of old to honour their glorious ancestors, could be seen even from afar. Metal, chains and dark magic held the ancient structure prisoner, and as the small unit of High Elves crested one of Cyrodiil's many hills, whispered prayers disturbed the otherwise eerily silent night. One elf did not pray; his name was Isirion Ilvanesta, come all the way from Summerset to collect knowledge that would otherwise be lost - as so many things are - to war.
The Battle of Bruma – By Thrusk gro-Bogroth on TESO-RP
Grumaar Bloodaxe surveyed the landscape around him. Snow and ruins. The Dark Anchors, their chains deep into the grounds. The orc made a noise that could easily be taken as a sound of someone deep in thought, pondering his next move. He gazed around him, and at the force at his back. So many have come to fight beside me. This is the chance to prove that we are strong, stronger than any force in the history of our kind! Orsinium rises, and with it does any stronghold that stands for Kurog and his legions of Orsimer.
Vampirism - Lamae's Trials – By Aeradon on the Official ESO Forums
"Hear ye. Hear ye..."

There it goes again. Though I had never told them the truth but I was really just passing by and lending a helping hand to the worthless Captain Dugakh and Goldrun's pathetic group of weaklings he call army. And the Ironhand Ogres weren't the prettiest bunch.
Fan Music
Listen to this great musical offering inspired by The Elder Scrolls Online:
The Bookstore Lady – By Leothedino on TESO-RP (Soundcloud link)
House Indoril Crypt – By Armin Gutjahr
New Fansites & Projects
The ESO community is growing! We're thrilled to see so many awesome new ESO sites and projects pop up recently. Some are created and run by fans just like you. Be sure to check them out!

ESO Alchemist
Check out this free, fan-made ESO Alchemy app for iPhones and Android devices.
Elder Scrolls Online Wiki
This new ESO fansite features great armor set guides, crafting guides, and more!
News and Articles
Get the latest news, info, and editorials from ESO fansite writers:
Dulfy
Elder Scrolls Online Info
ESO Fashion
Khajiit Gamer
ShoddyCast
Tamriel Foundry
Tamriel Journal
Tamriel Sentinel
TESO Elite
TESO-RP
Podcasts and Videocasts
Hear fansite personalities discuss all things ESO:
Chimney Swift
Elloa
ESO Dojo
ESO Recapped
Rendolphe Gamer
Skooma Junkies
Spartan Jesters
Tales of Tamriel
TESO Elite
TESO Life
The Elder Scrolls Off the Record
Twonk Hammer
Contests and Upcoming Events
Don't miss any of these current and upcoming contests and events that ESO fan communities are hosting!
TESO-RP
Voice of Madness - Tavern RP
Fell's Run tavern is hosting a party in celebration of the start of spring! It presents RP that will have a few surprises in store!
When: Tuesday, May 14th at 7:00 PM PDT / 10:00 PM EDT (every night of the week, thereafter!)
Where: North American megaserver, in the Fell's Run Tavern (Daggerfall Covenant)
Who to Contact: @BigWizard14
Here's something a bit different from your usual social RP - an open RP-PvP event in Cyrodiil. Rather than a pre-arranged fight against another RP guild, this will be a genuine offensive in the region.
When: Wednesday, May 14th at 21:00 CEST/GMT+1
Where: European megaserver, Scourge campaign
Who to Contact: @TheCadoc
The Daggerfall Covenant Military Ball
The Cyrodilic Cohort Presents: The Daggerfall Covenant Military Ball!
When: Thursday, May 15th at 5:30 PM PDT / 8:30 PM EDT
Where: North American megaserver, inside the Alcaire Castle Keep, in northern Stormhaven
Who to Contact: @Bristol2025 or @Volatile13
On the 16th day of Second Seed the Eleventh Legion will host Haven Open Market Day. All merchants and crafters are welcome in the picturesque port city of Haven, located in the shade of the great oaks of Grahtwood.
When: Friday, May 16th at 8:00 PM PDT / 11:00 PM EDT
Where: North American megaserver in the town of Haven in Grahtwood (Aldmeri Dominion)
Who to Contact: @Crane1977 or @SonOfOslo
Ebonheart Pact Tavern Night
Starting at 7:00pm EST and going until we're all too tired to type. Just some tavern RP at Ebony's Flask in Ebonheart. Come meet strangers and make new friends, or enemies, or whatever. Singles and groups welcome!
When: Saturday, May 17th at 4:00 PM PDT / 7:00 PM EDT
Where: North American megaserver at the Ebony's Flask Tavern in Ebonheart City (Ebonheart Pact)
Treethane Galeth seeks for Karthdar to become a larger trading community throughout the Dominion, hosting a weekly Market Day where all traders from the Dominion are able flog their wares at reasonable prices.
When: Sunday, May 18th at 5:00 PM BST
Where: European megaserver at Karthdar Village in Grahtwood (Aldmeri Dominion)