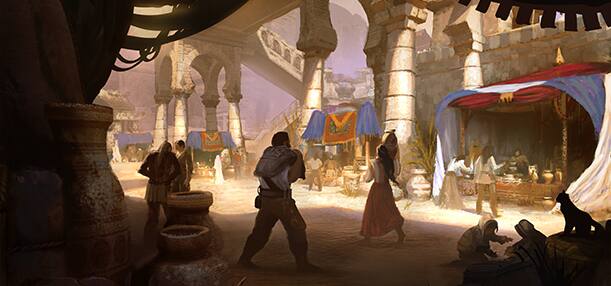 See new community creations and get in on all the Craglorn excitement!
The first Adventure Zone is out in the wild now. There's plenty to talk about, and we've rounded up the latest podcasts, videos, and more so you can catch up on all the discussions and get a closer look at Craglorn. And, as always, we have some great art, fiction, and other fan creations for you to browse. Enjoy this week's issue, and send your links to community@elderscrollsonline.com.
Fan Art
We're always inspired by the talent of ESO fan artists. Take a look at some recent works, and don't forget to visit our official ESO Tumblr page and art section on the official ESO forums for more!
Amaya Flametongue – By SlayerSyrena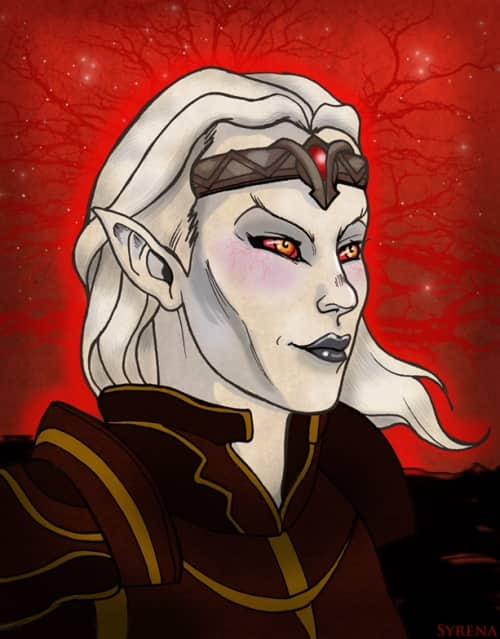 Home – By Rizerax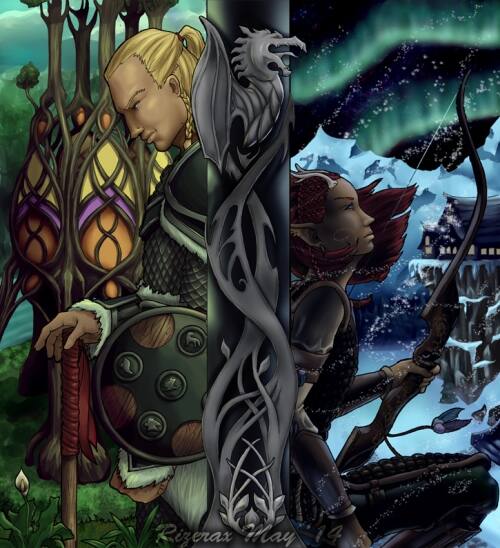 Rin and Lian – By Isbjorg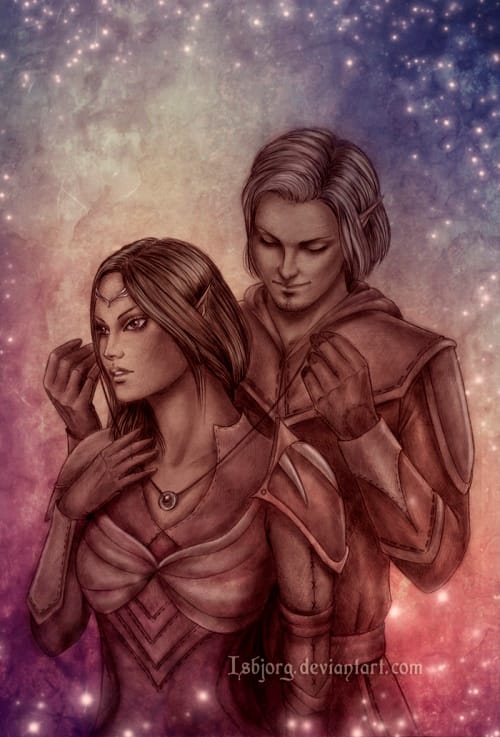 The Elder Scrolls Online - Chibi Set 1 – By Yuikami-da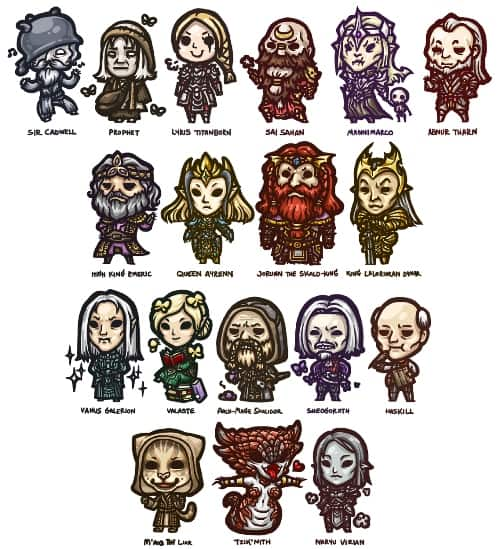 Fan Fiction
Journey to Tamriel through the eyes of your fellow ESO fans. Don't forget to check out the fiction and roleplay section on the official ESO Forums.
Lost Son: Crier's Warning – By Ranne Admalaude on TESO-RP
The midday weather in Daggerfall was mild. There wasn't a cloud in the sky, much to the delight of the various traders looking to peddle wares at the market. Business seemed steady all around. Coin was flowing over the sale of food, beverage, weapons and armor. But an older man stood watch over the proceedings, clearing his throat to start up another round of attention seeking.
"People of Daggerfall! People of Daggerfall! I urge and implore you to listen! I have a warning that concerns you all!"
Sun, Sands & Stars – By Rev Rielle on the Official ESO Forums
Sometimes it's nice to take respite,
and stay and read by candlelight.
Of Highrock kings, or the Black Marsh,
or things that may yet come to pass.
Of cities where bright banners fly,
atop spires piercing the sky.
Of sun-soaked barren redguard lands,
or stars above Elsweyr sands.
Tacitum Legionem [The story of Apolyta Imicus] – By Edonil on TESO-RP
Reports had been circulating around southern Cyrodiil that finally demanded the Legion's attention, so a cohort was sent to address some odd disappearances and livestock mutilations. The search had turned up no sign of what might be causing it for days until they found what looked to be a recently abandon farm. Blood had painted the inside walls that were lined with deep, four-taloned gouges. Pieces of the former occupants were scattered from one end to the other creating a macabre horror show. And hiding beneath the floor in the cellar, they had found a very terrified eleven year old girl covered with the blood that had seeped through the cracks.
Fan Music
Listen to this great musical offering inspired by The Elder Scrolls Online:
ESO Tribute: The Ancient Ruins – By Flash356
NEWS AND ARTICLES
Get the latest news, info, and editorials from ESO fansite writers:
DULFY
ELDER SCROLLS ONLINE INFO
ESO FASHION
KHAJIIT GAMER
SHODDYCAST
TAMRIEL FOUNDRY
TAMRIEL SENTINEL
TESO ELITE
TESO LIFE
TESO-RP
PODCASTS AND VIDEOCASTS
Hear fansite personalities discuss all things ESO:
CHIMNEY SWIFT
ELLOA
ESO RECAPPED
SKOOMA JUNKIES
THE ELDER SCROLLS OFF THE RECORD
TALES OF TAMRIEL
TAMRIEL FOUNDRY
TESOF
CONTESTS AND UPCOMING EVENTS
Don't miss any of these current and upcoming contests and events that ESO fan communities are hosting!
TESO-RP
A horse race across the treacherous terrain of Glenumbra for a good cause. The Anchor Watch will be donating 20% of the Entry Fees towards the Orphanage of Wayrest. Test your skills in the reins, don't miss out to become a living legend!
When: Wednesday, May 28th at 7:00 PM GMT+1
Where: European megaserver at the gates of Daggerfall City in Glenumbra (Daggerfall Covenant)
Who to Contact: @ad3sa
Whispers on the wind tell of a meeting of like-minded individuals to be occurring in the dead of night on the shores of Auridon. The only way to gather information of this event would be through word of mouth from trusted individuals.
When: Wednesday, May 28th at 9:00 PM EDT/6:00 PM PDT
Where: North American megaserver at Vulkhel Guard, in the tower due south of the wayshrine in Auridon (Aldmeri Dominion)
Who to Contact: @LtEagleEye
Herbs & Arts: Healing for All!
Feeling ill, injured, tired, weak, or depressed? Come to Alcaire Castle in Stormhaven and visit Étain!
When: Wednesday, May 28th at 6:30 PM PDT / 9:30 PM EDT
Where: North American megaserver at Alcaire Castle in Stormhaven, High Rock (Daggerfall Covenant)
Who to Contact: @Volatile13
In order to celebrate the official Breton fishing holiday on the 30th of Second Seed, we're having a "quaint" little get-together/contest somewhere on the shores of western Tamriel (preferably firmly in Breton territory).
When: Friday, May 30th – exact time yet to be determined.
Where: North American megaserver, location to be determined. (Daggerfall Covenant)
Who to Contact: @DuchessOfKvetch or @Fehu
There are rumours around town. A new arrival in Wayrest, a Breton mercenary named Felix, is talking about holding some kind of fist fighting at the docks. Apparently he's some kind of Sellsword just came from Glenumbra, they say he's been doing this sort of thing for a couple of years now in Daggerfall. Even that he used to fight himself before becoming a partner in the business. I heard he's the only one running it at the moment and it's all legal, if not a bit uncouth. He said in the tavern that everyones welcome, so long as they have the coin.
When: Saturday, May 31st at 7:00 PM BST
Where: European megaserver, on the Wayrest docks in Stormhaven. (Daggerfall Covenant)
Who to Contact: @TomGolebiewski
Treethane Galeth seeks for Karthdar to become a larger trading community throughout the Dominion, hosting a weekly Market Day where all traders from the Dominion are able flog their wares at reasonable prices.
When: Sunday, June 1st at 5:00 PM BST
Where: European megaserver at Karthdar Village in Grahtwood (Aldmeri Dominion)