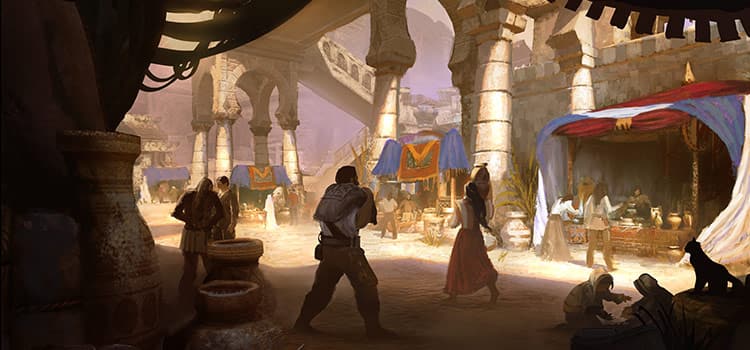 Feast your eyes (and ears) on the latest ESO fan creations.
The big reveals from the Future of ESO panel at QuakeCon have everyone abuzz! If you didn't catch the full-length developer panel and Q&A, watch it now and find out about tons of upcoming content, like spellcrafting and the Justice System. Then, check out our links here to see what fans are talking about in articles and podcasts, and get a look at the latest ESO­-inspired artistic creations, too. Do you have a link you'd like to see featured? Send it to community@elderscrollsonline.com and we'll check it out.
Fan Art
We're always inspired by the talent of ESO fan artists. Take a look at some recent works, and don't forget to visit our official ESO Tumblr page and art section on the official ESO forums for more!
Argonian The Elder Scrolls Cosplay – By Elena-NeriumOleander on DeviantArt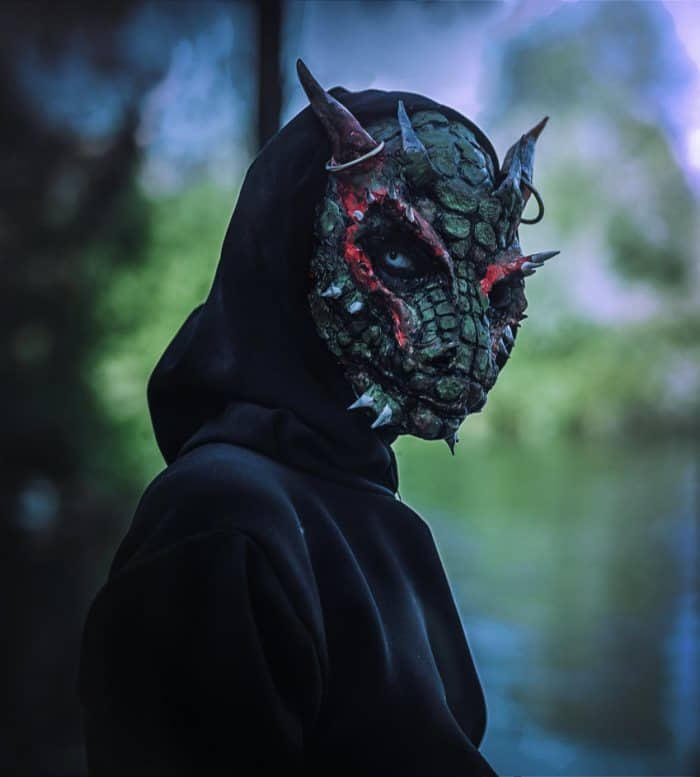 Edd is a cute monster – By FoolishLittleMortal on DeviantArt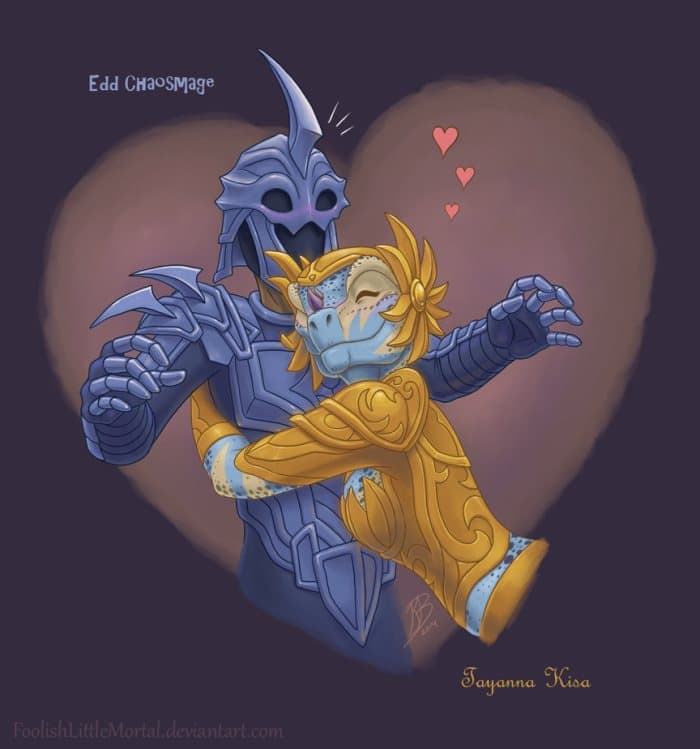 High Elf cosplay – By Dymondstarrillustrations on Tumblr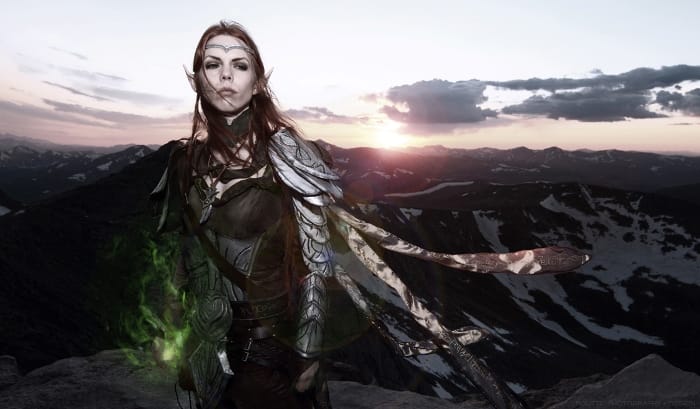 TESO: Hired Help – By Isriana on DeviantArt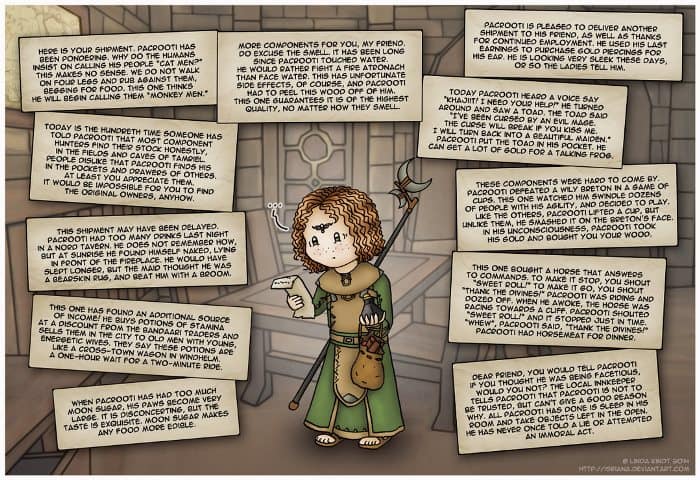 Fan Fiction
Journey to Tamriel through the eyes of your fellow ESO fans. Don't forget to check out the fiction and roleplay section on the official ESO Forums.
[Ariel Jurard] The Fall into Darkness – By quiet_banshee on TESO-RP
Ariel Jurard pushed open the door to the Rosy Lion and narrowed her eyes, looking around the tavern slowly until she saw him. Seated off to the corner at a table near a window was the bearded, robed figure who had approached her in the market square asking to speak in private. She wandered over to his table and pulled up a chair, sitting down as she smirked to the man.
Burning Reminder – By Firestar1992 on the Official ESO Forums
The little wood elf sat in a corner of the inn, away from the fire. Though she was still drenched from the rain outside, she seemed to want nothing to do with its warmth. One had only to look at her to guess why. She could feel the other patrons staring at her disfigured face, arm, and side; it seemed almost the entire left half of her body was covered in scars. Other than that, she was a rather pretty thing. Tiny, for sure, but then so were nearly all Bosmer.

The Dawn of Shadows: Chapter 1 – By Soul on TESO RP
A breeze passed over the courtyard, carrying the leaves off of the cobblestone ground, and swirling dust in every direction. In the center of the courtyard, an old mage stood peering at a list, squinting from the dust and debris. He averted his eyes to peer at a line of rather excited Breton children before him. Some children were chattering excitedly in their impatience, although some sat quietly and patiently. Just when the Mage looked like he was ready to begin, he returned his gaze to his list.
Fan Music
Listen to this great musical offering inspired by The Elder Scrolls Online:
The Elder Scrolls Online Music – Murkmire (Fan-Made) – By Matthew Shine
News and Articles
Get the latest news, info, and editorials from ESO fansite writers:
ESO Fashion
Tales of Tamriel
Tamriel Foundry
Tamriel Journal
TESO Elite
TESO-RP
The Elder Scrolls Off the Record
The Imperial Library
Podcasts and Videocasts
Hear fansite personalities discuss all things ESO:
ChimneySwift11
Elloa
Tales of Tamriel
The Elder Scrolls Off the Record
The Human Floyd
Twonk Hammer
Contests and Upcoming Events
Don't miss any of these current and upcoming contests and events that ESO fan communities are hosting!
TESO-RP
Meet your fellow Daggerfall Covenant brethren! Tavern Night is an opportunity for surprises and drama. Expect the unexpected, especially if certain people drop by.
When: Tuesday, July 29th and August 5th at 5:00 PM PDT/8:00 PM EDT
Where: North American megaserver at The Screaming Mermaid in Stros M'Kai (Daggerfall Covenant)
Who to Contact: @DuchessOfKvetch
Come to battle in the Thizzrini arena, or cheer above the action from the stone viewing area..
When: Tuesday, July 29th and August 5th at 6:00 PM PDT/9:00 PM EDT
Where: North American megaserver in Reaper's March (Aldmeri Dominion)
Do you have a merchant or craftsman who would like to tend a stall at the market? Or an entertainer who would like to perform at the market? Come one come all to Wayrest for a casual market event!
When: Wednesday, July 30th and August 6th at 6:00 PM CEST
Where: European megaserver at Wayrest Market (Daggerfall Covenant)
Who to Contact: @Fny
Wayrest Mages Guild Lecture Nights
Mages Guild associates and the Scholarly minded of Wayrest are all cordially invited to attend weekly lecture series at the Wayrest Mages Guild chapter.
When: Wednesday, July 30th and August 6th at 7:00 PM GMT
Where: European megaserver at the Wayrest Mages Guild
Cormount is most active on Thursday evenings, with traders coming south from eastern Malabal Tor and Reaper's March, as well as many more coming north from Haven and Elden Root. While Cormount isn't known as the friendliest place to outsiders, the Green Leaf does it's best to be a sanctuary to all.
When: Thursday, July 31st and August 7th at 6:00PM PDT & 11:00PM PDT.
Where: North American megaserver at The Green Leaf Tavern in Cormount, in Grahtwood (Aldmeri Dominion)
Warm greetings, travelers! This one would like to invite you to take part in Blue Skooma's weekly Live Auction.
When: Saturday, August 2nd and August 9th at 10:00PM EDT
Where: North American megaserver. Rawl'Kha in Reaper's March (Aldmeri Dominion)
Who to Contact: @ice_eye or @tryynity
The Battle of Khenarthi's Roost
Prepare for a cross-faction fight! There are rumours around town. The Aldmeri Dominion have committed horrid atrocities in Black Marsh, including attempted genocide of a generation of unhatched Argonian eggs. Now, the Ebonheart Pact is ready to retaliate.
When: Sunday, August 3rd and August 10th at 3:00 PM EDT & 4:00PM EDT
Where: North American megaserver at Khenarthi's Roost
Who to Contact: @Laislyn