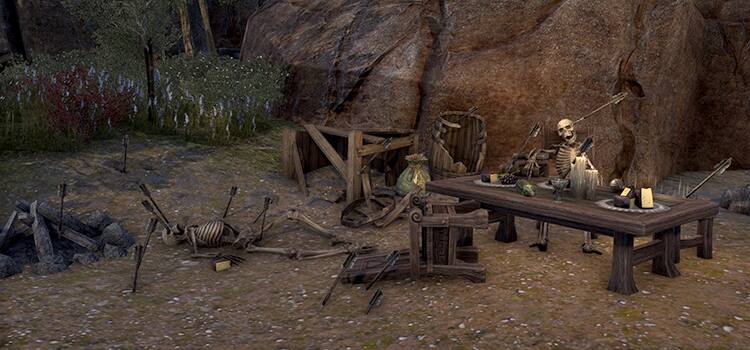 Create the best backstory for this unfortunate soul and win some great prizes.
Not everyone is a hero, and the remains of those who couldn't face the dangers of Tamriel are scattered throughout the provinces. Who were these travelers and how did they meet such grisly fates? In this new series of contests, we want you to get creative! If you can come up with the best story, we have some fun prizes for you.
To participate, take a good look at the image below. Then, create your own fictional entry of 500 words or less that tells us more about the scene. You can write a short story, a journal entry, or any other kind of fictional text that sheds more light on what happened to cause this grim tableau. Once you're happy with your creation, post it in the contest entry thread.
We'll start accepting entries today, August 11th, and will close the contest this Friday, August 15th at 11:59PM EDT. If you're one of the three winners we announce on August 29th, you'll receive a $25 electronic gift certificate to the Bethesda Store and an ESO t-shirt of your choosing!
For more information, read the full contest rules.