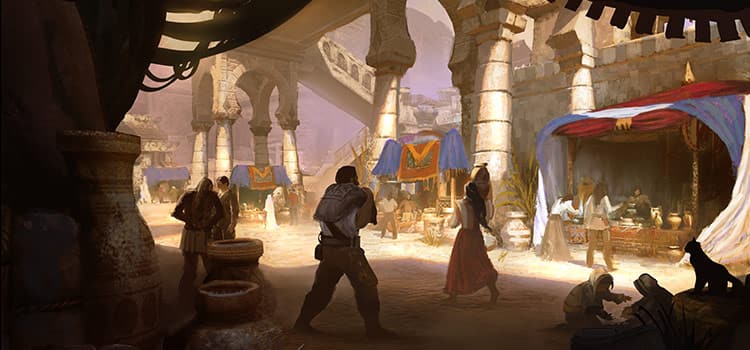 Explore the latest fan-created content, from stories and art to videos and podcasts!
ESO fans are always turning out tons of awesome creations, and every few weeks we gather some up to share with you right here. We have yet another collection of great links for you to peruse, and we hope you'll enjoy them as much as we do. We're always looking for more additions to the Chronicle, so if you have a favorite ESO-inspired creation (even if it's your own!), we'd love to see it. Send it in to community@elderscrollsonline.com and we'll take a peek.
Fan Art
We're always inspired by the talent of ESO fan artists. Take a look at some recent works, and don't forget to visit our official ESO Tumblr page and art section on the official ESO forums for more!
Confrontation at the Guardhouse – By TheShieldofOak on DeviantArt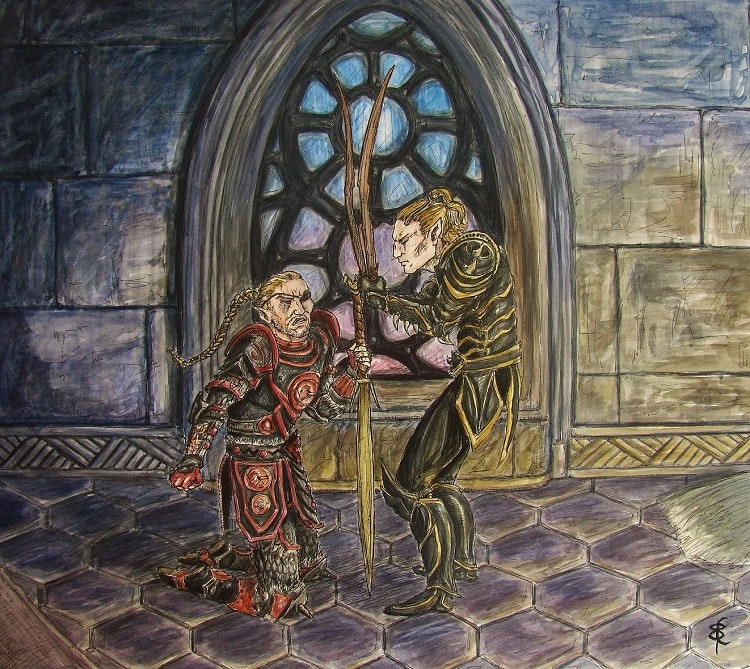 Pax Lighthawke – By SlayerSyrena on DeviantArt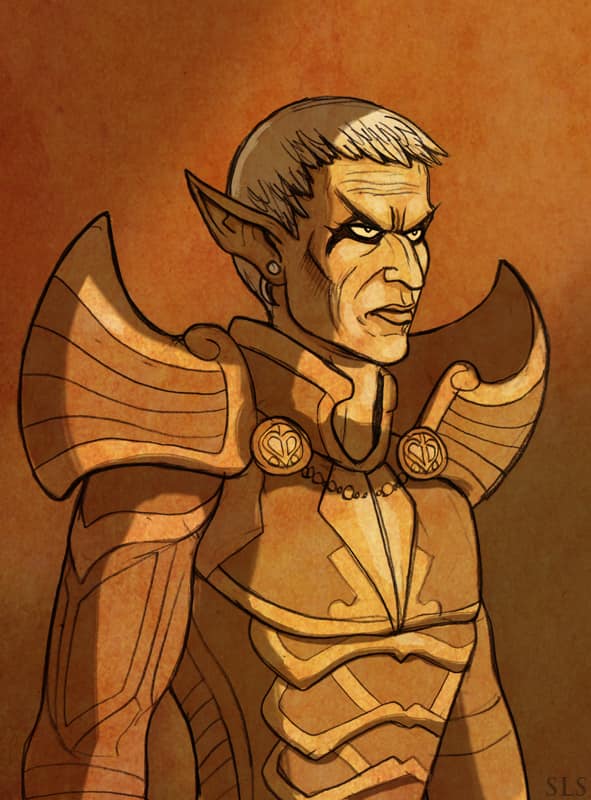 Drawing of Screams-While-Puking – By BelieveTheHyperbole on Tumblr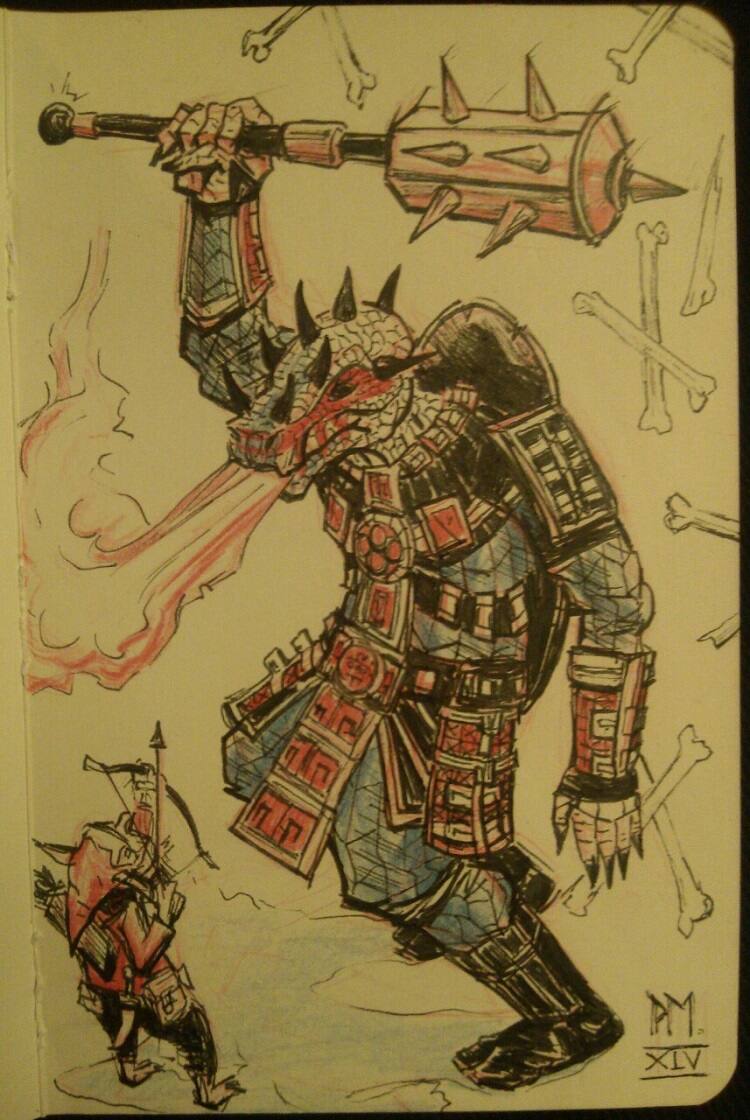 Fan Fiction
Journey to Tamriel through the eyes of your fellow ESO fans. Don't forget to check out the fiction and roleplay section on the official ESO Forums.
Blood and Honour – Chapter 3 – By Kiran on Deltebackground.blogspot.co.uk
The snow storms from the previous days had abated to allow the sun to break through to warm the city streets briefly before they returned with a vengeance. The citizens of the city took advantage of the break in the weather to enjoy the sun and to look for food amongst the various stores within the city. Children ran free down the city streets playing games of tag with snowballs, some of which went astray to hit some of the adults browsing the stalls much to the children's amusement.
Pure Light's Shadow – By Infinite on TESO RP
The man looked a little surprised, for the briefest second. Aria Lenchart was not what many would expect from a follower of Julianos. Her life spent in the learning temples--or Schools--of Julianos had left many with a certain degree of monastic disregard for their appearance. So much so that it has become largely associated with the Followers of Julianos. Aria Lenchart, while not a priestess, grew up in service to him.
The Dawn of Shadows: Chapter 9 – By Soulflame on TESO RP
I lay resting against a gray wall. A chill ran across the smooth stone at my back, causing me to shiver. I pulled an edge of my cloak closer to my body and hugged my knees. I stared ahead, through the iron bars of a cell.My brother stared back. Andore sat cross-legged within the cell, his chalk-white hands wrapping around the long steel rods.

Fan Music
Listen to this great musical offering inspired by The Elder Scrolls Online:
Armin Gutjahr – The Elder Scrolls Online - The Bulwark – By Armin Gutjahr
News and Articles
Get the latest news, info, and editorials from ESO fansite writers:
ESO Fashion
Tales of Tamriel
TESO Life
The Imperial Library
Podcasts and Videocasts
Hear fansite personalities discuss all things ESO:
ChimneySwift11
Defatank
Elloa
Tales of Tamriel
The Elder Scrolls Off the Record
Twonk Hammer
ZiggsRPG
Contests and Upcoming Events
Don't miss any of these current and upcoming contests and events that ESO fan communities are hosting!
TESO-RP
Meet your fellow Daggerfall Covenant brethren! Tavern Night is an opportunity for surprises and drama. Expect the unexpected, especially if certain people drop by.
When: Tuesday, August 26th and September 2nd at 5:00 PM PDT/8:00 PM EDT
Where: North American megaserver at The Screaming Mermaid in Stros M'Kai (Daggerfall Covenant)
Who to Contact: @DuchessOfKvetch
Wayrest Mages Guild Lecture Nights
Mages Guild associates and the Scholarly minded of Wayrest are all cordially invited to attend weekly lecture series at the Wayrest Mages Guild chapter.
When: Wednesday, August 27th and September 3rd at 7:00 PM GMT
Where: European megaserver at the Wayrest Mages Guild
Cormount is most active on Thursday evenings, with traders coming south from eastern Malabal Tor and Reaper's March, as well as many more coming north from Haven and Elden Root. While Cormount isn't known as the friendliest place to outsiders, the Green Leaf does it's best to be a sanctuary to all.
When: Thursday, August 28th and September 4th at 6:00PM PDT & 11:00PM PDT.
Where: North American megaserver at The Green Leaf Tavern in Cormount, in Grahtwood (Aldmeri Dominion)
Warm greetings, travelers! This one would like to invite you to take part in Blue Skooma's weekly Live Auction.
When: Saturday, August 30th and September 6th at 10:00PM EDT
Where: North American megaserver. Rawl'Kha in Reaper's March (Aldmeri Dominion)
Who to Contact: @ice_eye or @tryynity
Come to battle in the Thizzrini arena, or cheer above the action from the stone viewing area..
When: Tuesday, September 2nd at 6:00 PM PDT/9:00 PM EDT
Where: North American megaserver in Reaper's March (Aldmeri Dominion)