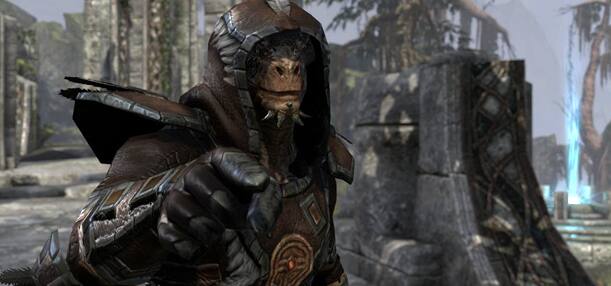 This contest has officially ended and we are no longer accepting entries.  Thank you to everyone for participating!
Think you can come up with a great emote for ESO? Submit your video idea to us for a chance to win some excellent prizes.
If you've played MMO games before, chances are you've done a /dance or two. For those not in the know, emotes are a line of text describing an action your character takes or short animations you can order your character to perform by entering a text command. Emotes, like /laugh, /wave, and more add tons of flavor to your in-game interactions. The Elder Scrolls Online already has a long list of emotes, but we want to give you the chance to get your very own emote into the game!
If you have an idea for an awesome emote, we want to see it. To participate, you'll need to create a video that shows you explaining and performing your emote animation. Submissions must be under 60 seconds in length and need to be uploaded to YouTube for us to view. Once you create your video and upload it, send a link to community@elderscrollsonline.com with "Emote Creation Contest" in the subject line to enter.
The submission deadline is Friday, September 27th at 11:59PM EDT. No entries submitted after this date will be reviewed. Please keep in mind that your emote must be your own creation. It must be appropriate for The Elder Scrolls lore, and can't contain any pop culture references, copyrighted materials, or any vulgar imagery or sexual content.
We're looking for original emote ideas. The following is a list of the emotes currently represented in the game; your idea cannot be for one of these actions:
/angry

/cuckoo

/handtoheart

/pointdown

/situps

/annoyed

/curtsey

/headache

/pointleft

/sleep

/applaud

/dance

/headscratch

/pointright

/stagger

/approve

/dancedrunk

/heartbroken

/pointup

/stop

/armscrossed

/disapprove

/hello

/poke

/stretch

/beckon

/disgust

/huh

/pour

/surprised

/beg

/dismiss

/humble

/pray

/surrender

/beggar

/doom

/impatient

/preen

/tap

/bestowblessing    

/downcast

/jumpingjacks    

/push

/taunt

/bless

/drink

/kiss

/pushup

/thank

/blowkiss

/drum

/kneel

/pushups

/thanks

/boo

/drunk

/kneelpray

/rally

/thankyou

/bored

/dustoff

/knock

/ritual

/threaten

/bow

/eat

/kowtow

/rubhands

/thumbsdown

/breathless

/exasperated

/laugh

/rude

/thumbsup

/brushoff

/facepalm

/leanback

/saluteloop

/tilt

/bucketsplash 

/faint

/leanside

/scared

/torch

/celebrate

/fistpump

/leaveme

/scratch

/touch

/cheer

/flirt

/lol

/search

/twiddle

/clap

/flute

/lute

/shakefist

/wagfinger

/cold

/followme

/me

/shh

/wand

/come

/goaway

/no

/shieldeyes    

/wave

/comehere

/grats

/nod

/shout

/welcome

/confused

/greet

/overhere

/shovel

/whisper

/congrats

/hail

/payme

/shrug

/whistle

/congratulate

/hammer

/phew

/sick

/write

/controlrod

/hammerlow

/playdead

/sigh

/yawn

/cower

/hammerwall

/point

/sit

/yes

/crouch

/handsonhips    

/pointback

/sitchair

/you

/cry
On Friday, October 11th, we'll announce one grand prize winner and three runners-up. The grand prize winner will have his or her emote adapted by our animation team and added to the game!
Prize info:
Grand Prize
The winning emote will be adapted by our animators and will appear in The Elder Scrolls Online. The winner will have the opportunity to collaborate with a member of the ESO animation team to assist with the creation of the emote.

Invitation to The Elder Scrolls Online beta test.

One The Elder Scrolls Online poster, signed by the development team.

One The Elder Scrolls Online limited stein.

$75 store credit to spend at the Bethesda Merchandise Store.

One The Elder Scrolls Online lithograph set including High Elf, Nord, and Breton.

One The Elder Scrolls Online t-shirt.
Three Runners-up
$25 store credit to spend at the Bethesda Merchandise Store.

One The Elder Scrolls Online lithograph.

One The Elder Scrolls Online t-shirt.
For more details, please read the Official Rules below: