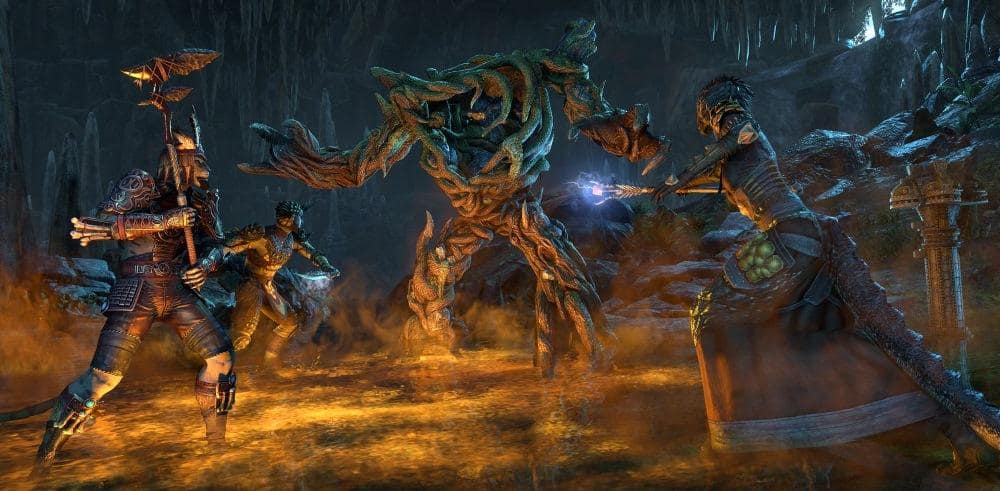 Take a closer look at what makes the untamed wilds of Murkmire unique as we preview this new zone and its many hidden mysteries, dangers, and rewards.
A Land Untamed
For the first time since ESO's launch in 2014, you have an opportunity to once again venture into the perilous swamplands of Black Marsh. However, unlike Shadowfen (one of the original base-game zones), this time you are able to explore the region's southern coast, the aptly named Murkmire.
Over the centuries, many have attempted to invade the home of the Argonians, but they have always found themselves repelled if not by the native peoples, then by the environment itself. In this new zone, you can explore this aspect of the region's history and see for yourself the fate of those who successfully made their way into the deep swamp.
Encounter Murkmire's native tribes
Because of its inherent danger and mystery, Murkmire is a tantalizing region for would-be explorers and treasure hunters, but while the zone certainly contains great material riches, greater rewards await those who wish to learn the secrets of the Argonian homeland.
"The Argonians are one of the most unusual races we have in the game. Not just because they're lizard people, but because their culture and the way they look at things and the world is different," explains Ed Stark, ESO's Zone Lead. "They are deeply in touch with the Hist and their environment, and they tend to be nomadic while also maintaining strong ties to their past."
Discover the Argonian way of life
In this new zone, you can make contact with various Argonian tribes, each representing an aspect of Argonian life and culture, and explore both their modern villages and ancient Xanmeer ruins. With Murkmire, the team found an opportunity to truly explore the diverse aspects of Argonian culture and showcase its colorful, often contradictory natures. Much like the swamp itself.
"Up to this point in ESO we've really only been able to present the Argonians as on the periphery of their civilization or within somebody else's," explains Stark. "But in Murkmire, you finally get to see what they're like at home."
A Living, Dangerous World
It's not just its people, culture, and history that sets Murkmire apart, but the swamp itself stands out as a world both inhospitable and full of life.
"When designing the new zone, one of the things we focused on was the idea of diversity and variance, even within a swamp," says Stark. "And we went beyond what you would normally find in a dark, swampy area by adding many blues, greens, purples, and yellows."
Beware Murkmire's dangerous flora
Some of the most dangerous parts of Murkmire are also its most beautiful, and as you explore this world, you should mind your surroundings. The deep swamp is home to many unique creatures and plant life, some benign, but some also quite lethal.
In your journeys through Murkmire, you can encounter your fair share of giant alligators and salamanders, but the zone is also host to a broad selection of all-new creatures, too. Some of these monsters appear to fit perfectly within the zone's natural environment, but others might seem like aberrations.
Don't get caught by the deadly voriplasms
"Some of the most seemingly unnatural creatures we have in Murkmire are the voriplasms," says Stark. "But when you think about the swamp and how it absorbs its invaders, you can see how the voriplasms might actually be an expression of that."
Everything you find in Murkmire fits into the rest of the zone in some logical way, and wherever you go, you're bound to encounter something unique, beautiful, but also potentially very dangerous.
New Adventures & Rewards
There's a world of adventure you can experience in Murkmire, including two new world bosses, two delves, and a huge amount of stand-alone quests.
"With our non-main story content, we try to emphasize different elements of what Murkmire can be as an adventuring site," says Stark. "And just like any zone in ESO, we want players to experience the history and culture of its native race."
Face Murkmire's ancient defenders
In different ways, each unique activity reveals a different aspect of the region's history and culture. All of this helps you build your knowledge and appreciation for the Argonians and Black Marsh, making it ideal for both hardcore lore fans and new players alike.
Of course, in addition to expanding your knowledge, the zone comes with a host of fantastic in-game rewards. When completing quests, dailies, and more, you can earn three unique gear sets in addition to three more you can create for yourself at various crafting stations. This includes the Grave-Stake Collector set that can provide a nice boost to your resource pools.
The Grave-Stake Collector set (crafted in Murkmire)
There's also a host of unique collectibles you can acquire in Murkmire, including the Argonian Calendar furnishing from the Murkmire museum quest, a Haj Mota Variant pet earned by simply entering the new zone, and the brand-new Dead-Water Motif style that you can unlock by completing numerous daily activities.
Venture into the Deep Murk
In The Elder Scrolls Online: Murkmire, all-new adventures await those willing to explore this mysterious new zone. Discover the long-lost histories of the Argonian people and witness first-hand the fate of those who dare invade the endless swamps of Black Marsh. Are you preparing for your own expedition into the world of the Saxhleel? Let us know if you're excited to explore Murkmire on Twitter @TESOnline and Facebook.
The Elder Scrolls Online: Murkmire is coming soon for ESO Plus members and to the in-game Crown Store. In addition, it will also be available as a Daily Reward for the month of November. This new DLC game pack will arrive with Update 20, a free base-game patch for all ESO players.