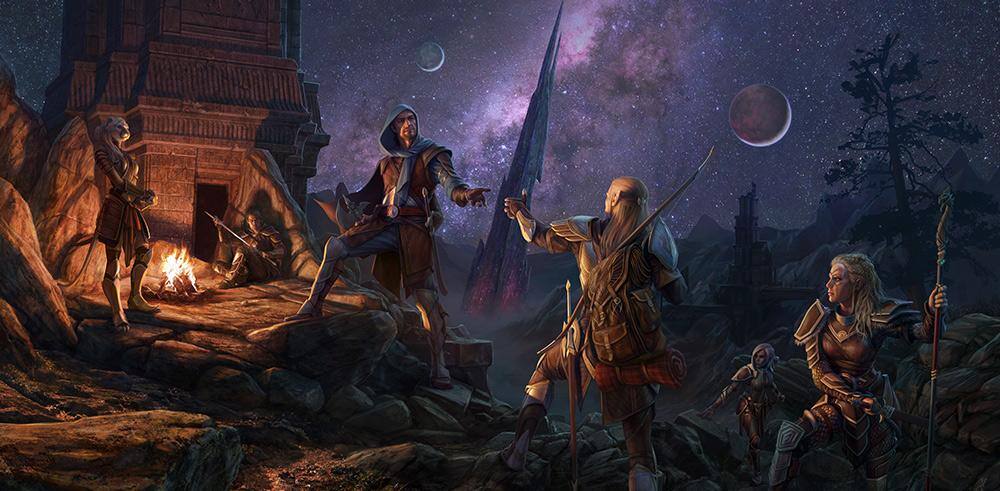 The #OurElderScrolls event has begun! From now until the end of the year, you can take part in massive in-game events, win amazing prizes, and share your own ESO story. Learn more about this huge event here and check out the #OurElderScrolls page for everything you need to know.  
The Elder Scrolls Online community is one of the best in gaming, and we love it when the world of Tamriel brings people together to explore, quest, and create stories of their own. To celebrate everything the ESO community does to support the game and, more importantly, each other, we're thrilled to kick off the #OurElderScrolls event, starting today!
During this huge event, you'll be able to share your stories of companionship and comradery with the entire ESO community, take part in four in-game events (and, perhaps, earn your own Indrik mount), enter our incredible #OurElderScrolls Sweesptakes, or show your creativity in our ESO t-shirt design contest.
Share Your Story
It's your stories that make ESO such a vibrant, compelling experience for everyone, so we're encouraging everybody in the ESO community to share their tales of adventure and comradery with us on Facebook, Twitter, and Instagram.
Throughout the event, we'll be sharing some of our favorite stories on the ESO social channels and be publishing a series of unique videos from some of our game's most hardcore and beloved fans, starting with this one from UFC Middleweight champion Robert Whittaker and some of ESO's most passionate and dedicated players!
Enter the Sweepstakes
Starting today, you can enter the #OurElderScrolls Sweepstakes for a chance to win a trip to E3 2019  (June 9-13, 2019) and attend BE3 (check eligibility details below), and because The Elder Scrolls Online is about sharing your adventures in Tamriel, we'll also fly along a friend of your choice!
Should you win the Grand Prize, you and your guest will have the opportunity to meet members of the ESO dev and community teams, and of course, access to the convention itself. However, that's not all! In addition to the four Grand Prizes, we have up to 252 amazing Runner's Up prizes that include custom-made consoles, in-game collectibles, ESO swag, and much more.
All the collectibles!
Eligibility Rules: NO PURCHASE NECESSARY. Open to legal residents of the 50 United States & D.C. (excluding FL, NY, & RI), Canada (excluding Quebec); Denmark; Finland; France; Germany; Iceland; Mexico; Switzerland; or United Kingdom, 18 years or older (or age of majority if older). Residents of Canada must correctly answer a skill-testing question. Free mail in entry available using form available here must be postmarked by Jan. 2, 2019, rec'd by Jan. 30, 2019. Sweepstakes period Oct. 18, 2018 – Jan. 2, 2019. VOID WHERE PROHIBITED. Sponsor: Bethesda Softworks LLC, 1370 Piccard Dr. #120, Rockville, MD 20850 U.S.A. Significant conditions apply; See Official Rules for prize details and additional eligibility restrictions.
The #OurElderScrolls Sweepstakes officially starts on Thursday, October 18, 2018 at 10:00AM EDT (today) and ends on Wednesday, January 2, 2019 at 11:59PM EST. You can enter by visiting the #OurElderScrolls event page, hitting the "Enter Sweepstakes" button (it's the big green one), completing the entry form, and logging into the game at least once using a valid ESO account during the Sweepstakes period. However, you can also earn a bonus entry into the competition for each Indrik Feather you acquire during the event period, up to a maximum of eight! Finally, don't forget that if you're eligible, you can enter the Sweepstakes without an ESO account by submitting a Mail-In Entry Form, with nine entries per eligible entrant during the Sweepstakes period, regardless of the method of entry.
For all the details, check out the #OurElderScrolls Sweepstakes Official Rules – good luck!
Summon an Indrik Mount
Starting with the Witches Festival, you can take part in ESO's four end-of-year in-game events to acquire a majestic Nascent Indrik mount. To acquire this special mount, earn Event Tickets by participating in the events and completing the tasks associated with each event. Once you have 10 tickets, you can use them to purchase an Indrik Feather, with a new unique feather available with each event. Collect all four feathers, and you'll be able to use them to summon your own Indrik mount!
If you're eligible to participate in the Sweepstakes, you can also collect up to eight Indrik Feathers during the events to earn up to eight bonus entries in the Sweepstakes.
Earn Indrik Feathers by taking part in ESO's in-game events
You can find everything you need to know about the Indrik event in our announcement article, but the specific dates for each event can be found below:
Witches Festival: October 18 at 3:00PM BST – November 1 at 2:00PM GMT
Clockwork City Celebration Event: November 15 at 3:00PM GMT – 26 November at 3:00PM GMT (Clockwork City DLC game pack required)
Undaunted Celebration Event (Dungeon Event): November 29 at 3:00PM GMT – December 5 at 3:00PM GMT
New Life Festival: December 13 at 3:00PM GMT – January 2 at 3:00PM GMT
Design an ESO T-shirt!
Do you have a creative side? Help us celebrate the ESO community during the #OurElderScrolls event by taking part in our ESO t-shirt design contest. Starting today, you can submit your own custom t-shirt design using this entry form, with submissions closing on Friday, November 2.
Once submissions are closed, the ESO team will review entries and select their top-eight favorites based on creativity, originality, and representation of the #OurElderScrolls theme.
Starting the week of November 12, the ESO community will then be able to vote on their favorite from the eight finalists. Once the community has spoken, we will announce all the winners the week of November 19, with the Grand Prize Winner's design being made the official #OurElderScrolls campaign t-shirt and available *via an exclusive offer* in the Bethesda Store (NA and EU)! To unlock the ability to purchase one of these exclusive #OurElderScrolls tees, you need only participate in at least one of the four upcoming in-game events (Witches Festival, Clockwork City Celebration, Undaunted Celebration, or New Life Festival). By doing so, you'll receive a special code that'll allow you to preorder the t-shirt from the store. We're also giving away some for free, so keep an eye out for details!
For more details on this competition, see our announcement article and Official Rules.
#OurElderScrolls for All
The #OurElderScrolls event begins today and will run until January 2, 2019. This event will showcase what makes the ESO community special while also providing all-new rewards for our four upcoming in-game events, allow you to enter a massive Sweepstakes, or display your talent in the ESO t-shirt design contest. Don't hesitate to check out the official #OurElderScrolls page for all the details and share your stories with us and the rest of the amazing ESO community. Are you excited to take part in this massive end-of-year event? Let us know on Twitter @TESOnline and Facebook, and don't forget to use the #OurElderScrolls hashtag!