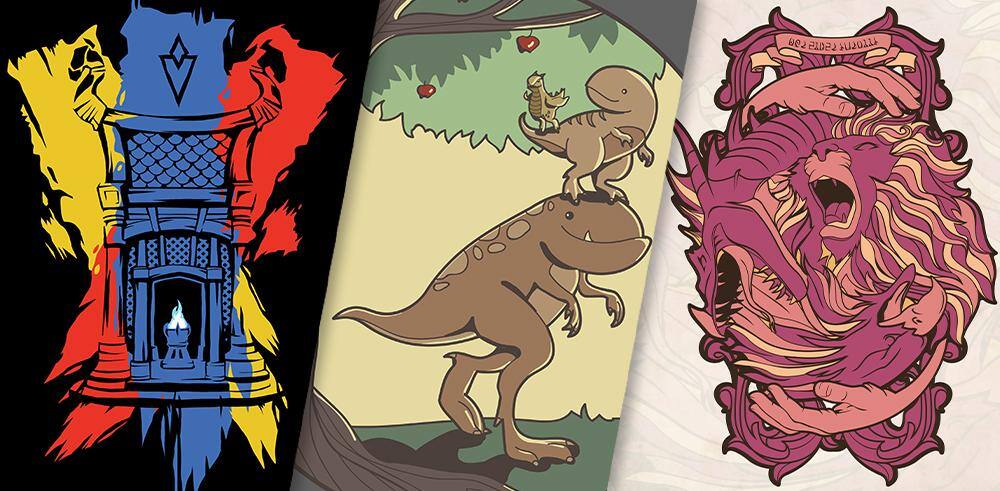 Discover the winners of the ESO Community T-shirt Design Contest and find out how you can acquire your very own shirt featuring the Grand Prize design from the Bethesda Store!
Announcing the Winners
We were blown away by the creativity of the hundreds of entries we received for this contest, and after selecting our eight favorites, we asked the ESO community to pick the final winners. Check them all out below!
Grand Prize Winner – Narolaxs from Spain
Elsy from the United States
Plansci in the United States
Honorable Mentions
Maya from the United States & Pronce from the United States
Evan Gauntt from the United States & Toxicpretty from the United States
Show your ESO Community Pride
If you'd like to flaunt your ESO community pride, soon, you will be able to pre-order a t-shirt with the winning design via an exclusive offer in the Bethesda Store (NA and EU). Keep an eye out on Twitter @TESOnline and Facebook for an announcement when the offer is available.
To unlock the ability to purchase this unique shirt, you must participate in at least one of the four #OurElderScrolls in-game events and have a valid ESO account on elderscrollsonline.com. If you haven't already started, don't worry, there's still time to take part in the next three events. You can find information on the events and what you need to do to receive the exclusive offer below:
Witches Festival: October 18 – November 1

Earn a Daedric Plunder Skull

Clockwork City Celebration Event: November 15 – 26 (Clockwork City DLC game pack required)

Enter the Clockwork City zone

Undaunted Celebration Event: November 29 – December 5

Earn a Mysterious Reward Box

New Life Festival: December 13 – January 2

Earn a New Life Festival Gift Box
Note that if you play on Xbox One or PlayStation®4 and have not verified your ESO account on elderscrollsonline.com, please check this help article to ensure that your event participation counts.
If you participated in an event, you'll receive instructions via the email address associated with your ESO account that will explain how to get your exclusive code. This code will allow you to preorder the t-shirt from the Bethesda Store for the actual, significantly reduced price, forever commemorating the ESO community and the #OurElderScrolls event! (Please note that you must enter the associated code in order to make the purchase.)
The t-shirt will only be available in the Bethesda Store until January 31, 2019. Estimated delivery will be during or before March 2019.
Celebrating the ESO Community
We cannot wait to see the ESO community proudly wear the winner's design next year. Are you planning to celebrate #OurElderScrolls with one of these new shirts? Let us know on Twitter @TESOnline and Facebook.