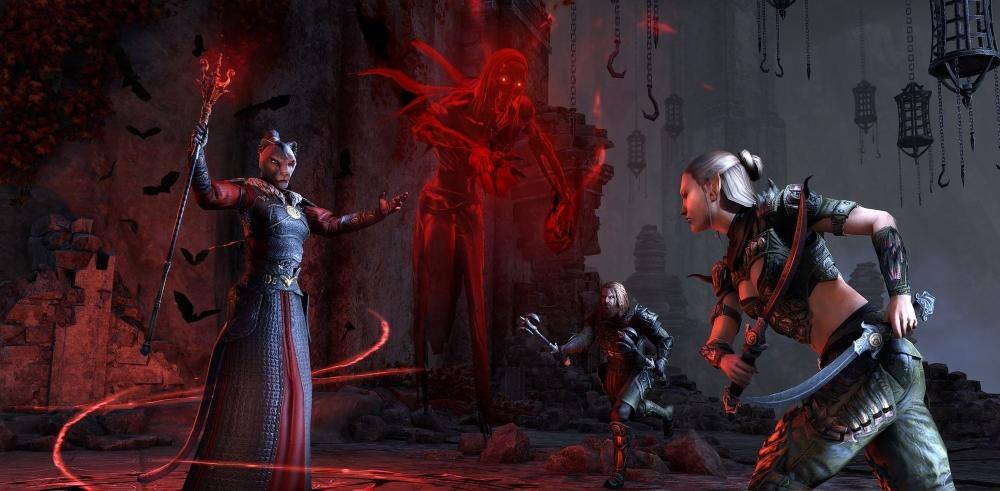 Confront the vampires of the Hollowfang Clan before they can drain the life from a captured Dragon in Moongrave Fane, a new four-player dungeon coming with the Scalebreaker DLC game pack!
A Dragon Felled
Deep within the ruins of an abandoned Khajiiti temple, the Hollowfang Clan has struck down a Dragon from the sky and now holds it captive. However, instead of destroying the massive beast, the clan, joined by a former member of the Dragonguard, has other, more nefarious plans for the monster.
Sahrotnax captive
 "This Dragonguard vampire Grundwulf is convinced that he can drink the blood of the Dragon Sahrotnax and absorb his power," explains Mike Finnigan, ESO's Dungeon Lead. "Realizing the folly of this endeavor and the implications should Grundwulf succeed, his fellow Dragonguard Chevalier Renald has ventured to the Fane to stop his friend."
Hoping to save his brother in arms before he dooms himself, Chevalier Renald has recruited you and your team to enter Moongrave Fane, confront the vampires, and put a stop to the terrible ritual before it's too late.
Face the Hollowfang Clan
Of course, getting to Grundwulf and the captured Dragon won't be easy. As you delve into this new dungeon, you'll quickly discover that the ancient temple is guarded by deadly Hollowfang vampires and vicious beasts—daunting challenges for any would-be invaders.
Battle the Hollowfang Clan
In addition to its defenders, Moongrave Fane also features some engaging new puzzle elements: sliding stones.
"Moongrave's sliding stones are a unique puzzle mechanic we developed for the Dungeon, but they are more than just a door-opening mechanism," explains Finnigan.
You can move these massive, ornate blocks around the dungeon by striking them, and you'll need to move them around the map if you are to progress. However, as you dive deeper into Moongrave Fane, you will find additional uses for these ancient relics.
"Because they have weight and collision, they can be used in boss fights as well. They are one more layer of interactivity we provide for players to make an impact in the dungeon and fight spaces."
Mysterious!
Of course, Khajiiti puzzles and Vampire minions aren't the only things standing in your way, and Moongrave Fane brings five challenging new boss fights to test your team's mettle. These bosses include stone guardians, giant monsters, and fearsome vampires. The final fight against Grundwulf himself, beside the fallen Dragon, allowed the team to create some unique mechanics and drama.
"The Dragon Sahrotnax despises Grundwulf, and so in this fight, players are able to manipulate that relationship to their advantage," says Finnigan. "I want to remain a bit vague to avoid spoiling things, but this battle highlights how the team really tries to blend story and mechanics together."
Loot Powerful New Gear
As you progress through Moongrave Fane, you can loot three powerful new gear sets from bosses, chests, and (rarely) random drops. This includes the Dro'zakar's Claws medium set, which can greatly boost your damage if you have a build that utilizes bleeds.
The Dro'Zakar's Claws set
Of course, you can also earn new furnishings and acquire a Monster Mask by defeating the final boss on Veteran Difficulty. Finally, if you earn the Moongrave Fane Challenger Achievement, you receive the Undaunted Porter Scamp pet!
A perfect dungeon companion!
A Season of the Dragon Adventure
With the opening of the Halls of Colossus, the need for brave adventurers has never been greater. Are you willing to enter Moongrave Fane, confront the vampires of the Hollowfang Clan, and put a stop to their terrifying ritual? All-new rewards and glories await! Let us know if you'll be braving this new dungeon and continuing your Season of the Dragon adventure via Twitter @TESOnline, Instagram, or Facebook.
Continuing the Season of the Dragon year-long adventure, the Scalebreaker DLC game pack is coming soon for PC/Mac, Xbox One, and PlayStation®4 and will be available for ESO Plus members and in the in-game Crown Store.