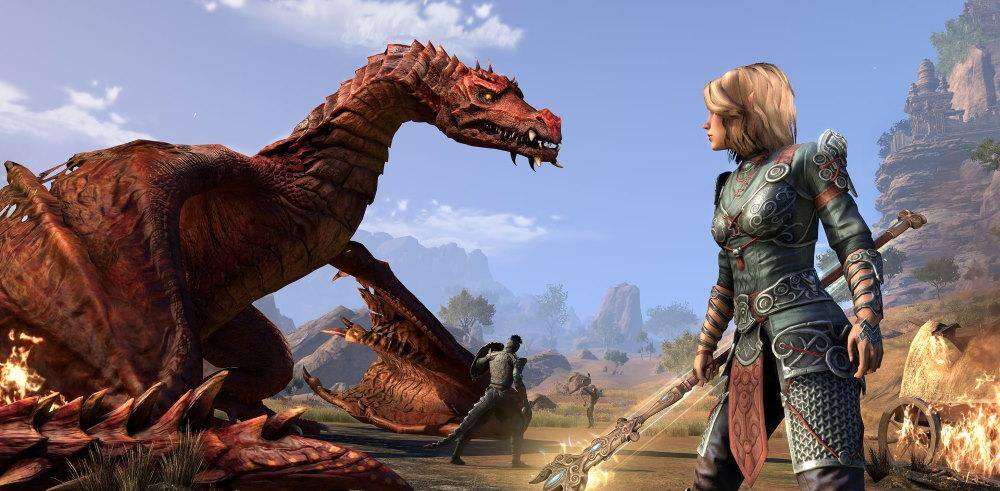 Thousands of Dragons have already fallen as part of the #SlayDragonsSaveCats campaign, but there's still work to be done! Check out all the ways you can slay Dragons in ESO and support the cause.
The #SlayDragonsSaveCats charity campaign is live right now and continues until December 9, 2019. During this promotion, for every five Dragons you slay, we'll donate $1 to animal welfare charities, up to a maximum of $200,000.
The community has already done an amazing job, slaying over half a million beasts and raising over $100,000 so far. If you're eager to do your part as well (even if you own only the base game), here are all the different ways you can take on Dragons in The Elder Scrolls Online.
Dragon Hunt World Events
Dragons roam the skies over Elsweyr! You can hunt these beasts as they fly overhead and strike at them when they land in both the Northern and Southern Elsweyr zones.
Team up to take down a Dragon
Keep an eye on your map to locate any Dragons in the sky or currently in combat, but be warned—you'll need a group of hunters to take them on. The Northern Elsweyr zone (part of the Elsweyr Chapter) can feature three Dragons on the map at once, while the Southern Elsweyr zone (part of the Dragonhold DLC) can have up to two roaming Dragons.
Group Challenges (Dungeon or Trial)
You can also confront Dragons within some of ESO's PvE content, including the Lair of Maarselok dungeon and Sunspire trial. Both are challenging group activities, so you need four allies for the dungeon and 12 allies for the trial.
In Lair of Maarselok, you and your party must infiltrate the home of an ancient Dragon and put an end to his corruption before it can spread to Elden Root. In Sunspire, three powerful Dragons have taken up residence inside an ancient temple to Alkosh, and you and your team must face the false gods and free the resident monks from their terrible influence. No easy task!
Stop Maarselok before his corruption spreads
The Lair of Maarselok dungeon is part of the Scalebreaker DLC game pack, while the Sunspire trial is part of the Elsweyr Chapter.
Chapter & DLC Main Storylines
It's the Season of the Dragon, so the beasts obviously feature heavily in this year's main story questlines. Whether you're aiding the embattled Khajiiti resist the Imperial invaders and their monstrous allies, or helping Sai Sahan reforge an ancient order of Dragon hunters, you'll face plenty of these winged foes in this year's main storylines.
Encounter many Dragons in ESO's questlines—and slay them!
You can find Dragons as part of the main stories within the Elsweyr Chapter or Dragonhold DLC game pack. Even better, should you complete both the Elsweyr and Dragonhold main storylines, you'll unlock the final Season of the Dragon quests, allowing you to finally stop Kaalgrontiid and put an end to the year-long Season of the Dragon adventure. That means more Dragons to defeat!
Dragonhold Prologue
If you don't own any of this year's new content, that's OK. You can still help by playing the Dragonhold Prologue. Part of the base game, the prologue has you set up the events of the Dragonhold DLC by teaming up with a familiar ally to seek out a legendary artifact.
Anybody who owns ESO can slay Dragons
When completing the prologue, you'll have an opportunity to face a powerful Dragon, and because it's part of the base game, you don't need to own any of this year's Season of the Dragon content to do so!
That's it! As you can see, there's plenty of ways you can help the cause. Don't forget, you can check the community's progress on the #SlayDragonsSaveCats page. Now get out there and slay some Dragons!