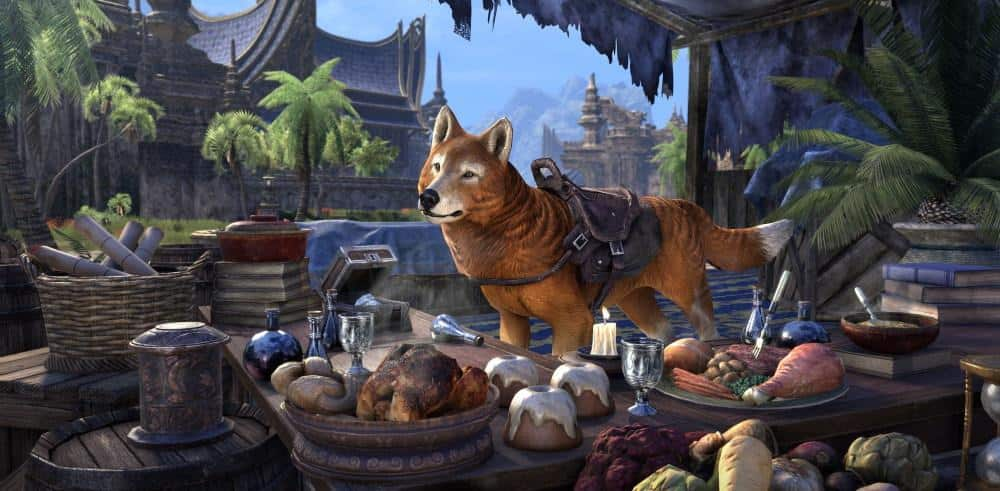 You can pick up a deal on in-game Assistants, Season of the Dragon dungeon DLCs, tokens, and a special Black Fredas bundle in our limited-time Crown Store sale.
Black Fredas has returned, and starting today, you can pick up some of the Crown Store's hottest items at a great discount, including:
Fezez the Merchant Assistant
Nuzhimeh the Merchant Assistant
Scalebreaker dungeon DLC
Wrathstone dungeon DLC
Name and Race Change Tokens
In addition to these sale items, we've also introduced a new bundle just for this sale period. The Black Fredas Bundle 2019 is available for 1,900 crowns and includes the exclusive Oak-Ember Forge Wolf mount, 10 Experience Scrolls, 10 Riding Speed Lessons, 10 Riding Capacity Lessons, 10 Fortifying Meals, 10 Soul Gems, and 50 Tri-Restoration Potions. That's 8,100 crowns of value!
The Black Fredas Bundle 2019
The above items are on sale only until Monday, December 2 at 3:00PM GMT. However, when the sale for the above item ends, a new one begins for these individual items:
Ezabi the Banker Assistant
Tythis Andromo the Banker Assistant
Mundus Stones (acquired from the Housing Editor)
These items will be on sale until Thursday, December 5 at 3:00PM GMT.
With a value-packed bundle and deals on Assistants, furnishings, and the Season of the Dragon's dungeon DLCs, there's something for everyone this Black Fredas. Don't forget—both The Elder Scrolls Online: Elsweyr AND The Elder Scrolls Online: Standard Edition are also on sale now until December—it's a great time to grab a deal both on and in The Elder Scrolls Online!