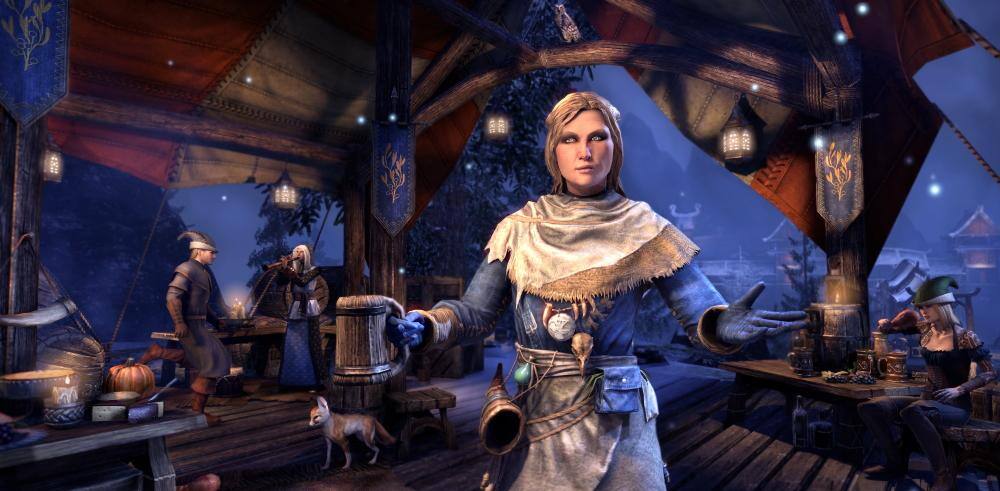 Celebrate an amazing year of adventure and comradery with the return of the New Life Festival. Earn bonus XP, event-unique rewards, and more during this merry fete!
Celebrate New Life
The New Life Festival in-game event beings this Thursday, December 19 at 3:00PM GMT and runs until Thursday, January 2, 2020, at 3:00PM GMT. If you'd like to take part in this joyous jubilee, acquire the New Life Festival quest from the in-game Crown Store and use it to find the New Life Herald, Breda, located south of the city of Windhelm, Eastmarch. Even if you've already completed this intro quest during a previous event, you can do it again!
Find Breda to begin the celebration
Complete the quest "The New Life Festival" and unlock a ton of unique New Life-themed daily quests (nine total) that help spread cheer and merriment to all the people of Tamriel. The first time you complete your first New Life Festival quest, you also unlock the Breda's Bottomless Mead Mug collectible, which provides a two-hour 100% boost to XP gains when consumed. You can use this festive flagon and enjoy the XP boost throughout the entire event period, and even better, its benefits stack with other XP bonuses.
Gift Boxes Galore
Each time you complete a New Life Festival daily quest, you receive a New Life Festival Gift Box. These celebratory coffers can contain all manner of festival-themed goods, including Motif chapters, recipes, collectibles, furnishings, and more:
Skinchanger Motif chapters
New Life recipes
New Life collectibles (packaged in Runeboxes and tradeable):

Sword-Swallower's Blade memento
Juggler's Knives memento
Fire-Breather's Torches memento
Mud Ball Pouch memento
Nordic Bather's Towel costume
Colovian Filigreed Hood hat
Colovian Fur Hood hat

A selection of lights, lamps, and lanterns for your home to celebrate the Signal Fire Sprint
Draughts of Stealth and Escape to celebrate the Trial of Five-Clawed Guile
The Skaal Explorer Outfit Style
Charity Writs!
Of course, this festive season is all about spreading holiday cheer and goodwill, and throughout the event, when you open a New Life Festival Gift Box, you have a chance to receive a Charity Writ. This year, you can discover two different Charity Writs within Reward Boxes:
New Life Charity Writs–Complete 12 of these to unlock the "Newly Charitable" Achievement and Crystalfrost skin.
New Deep Winter Charity Writs–Complete to unlock pages from the new Skaal Explorer outfit style!
Earn Event Tickets & Acquire ANY Berry
The first time you complete a New Life Festival daily quest each day, you earn two Event Tickets in addition to your Gift Box. You can earn only two Event Ticket this way per day, with the timer resetting at 6:00AM GMT each morning.
However, because of the postponement of the Undaunted Celebration in November, we decided to reward Event Tickets for bosses slain throughout the entirety of the New Life Festival. Each day, when you defeat your first boss you receive three Event Tickets in addition to that boss' regular rewards.
Here's the bosses that'll count:
World bosses
Delve bosses
Final dungeon bosses
Final trial bosses
Final arena bosses
Dragon hunt, Dolmen, and Abyssal Geyser bosses
That means each day, you could earn up to five tickets. Don't forget to loot!
Complete your Pure-Snow Indrik during New Life!
The Impresario has opened her warehouse during the New Life Festival, and has a ton of new and returning items you can spend your Event Tickets on, including:
All four Indrik Feathers
New Pure-Snow Berries of Ripeness
All previous Pure-Snow Indrik Berries
New Frost-Light Indrik pet
ALL previous Indrik Berries (!)
New Skaal Explorer Outfit Style pages
That's right, during the New Life Festival, you can acquire ANY of the year's Indrik Berries! Before now, these berries were available only during previous in-game events, so if you're missing one or two berries from past evolutions, now is your chance to catch up.
As usual, Impresario items are bound to your account upon purchase.
'Tis the Season
Spread joy to all of Tamriel during the New Life Festival and enjoy bonus XP, special holiday-themed rewards, and more. Are you ready to throw some mudballs and take the Snow Bear plunge? Let us know on Twitter @TESOnline, Instagram, and Facebook!