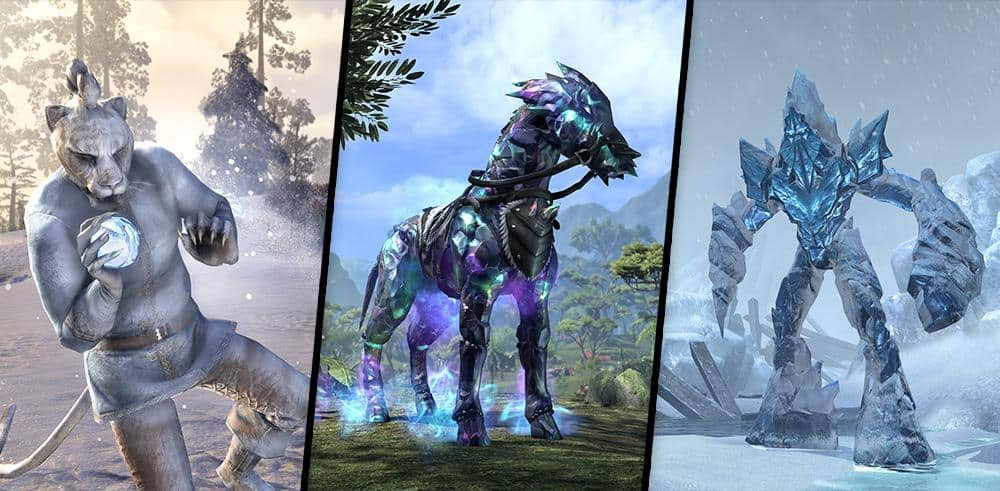 Uncover chilling new collectibles within Frost Atronach Crown Crates, coming soon to the in-game Crown Store!
***
In the churning chaos of Oblivion, a storm takes shape. Frigid winds howl and swirl, and from this icy cyclone, great horrors emerge. Frost atronachs!
These lumbering beasts strike like a blizzard, crushing the innocent and the wicked alike under an avalanche of savage blows. Do you dare to summon their awesome power?
***
The new Frost Atronach Crown Crates arrive in the Crown Store this Thursday, December 12. Within these ice-cold containers, you'll find a cool compilation of chilling curios, including useful consumables (such as XP scrolls, potions, and others) and a wintry collection of new and returning collectibles. Here's a fresh sample of some (but certainly not all) of the items you can find in these new crates:
Frost Atronach Dwarven Spider mount & Everlasting Snowball memento
Target Frost Atronach furnishing dummy & Fawn Pet
This is just the tip of the iceberg, however, since when you open a Frost Atronach Crown Crate, you also have a chance to obtain one of these extremely rare mounts:
Dark Aeon Wolf & Volcanic Senche-Panther mounts
Dark Opaline Steed mount
Finally, the Frost Atronach Crown Crates also house a selection of returning fan-favorite Crown Store items, including these classics:
Witch Knight Charger mount & Milady's Cloud Cat pet
We've shared only a small sample of the items you can find in these new crates above. Be sure to check out everything coming this season in this forum thread, and don't hesitate to grab some of the soon-to-be-retired New Moon Crown Crates after checking out their contents on our Crown Store page.
Cold Crates, Hot Items!
Display your dominion over the freezing cold and bring a chill to the heart of Tamriel with the collectibles and goods found within the new Frost Atronach Crown Crates. Are you excited to pick up some of these arctic items when they arrive this Thursday? Let us know on Twitter @TESOnline, Instagram, or Facebook.