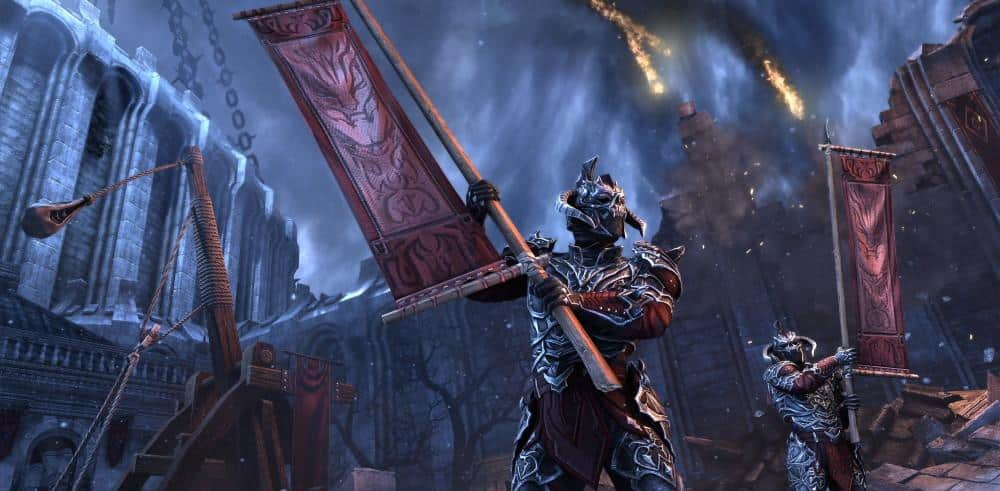 Bring glory to your Alliance, your guild, or yourself during the Midyear Mayhem PvP event and you'll earn double Alliance Points, XP, and unique rewards.
Update: We're extending our PvP Event to July 8 at 3:00PM BST! Earn your last-minute Event Tickets and grab those final Berries for the Icebreath Indrik while you still can!

Join the Battle!
Midyear Mayhem returns to Cyrodiil, the Imperial City, and the battlegrounds this Thursday, June 25 at 3:00PM BST, and will continue until Wednesday, July 8 at 3:00PM BST. During this event, you can claim additional rewards when battling your fellow players in PvP activities, including double XP and Alliance points and event-specific collectibles, Achievements, and titles.
Here's how you can join the battle:
Visit the in-game Crown Store to acquire the "Details on the Midyear Mayhem" quest
Travel to your Alliance War faction's main gate in Cyrodiil using the Alliance War menu or a Battlegrounds camp outside major cities

You are no longer required to travel to Cyrodiil to kick off the event

Find the NPC named "Predicant Maera" and continue the quest

If you already completed the quest last year, you won't need to do it again

Complete the quest to receive your Scroll of Pelinal's Ferocity and a Pelinal's Midyear Boon Box
Use the scroll to enjoy a two-hour, 100% buff in the Alliance War, Imperial City, and Battlegrounds to:

Alliance Points gained
XP gains for PvP player kills
Celebrate Pelinal's (violent) legacy with Predicant Maera
You can keep reusing the Scroll of Pelinal's Ferocity throughout the event. If you happen to lose it, don't worry: you can get another from Predicant Maera or use the nearby Basin of the Gore Virtuous instead.
Claim the Spoils of War
Throughout the event, in addition to bonus Alliance Points and XP, you can also earn Midyear Mayhem-specific collectibles, reward boxes, and more.  
NEW Second Legion Outfit Style Pages
Wear the classically Imperial raiment of the Imperial City's Second Legion with new tradeable Outfit Style pages, dropped by bosses within the Imperial City, including those found in the city itself and the sewers.
Legion Zero Outfit Style Pages
You can also earn tradeable Outfit Style pages for the Legion Zero's armor, also dropped from bosses in the Imperial City and Imperial City sewers.
Standard-Bearer Emotes
Earned by collecting 10 Standard-Bearer's Emblems, found within the first Pelinal's Midyear Boon Box you open each day per account. Combine 10 of them with a Standard-Bearer's License (on sale for 50,000 AP) from Predicant Maera to create a Runebox with the emote.
Dress like an Imperial!
Midyear Victor's Laurel Wreath
As always, you can earn the Midyear Victor's Laurel Wreath collectible by completing all of the Midyear Mayhem Achievements below:
Mayhem Connoisseur: Receive the blessing of the Whitestrake at one of the Alliance Gates during the Midyear Mayhem.
Echo of Pelinal's Fury: Read a Scroll of Pelinal's Ferocity during the Midyear Mayhem.
Hand of the Whitestrake: Acquire your 25th Pelinal's Midyear Boon Box.
Wrath of the Whitestrake: Defeat 50 opponents during the Midyear Mayhem.
Pelinavant the Scourge: Win a Battleground match during the Midyear Mayhem.
Pelinaline the Bloody: Capture a Keep in Cyrodiil during the Midyear Mayhem.
Pelinerrif Insurgent: Capture an Imperial District during the Midyear Mayhem.
Note that access to the Imperial City DLC game pack is required to earn all of the above Achievements, so pick it up FREE from the in-game Crown Store!
Boon Boxes
As you battle your fellow players in Cyrodiil, the battlegrounds, and the Imperial City, you'll also earn Pelinal's Midyear Boon Boxes. You can get these in addition to your regular Rewards for the Worthy containers and as PvP daily quest rewards from the following:
Battleground quests from Battlemaster Rivyn
Scouting, Battle, Warfront, and Conquest Missions
Elder Scroll capture and recapture quests
Town quests in Vlastarus, Bruma, Cropsford, Cheydinhal, and Chorrol
Imperial City daily quests
Fight to capture Cyrodiil and glory
When you receive and open one of Pelinal's boons, you have a chance to receive the following items:
Transmute Crystals
Alchemy reagents
PvP consumables such as repair kits, forward camps, and siege weapons
Motif pages for the Alliance and Akaviri styles
Style items for your Alliance
Akaviri style items
Coldharbour siege weapons
Prismatic Runestones
Books of Pelinal housing items
Resource Notes and "The Golden"
Finally, throughout the event, harvesting nodes within Cyrodiil and the Imperial City will drop double their regular resources, and the Cyrodiil merchant Adhazabi Aba-daro (also known as "The Golden") stocks Alliance War Legendary-quality jewelry, with necklaces during the first weekend and rings during the second.
Earn Event Tickets
During the Midyear Mayhem event, you can earn up to four Event Tickets per day by completing two different PvP activities:
Two tickets for completing any Cyrodiil or Battlegrounds daily quest
Two tickets for completing any Imperial City district daily quests
The Event Ticket timer resets at 6:00AM BST each morning. Note that if you earn new Event Tickets over the 12-limit cap, you'll lose them. Good thing there's plenty of things to spend them on at Impresario vendor during the event:
Second Legion Outfit Style pages (can't be traded)
Zero Legion Outfit Style pages (can't be traded)
Standard-Bearer Emotes
Group Repair Kits
Icebreath Berries (including Bloom, Budding, Growth, and Ripeness)
Indrik Feathers
Rimedusk Indrik pet
Don't forget, this event is your chance to complete the serene Icebreath Indrik!
So pretty!
For more on how Event Tickets and Indriks work, don't hesitate to check out our guide.
Fight for Glory!
Prove your worth in the Alliance War, Imperial City, and Battlegrounds, and you'll receive bonus XP and Alliance points in addition to event-specific rewards, Achievements, and titles. There's never been a better time to take the fight to your fellow players! Let us know if you're ready for the return of Midyear Mayhem via @TESOnline, Instagram, and Facebook.
The Midyear Mayhem in-game event begins on Thursday, June 25 at 3:00PM BST, and will end on Wednesday, July 8 at 3:00PM BST.