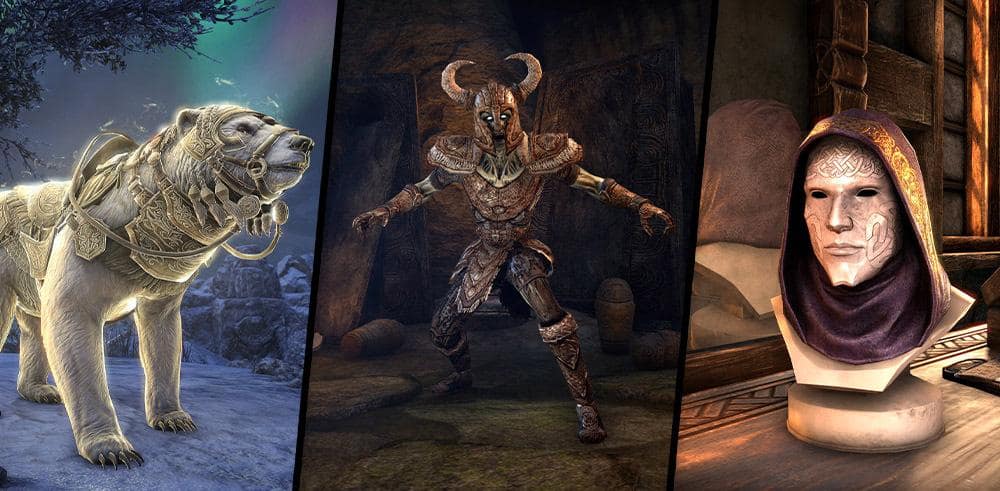 Bring honor to your clan and kin with items from the new Sovngarde Crown Crates, coming to the in-game Crown Store next week!
***
A noble death is not the end. Beyond the crash of steel and final cries of glory lies a realm unlike any other. Sovngarde! The immortal realm of heroes where mead flows like a mighty river and great adventures wait behind every windswept hill.
Luminous beasts, king-forged weapons, and other aethereal wonders await you beyond the veil. Now, summon up your warrior spirit and seize them for your own!
***
The new Sovngarde Crown Crates arrive in the in-game Crown Store next Thursday, September 24 at 3:00PM BST. When you claim one of these Kyne-blessed containers, you have a chance to unlock a host of Nord-themed goods, such as stat-boosting consumables, potions, XP scrolls, and a ton of collectibles including pets, mounts, and cosmetics.
Here are some of the incredible items you have a chance to acquire when you open a Sovngarde Crown Crate—no glorious death in battle required!
Sovngarde Stoutheart Bear mount & Alkosh's Hourglass Replica furnishing
Mask of Entangled Paths hat & Firepoint Fledgling Gryphon pet
These heavenly packages also have a chance to include one of these extremely rare mounts:
Auric Sabre Cat Duskstalker & Lambent Shadowmane Courser mounts
Silver Nimbus Wolf mount
Finally, within your Sovngarde Crown Crates, you might also find some of these classic returning Crown Store items:
Draugr polymorph & Renegade Dragon Priest costume
For everything that will be available in Sovngarde Crown Crates, check out this forum thread. With the start of this new season on Thursday, September 24, the current Nightfall Crown Crates will no longer be available—so be sure to check them out right now on the Crown Store page before they vanish.
Shor's Crates!
Bring the light of the Nord people's glorious afterlife to Tamriel with the new Sovngarde Crown Crates. These crates arrive in the Crown Crate section of the Crown Store next Thursday, September 24—don't forget, you'll need crowns to acquire them. Are you excited to get your hands on some of these new items? Let us know via @TESOnline, Instagram, and Facebook!