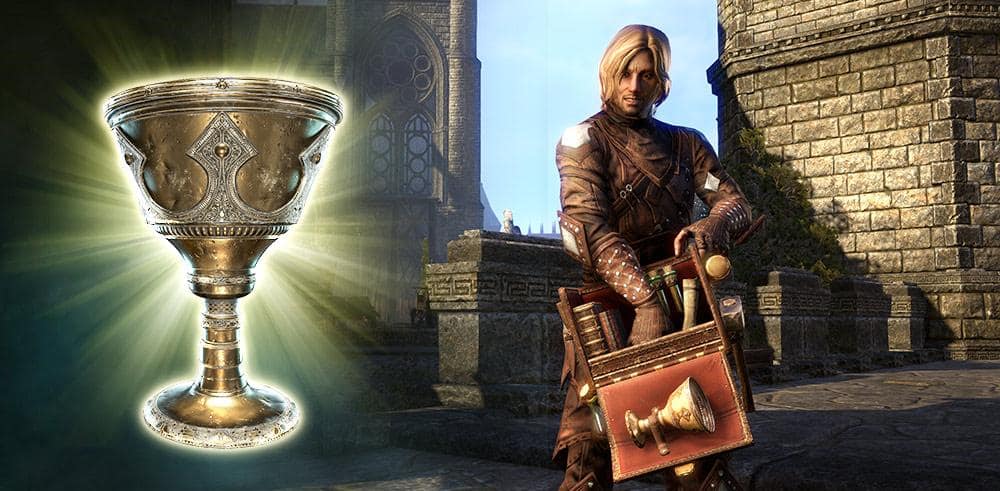 You can check out ESO Plus membership during our free trial, running from now until January 26! No credit card info required; no strings attached!

Free Trial Now Live
The ESO Plus™ Free Trial is now live until Tuesday, January 26, at 3:00PM GMT. During the trial period, you can preview the following ESO Plus benefits:
Full access to DLC game packs—new zones, quests, dungeons, and more

Includes Orsinium, Thieves Guild, Dark Brotherhood, Shadows of the Hist, Morrowind (zone and story), Horns of the Reach, Clockwork City, Dragon Bones, Summerset (zone and story), Wolfhunter, Murkmire, Wrathstone, Elsweyr (zone and story), Scalebreaker, Dragonhold, Harrowstorm, Stonethorn, and Markarth (our most-recent DLC!)

A Craft Bag offering you unlimited storage for all your crafting materials
Double Bank space for all characters on your account
10% increase to Experience and Gold acquisition, Crafting Inspiration, and Trait Research rates
Double Furnishings and Collectibles space in player housing
Exclusive ability to dye costumes
Double Transmute Crystal storage
Check out our ESO Plus guide for more on the benefits of membership.
Note: The monthly crown stipend and ESO Plus deals are available only to paid members (not free trial members). Review everything that comes with ESO Plus on our website.
Here's how you can get started:
Log into The Elder Scrolls Online.
Navigate to the Crown Store.
Select the ESO Plus tab.
Select "Free Trial!"
No credit card info is required to preview ESO Plus during the free trial.
Try ESO Plus Today!
Enjoy boosts to XP, gold, crafting inspiration, and venture out on new adventures while making full use of the Craft Bag. Now is the time to enjoy the benefits of ESO Plus membership—completely free! If you're planning to check out ESO Plus during this trial period, let us know via @Twitter, Instagram, or Facebook.
The ESO Plus Free Trial begins today and will run until Tuesday, January 26, at 3:00PM GMT.