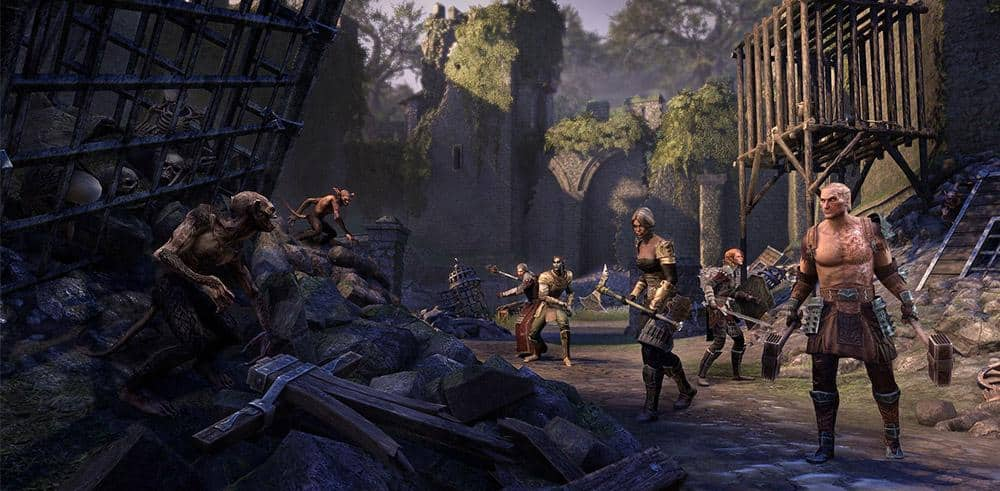 The Gates of Oblivion year-long adventure continues with the Waking Flame dungeon DLC and Update 31 base-game patch.
The Gates Stand Open
The schemes of the Prince of Destruction were not thwarted during the events of The Elder Scrolls Online: Blackwood, only delayed, and his influence and power grows stronger in The Elder Scrolls Online: Waking Flame DLC game pack.
Arriving on August 23 for PC/Mac and Stadia, then August 31 for Xbox One, Xbox Series X|S, PlayStation 4, and PlayStation 5 consoles, you can experience new Gates of Oblivion stories as part of two challenging four-player PvE dungeons: the Dread Cellar and Red Petal Bastion. Both dungeons are available in Normal, Veteran, and Hard Mode difficulties, have their own unique rewards (including item sets and collectibles), and expand upon the larger Gates of Oblivion narrative that began with the Flames of Ambition DLC in February and continues throughout the rest of 2021.
Upon launch, Waking Flame will be available for purchase with crowns via the in-game Crown Store or unlocked as part of an active ESO Plus™ membership.
The Dread Cellar
Formerly a clandestine prison for the Empire's most dangerous foes, discontents, and radicals, the Dread Cellar has begun radiating mysterious magical energies, prompting the investigation by the Imperial Legion's Battlemages.
Beware the monsters that now stalk the Dread Cellar
In this new dungeon, you must team up with Lucilla Caprenia, a Battlemage in training, and her master Martus Tullius to investigate this once-feared prison and uncover the origins of the Daedric cultists and monsters that now inhabit it.
Red Petal Bastion
Once, the order of the noble Knights of the Silver Rose dedicated itself to protecting Tamriel from Daedric threat, but recently, the warriors of Red Petal Bastion have begun to pillage nearby temples, stealing away their holy relics.
Uncover the evil that has befallen the Knights of the Silver Rose
At the doors to the Red Petal Bastion dungeon, a devotee of Azura needs your help to reclaim his shrine's stolen artifacts from this once-honorable order and discover the terrible secrets behind their ignoble fall to darkness and subsequent hoarding of Tamriel's relics.
Update 31
Launching in tandem with the Waking Flame DLC, the Update 31 base-game patch is a free update for all ESO players. This patch includes a host of bug fixes, quality of life and performance improvements (such as a reply function for in-game mail), and new houses, furnishings, and houseguests in the in-game Crown Store.
Want to know more? You can get a rundown of the combat changes arriving with Update 31 via this preview from the Combat Team on our official forums.
Watch the ESO Live Preview
We'll be sharing more about these new dungeons and changes in the coming months, but you can get a first look at the new dungeon DLC right now by checking out our most-recent ESO Live stream, featuring a Waking Flame dungeon tour from Encounters Lead Mike Finnigan.
Waking Flame & Update 31 Now on PTS
If you can't wait to find out more about these two new dungeons and base-game update, you can check it all out for yourself right now in the Public Test Server on PC/Mac. To download and play this upcoming release, simply check the "Show Public Test Environment" button in your PC/Mac launcher's settings and download the client.
Destruction Rises
With the Waking Flame DLC game pack and Update 31, Mehrunes Dagon's dread plans for Tamriel march ever closer to their terrible conclusion. Are you excited to challenge yourself and your allies with these two new dungeons? Let us know via Twitter, Instagram, and Facebook, and keep an eye out on elderscrollsonline.com for more details on the upcoming Gates of Oblivion adventures in the future!