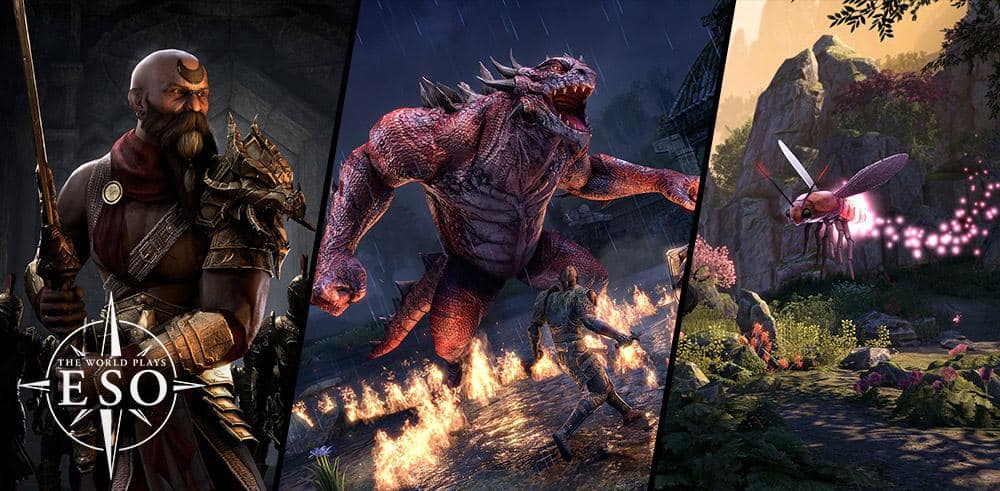 We're a month into The World Plays ESO, and we've already explored a hefty part of Tamriel and dived deep into some of the game's unique systems. Here's some of our favorite clips from the last four weeks of streams.


Sai Sahan on Beards
Having only shaved his beard a month ago, TonyActsOut was brutally dunked on by Sai Sahan during his recent playthrough of ESO's base-game questline—don't forget, a man is only as great as the beard that wears him!


VikingTrash Receives a Giant Kick
In classic Elder Scrolls fashion, VikingTrash was (helpfully!) launched into the air by a giant during her Ebonheart Pact playthrough.


Tea the Hog Killer
It wouldn't be a true Elder Scrolls adventure without some accidental murder, right? Tea the Khajiit committed this horrendous hoggy homicide during her Aldmeri Dominion questline adventure.


Beware the Pink Torchbug Pet
Throughout The World Plays ESO, our streamers and guests, like Ninja614 here, have the opportunity to give out codes for the much-beloved Pink Torchbug pet. Just be careful where you step (or dodge roll in this case) while showing it off.


Watch Out for Those Booby Traps!
AesmaTV doesn't kick off her official World Plays ESO stream until August, but she's already teaching us so much as she explores Tamriel. For example, that gap in the wall probably means there's a giant blade inside, poised to slice up any would-be adventurers looking too closely.


ItsIffy_ Earns His Gryphon Heart
One of ESO's most challenging PvE achievements, ItsIffy_ earned the coveted Gryphon Heart title after beating ALL of the Cloudrest Trial's bosses on Veteran difficulty within 15 minutes without a single death—no easy task!


Matygon & Friend Take Down an Imperial City Boss
With the help of his friend Zuna (and the smart idea to pull the boss into a nearby building), Matygon took down King Khrogo within the walls of the Imperial City, unlocking the Horror of Horrors achievement in the process.


The Community Gets Creative with Cowhide
JHartEllis challenged his community to build something (anything!) out of cowhide rug furnishings and was amazed at what they came up with, including, perhaps unsurprisingly, a giant cow statue.


Alex0s is Mobbed
During his stream for The World Plays ESO, Alex0s was surprised to discover an impromptu flashmob, showing off their mounts and saluting the German streamer.


Artesio Forgets to Unmute
It's happened to all of us… Artesio forgot to unmute his mic while being introduced during one of his streams.


We're Just Getting Started
This is just a small selection of some of the fun and nonsense you can enjoy with our streams for The World Plays ESO, and there's even more to come as our streamers and guests continue to explore everything Tamriel has to offer during this months-long celebration. Don't forget, just by watching a World Plays ESO stream, you could win a copy of Blackwood, a Pink Torchbug pet, and more. Do you have a highlight of your own from The World Plays ESO? Share it with us via Twitter, Instagram, and Facebook!