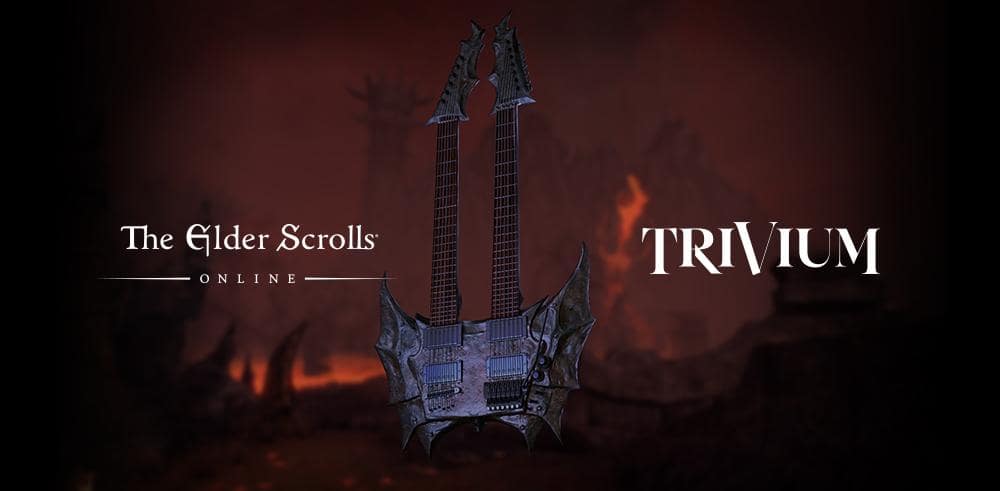 Win an amazing Dagon-themed guitar and learn about a new upcoming ESO-inspired track from heavy metal band Trivium!
Trivium Team-Up
Daedric invasions, portals to other worlds, and the dire schemes of malevolent gods—this year's Gates of Oblivion year-long adventure goes hand in hand with the heavy metal genre. To drive the point home, we're thrilled to team up with American metal band Trivium for a unique promotion, starting right now with this special message from the band's guitarist and lead vocalist Matt Heafy.
You heard right! During the upcoming Gates of Oblivion Year-End Stream (hosted via Twitch.tv/Bethesda on September 30), Trivium will premier a brand-new ESO-inspired music video! However, that's not all…
Win Dagon's Axe
We're kicking off this new promotion and partnership with a bang by giving you a chance to win an incredible Mehrunes Dagon-styled guitar, crafted by Calderwood Percussion!
Complete the Axe of Oblivion Sweepstakes entry form via the button below to be entered in the running to win an axe worthy of the Prince of Destruction himself. You can find full legal rules for this sweepstakes here.
Entries will close on October 31, so keep an eye out on ESO's social channels (Twitter, Instagram, and Facebook) for the #AxeOfOblivion hashtag for the latest!

A Year-End Event
In addition to the sweepstakes and music video, there'll be special livestreams, social giveaways, and contests between now and the Gates of Oblivion Year-End Stream.
Stay on top of everything regarding our partnership with Trivium via Elderscrollsonline.com and on our official Twitter, Instagram, and Facebook channels. The Gates of Oblivion year-long adventure is nearing its epic conclusion, and it's going to be loud!