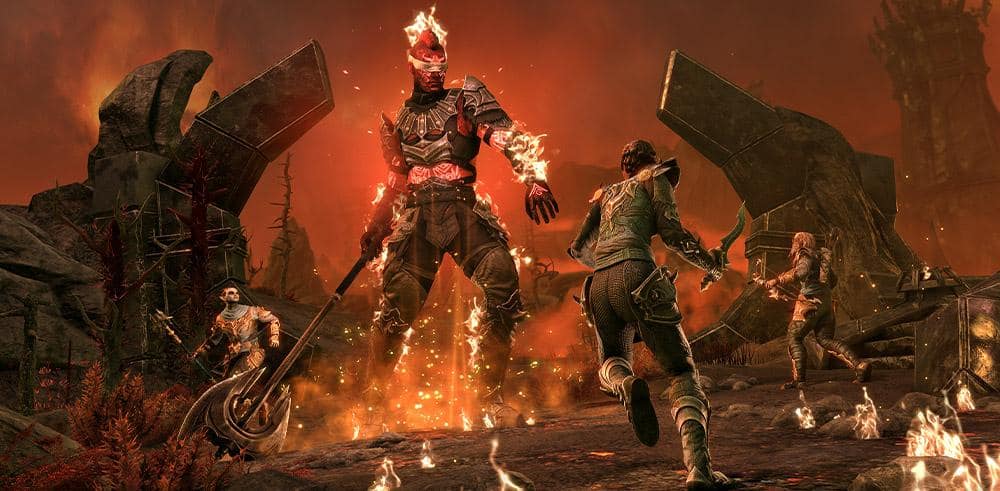 Missed the Gates of Oblivion Year-End Steam? Catch up on the developer deep dive and all the latest news from the show here!
During the Gates of Oblivion Year-End Stream, special guests from the ESO development team (including Creative Director Rich Lambert, Zone Lead Tom Murphy, and Senior Content Designer Janet Priblo) gave an inside look at the upcoming Deadlands DLC. Together, the team delved into the new DLC's story, characters, and zone. In addition to the Deadlands deep dive, we updated you on the Axe of Oblivion sweepstakes (enter now!) and our ongoing heavy metal partnership with Trivium. You can watch the whole show from start to finish below:
Want to discover more about our ongoing Trivium partnership? Check out these round-table interviews from MMORPG.com and NME with Trivium's Lead Singer Matt Heafy, ZOS's Studio Head Matt Firor, and ESO's Audio Director Brad Derrick.
In addition to the deep dive and news, we were thrilled to announce during the show that ESO will be getting Spanish localization! Check out the announcement article on Bethesda.net.
Finally, after the stream, Community Managers Jess Folsom and Gina Bruno hosted a special post show with Creative Director Rich Lambert. Together, they answered questions from the #ESOFam on Deadlands and the Update 32 base-game patch.
The Elder Scrolls Online: Deadlands arrives November 1 for PC/Mac and Stadia, and November 16 for Xbox and PlayStation consoles, but our coverage of the cataclysmic conclusion to the Gates of Oblivion adventure on Elderscrollsonline.com is just getting started. Keep an eye out for more Deadlands previews and deep dives in the coming month, and don't forget to sign up to win an amazing guitar via the Axe of Oblivion Sweepstakes!