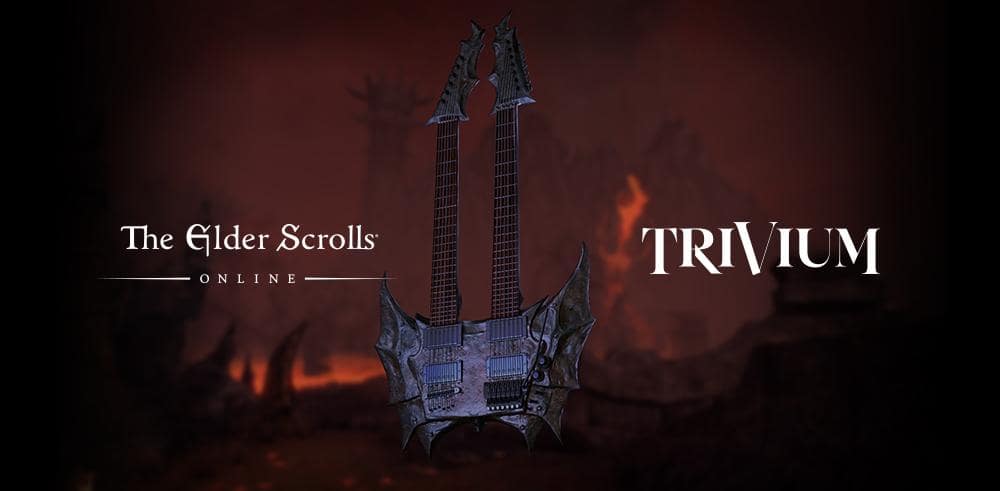 See the crafting process for the Axe of Oblivion and ensure you're entered to win it as part of our sweepstakes contest.
Currently being forged by Calderwood Percussion, the Axe of Oblivion sweepstakes' custom-designed-and-build guitar will be the perfect weapon for a heavy metal ESO fan. Check out the crafting process for an instrument fit for the Prince of Destruction with this new video:
Don't forget, you can sign up to win the Axe of Oblivion by entering the sweepstakes below, and check out the full rules here.

Entries close on October 31, so don't miss out on your chance to win.
Need even more reasons to rock out in Tamriel? In celebration of our ongoing partnership with Trivium, we were thrilled to announce this exclusive new tshirt on the Bethesda Gear Store during the recent Gates of Oblivion Year-End Stream.
This special tee is only available for preorder from now until October 31—hurry! Note that unfortunately this tee is unavailable on the Official Bethesda Store Europe. We apologize for the inconvenience.
Keep an eye on ESO's Twitter, Instagram, and Facebook channels for the #AxeOfOblivion hashtag to find out the latest on how we're bringing heavy metal to Tamriel in the coming months!