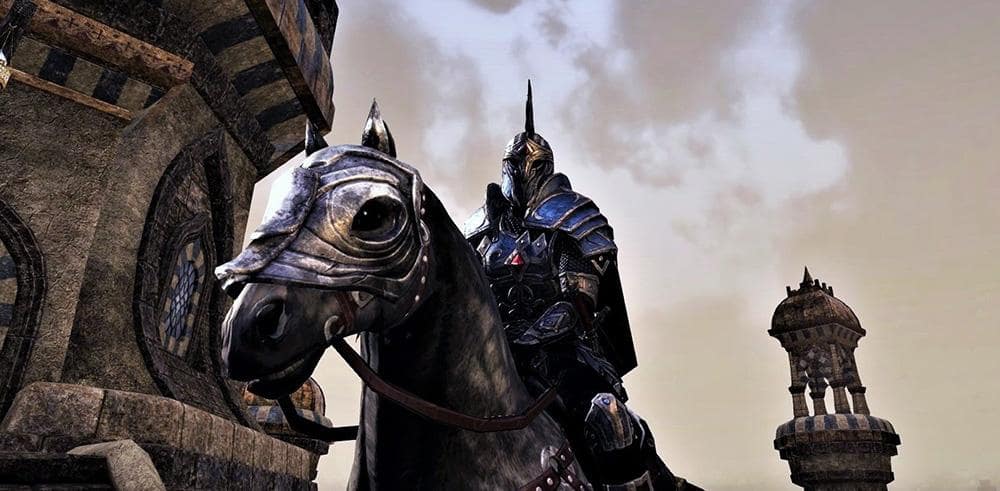 Throughout their journeys in The Elder Scrolls Online, Tamriel Drifter documented their character's adventures in an enormous roleplaying journal. Learn more about Drifter's incredible story seven years in the making with our latest Community Spotlight!
Tell us about your Elder Scrolls journey. When did you start playing ESO?
I joined ESO at launch. Initially, being a fan of The Elder Scrolls V: Skyrim, I rolled a Nord and enjoyed exploring the beautiful, diverse, and often strange Ebonheart realms; but I was a tourist. It wasn't until I rolled my first DC character and landed in Daggerfall that I knew I had found a new RPG home.
Creating a roleplaying journal is no simple endeavor. Why did you decide to document your ESO adventures in this format?
I think I first got the idea when I realized you could play the whole game in the immersive first-person perspective. I had seen many great Skyrim journals and took my initial approach of a single screenshot followed by narrative from them, but I soon realized that, especially in the dynamic and vibrant world of ESO, you can tell as much of a story through screenshots as you can through words.
As you continued your ESO adventures, how did your writing change?
The biggest change has been one of perspective. When I first started the playthrough, Simeon was my alter-ego, or at the very least who I wanted to be. But as I added more and more backstory into his journal, he quickly became a separate persona. Soon, when faced with in-game dilemmas, I was thinking not what I would do, but what would Simeon do. There also is a definite change in tone between the early anecdotal posts and his more defiant mood as he journeyed through Tamriel, and the later more somber posts of his Coldharbour experience.
Now that you've completed the base game, were there any specific storylines or areas that stand out to you?
I think my most memorable region story-wise was Rivenspire and the epic fall-out of Ranser's War. More specifically for Simeon was how his attitude toward vampires was changed so markedly by the storyline. At the start of the zone, he must decide the fate of a vampire. Later in the story, he must make that same judgment again, but thanks to the influence of House Ravenwatch, he makes a very different decision. It is also the first time he meets Skordo the Knife, who single-handedly changes his ignorant perception of the Orsimer.
What is next for your Imperial character, Simeon Karpovich?
Simeon tries to settle in Daggerfall, but the restlessness of his soul keeps him from finding his peace, so he packed his backpack and traveled to the one place where every mercenary goes when looking for adventure, trials, and fortune: the city of Belkarth in Craglorn. Whilst I look forward to all the fascinating regions he has yet to visit, I am most excited for his eventual return to the Imperial City. Can he find his peace in the ruins of his former home?
What is it about the world of the Elder Scrolls that makes you want to tell your stories?
So much of the history of Tamriel is delivered to the player through books, which are subjective based on the perceptions and attitudes of the writer. I thought I'd like to journal and document the events of ESO through the perspective of my character, a former Imperial legionnaire who wakes up in a Coldharbour prison cell. Of course, I never imagined that when I started, I would still be sharing his story seven years later.
Elder Scrolls games are ideal for the creator of player-created stories like these, but ESO is also an online game. How did having other players in the world impact the story you wanted to tell?
Thanks to One Tamriel, the thing that sets ESO apart from other online RPGs is that there are no dead zones. Everywhere you go in ESO there are other players going about their business, sometimes aiding you, sometimes hindering; either way they all add to the experience that brings Tamriel to life. Many times other players have added much to my story—for example, at dolmens where potential Banner enemies stand back-to-back against the Daedric invaders. Yes, it can also be challenging for an RPG blog when an Orc warrior in a pink wedding dress rides by on a goat, but to be fair, most of us have probably seen stranger sights at the local mall.
What advice do you have for other players who want to develop a roleplaying journal like yours?
I think it is most important to find the right home for your journal. Twitter and Instagram lend themselves to anecdotal journals. Tumblr is particularly good for screenshot blogs, whilst forums are wonderful places for longer-form narratives. Never force yourself into a schedule to be more productive, it is a hobby and the more you enjoy it the longer it will last. And finally, don't write too deep a backstory at the start. Allow the characters' persona to develop through their journey.
Are you part of any roleplaying groups in game? Do you have any favorite places or activities while roleplaying?
I don't have a roleplay group. However, when arriving in a new city I will often take off the armor and take a walk around, and sit in a tavern or near the wayshrine to get a feel for the city. It is amazing how many times random players will stop to interact with you. Whether it be by sharing an emote, playing you a song, throwing a mud pie, or even on occasion just sitting down next to you to watch the world go by.
Are there any other roleplayers you think our readers should check out?
For those looking for lots of great ESO storytelling, I would highly recommend both the stories section of the ESORP website, and the Fiction & Roleplaying section on the official ESO forums. Personally, I would love to see more use of the hashtag #ESORPG on social media sites to share our adventures.
Where can we find more of your work?
My original tumbr blog can be found at tamrieldrifter.tumblr.com whilst the website version is at thetamrieldrifter.com. I post blog updates and the odd screenshot on @TamrielDrifter on Twitter.
Thank you to Drifter for sharing your story and journal with us, and best of luck in your continued adventures in Tamriel. We hope that Simeon finds his way back to the Imperial City soon—although he might not appreciate the state of the place in his absence! If you've seen or crafted some ESO-inspired creations that you think the rest of the #ESOFam would enjoy, share it with us via Twitter, Instagram, and Facebook.