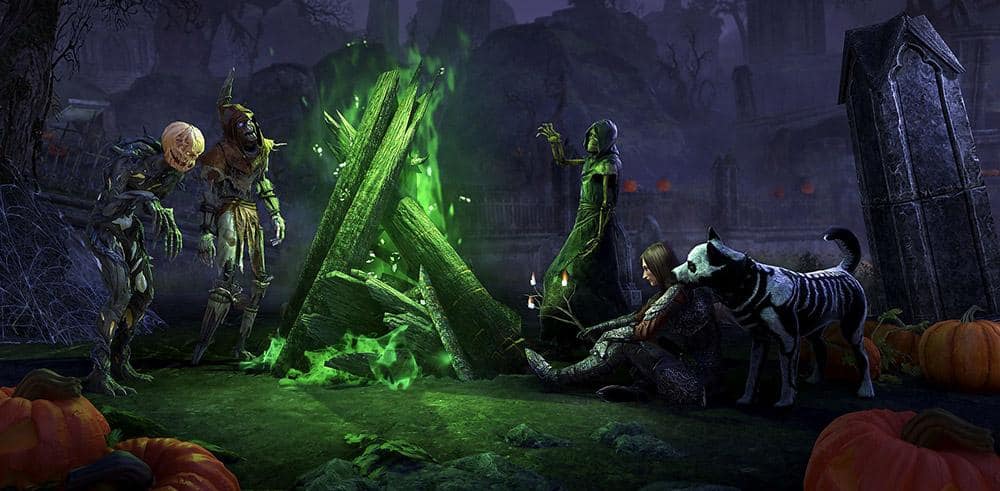 Unlock unique collectibles and goodies by slaying Tamriel's monsters during the Witches Festival in-game event!
A Ghoulish Gala!
The Witches Festival begins next Thursday, October 21 at 3PM BST, and will run until Tuesday, November 2 at 2PM GMT. During this spoopy spectacle, you can acquire unique event-specific rewards including Plunder Skulls, boosts to XP, Event Tickets, and collectibles.
To take part in the frightful festivities:
Navigate to the Holiday section of the Crown Store and acquire the free quest.
Complete the quest "The Witchmother's Bargain" to receive the Witchmother's Whistle tool.

If you completed the quest in previous events, you don't need to acquire the Witchmother's Whistle or complete the quest again, and you can use the whistle already found in your Collections menu.

Use the whistle to receive a two-hour 100% XP buff and summon the "Witchmother's Cauldron."
Use the Witchmother's Cauldron to transform your character into one of the undead.

Note that you do not have to use the Witchmother's Cauldron to gain the XP buff, just the whistle. The Cauldron cannot be summoned in Cyrodiil.
Earn Repulsive Rewards
During the Witches Festival, when you defeat a boss monster, you'll receive a Plunder Skull container in addition to your regular rewards. These bloodcurdling boxes have a chance to contain some of the following items:
Fragments of the new Witch-Tamed Bear Dog pet called Bonedust Pigments

Combine 10 fragments to craft this collectible

Hollowjack style items
Dremora style items
Witches Festival-themed recipes
Witches Festival-themed furnishings and furnishing recipes
Bewitching Alchemy reagents
… and an assortment of creepy and valuable items!
Drink from the cauldron to transform into the undead
Even better, the first time you slay each different type of boss, you'll receive a special Dremora Plunder Skull that can contain the above items and has a chance to also include these additional rewards, too:
Dremora Motif chapter pages
Witches Festival Writs

Complete these writs to unlock an Achievement that'll grant you the Witch hat collectible AND the "Witch" title!

Glenmoril Treasure Maps

Use the map to find Glenmoril Weapon Style pages scattered all over Tamriel

Glenmoril Armor Outfit Style pages
Grave Dancer Weapon Style pages
A new Marshmallow Toasty Treat emote Runebox
A new Bonfire memento Runebox
Depending on the type of boss you defeat, you'll receive one of two different Dremora Motif pages:
Final Arena Bosses drop Dremora Motif pages for Bows and Legs
Dark Anchor, Geyser Bosses, Craglorn Focus Points, Harrowstorms, and zone Dragons drop Dremora Motif pages for Daggers and Gloves
Delve Bosses drop Dremora Motif pages for Staves and Belts
Final Dungeon Bosses drop Dremora Motif pages for Helmets and Maces
Public Dungeon, Imperial City Bosses, and Quest Bosses drop Dremora Motif pages for Shields and Boots
Final Trial Bosses drop Dremora Motif pages for Swords and Chests
World Bosses drop Dremora Motif pages for Shoulders and Axes
No matter what monsters you hunt during the Witches Festival event period, you'll always receive bonus rewards for your efforts!
In addition to the above goodies, this year's event also introduces a new daily quest, titled Plucking the Crow. This new quest is available each day from Witchmother Taerma, who is within Olyve's Brewery AND at every Impresario tent in Tamriel. Her daily quest charges you with collecting 50 Cursed Feathers, found within Plunder Skull containers. Once you have collected all 50, you can transform them into an effigy that you can then use to transport yourself into a special realm to battle a new world boss monster—good luck!
The Impresario & Event Tickets
Throughout the Witches Festival event, you can earn up to two Event Tickets from the first boss monster you defeat each day, allowing you to earn up to 26 tickets total. Don't forget to loot those dropped tickets or you might lose them! For this event, the Impresario will stock the following items:
All three Unstable Morpholith pet fragments

The Deadlands Flint, Rune-Etched Striker, and Smoldering Bloodgrass Tinder

The first TWO fragments for Doomchar Plateau, the morphing collectible house

The Scorching Pillar and Searing Column

Marshmallow Toasty Treat Emote
Witch's Bonfire Dust Memento
Fragments for the Witch-Tamed Bear-Dog pet
A host of spooky furnishings
Group Repair Kits
Witches Grab Bags

Containing collectibles from previous Witches Festival events
This is your first opportunity to begin collecting the fragments for the Doomchar Plateau house, the Q4 event morphing collectible.
Claim a plot of land in Dagon's own realm!
Don't forget, to acquire this house by the end of the year, you'll need to have an Unstable Morpholith pet to morph AND all five upgrade fragments. Keep an eye out on announcements for 2021's remaining events! Learn more about how morphing collectibles and upgrade fragments work in our guide article.
Share Your Spooky Creations with Us!
Do you have a haunted house or ghastly outfit that you love to show off during Tamriel's spooky season? Share your creations with us via Twitter, Instagram, and Facebook and we might share some of our favorites with the rest of the community and on elderscrollsonline.com!
Stalk all the creatures that go bump in the night during the Witches Festival, and you'll earn a host of exciting event-specific goodies, collectibles, and Achievements. So get ready to hunt monsters, collect Plunder Skulls, and earn some freaky new rewards—we'll see you in Tamriel!
The Witches Festival in-game event begins Thursday, October 21 at 3PM BST, and will run until Tuesday, November 2 at 2PM GMT.